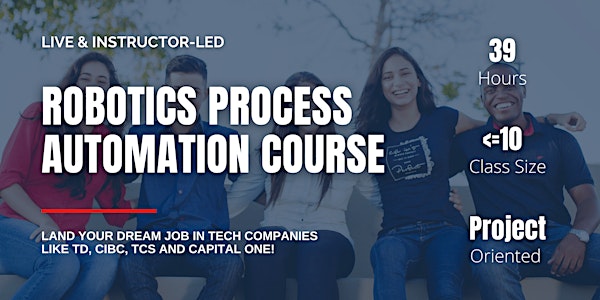 Robotic Process Automation Training! Hands on with Job Assistance
The batch starts every 2 weeks! Call us at 647-741-0309 for a free career consultation. Courses designed for beginners who wish to enter IT!
About this event
Robotic Process Automation (RPA – Blue Prism) offers organizations with an agile digital workforce that follows rule-based business processes and interacts with systems in the same manner that current users do. Blue Prism is an RPA tool which makes this possible, but in a significantly more efficient manner than it's alternatives. It's also safe, repeatable, dependable, and scalable. Importantly, Blue Prism works in tandem with established IT solutions like business process management (BPM) and front-office productivity tools. It offers a standardized back office automation platform with incorporated controls and governance that is code-free and managed by the company itself.
This course gives you a quick but thorough overview to Blue Prism, one of the most popular RPA solutions on the market today. RPA is a booming field with tons of job openings. It's the best way to enter IT for non-coders.
High Salaries: The majority of RPA Developer salaries currently range between $99,000 to $132,500 making them one of the highest salaries.
https://intelleecollege.com/courses/rpa-blue-prism-course/
Your Roadmap to a Career as a DevOps Cloud Engineer:
Step 1: We encourage all our students to make use of the free career consultation offered by our counsellors to discuss career opportunities.
Step 2: Take your first step in starting your new journey to becoming a RPA Developer
Step 3: Work on real-world simulated projects designed to give you the experience you need.
Step 4: Work on real-world simulated projects designed to give you the experience you need.
Step 5: Upon successfull completion of the course, students will participate in mock interviews, resumé workshop & career preparation.
Step 6: We also help students who wish to pursue additional certifications such as Blue Prism Certifications and more!
Contact Details:
Visit www.intelleecollege.com to learn more about our programs and courses! You can also get in touch with our team directly at +1-647-741-0309.
You can book a free career consultation at https://calendly.com/intelleecollege/learnmore