Refund policy
Contact the organizer to request a refund.
Eventbrite's fee is nonrefundable.
Laugh at jokes told by humans and robots.
About this event
If you do not want to join via Zoom, the show will be live streamed on Facebook only during the show.
Robots are taking over jobs in manufacturing, security, but what about comedy? Find out on October 3rd when joke-telling robots take the virtual stage in a show like you have never seen before. Pesky humans will also be performing.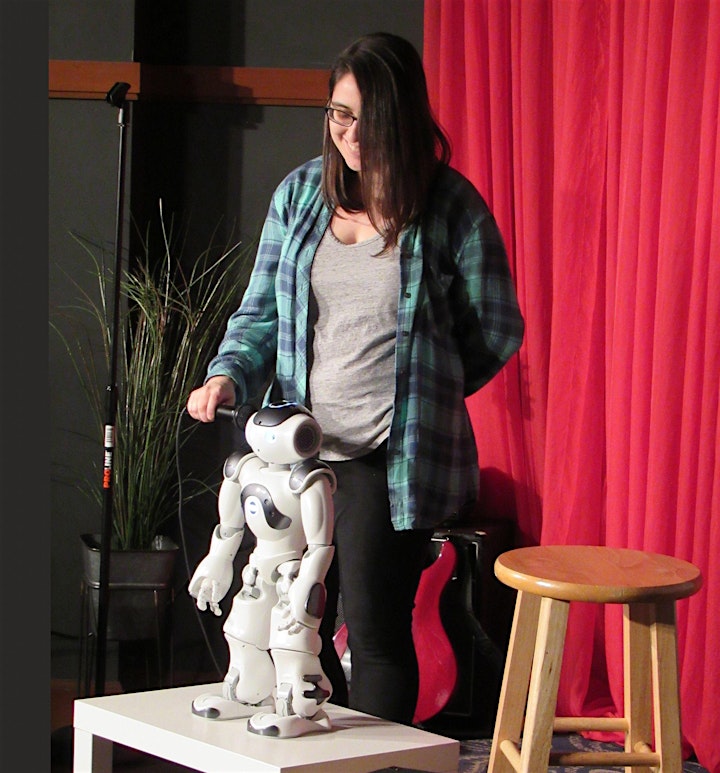 This show will feature robotics researchers, joke-telling robots, human stand-up comedians, and a live Turing test with an improv troupe! Audience members will have the opportunity to ask questions about the performances after the show.
This show will take place on Zoom. Details to log on/access the show will be emailed in advance. Register on Eventbrite. Donations, which will be used to compensate human performers, are welcome.
ABOUT YOUR FEATURED PERFORMERS:
Naomi Fitter escaped from Ohio at the age of 22. Her soothing midwestern voice has been described as "sexy," "librarian-like," and "nearly inaudible." She has opened for Bil Dwyer, Laurie Kilmartin, and Whitney Cummings and performed in the All Jane Comedy Festival. When she's not telling jokes, she spends time creating our future robot overlords.
Jon the Robot is Naomi's autonomous joke-telling machine. He has not learned to pass captcha challenges, but he hopes to captcha your heart.
Improbotics is an artificial intelligence and communications technology-powered improv comedy show, performed live by an international troupe. Some improvisers are controlled by robots running artificial intelligence chatbots: will they pass the Turing Test? We explore how physically distant actors can communicate and seamlessly perform while controlled by a machine. Our impossible (and hilarious) challenge relies on absurdism, misunderstanding and human connection.
The troupe has been featured in The New York Times, The Wall Street Journal, and New Scientist and performed in at the Brighton Fringe Festival in 2019 and Edmonton Fringe Festival in 2018.
Chelsea Shorte is DC-based comedian. Since first taking the stage as a stand up, they have flourished and have further applied their creative drive to storytelling, podcasting, sketch writing, acting, and drag performance. They have had the privilege of performing at the John F. Kennedy Center for the Performing Arts, Washington DC's historic Howard Theater, as well as multiple colleges and comedy venues across the country. Their stand up material ranges from riffs on the low bar for allyship to dating or even pythons in the Everglades.
Kasha Patel is a DC-based stand-up comedian and your host tonight. She is the founder and producer of DC Science Comedy, which produces science-themed comedy shows wherever they are welcomed. She has been featured on The Science Channel, Weather Channel, The Washington Post, and has been named one of the best undiscovered comedians in the U.S. by Thrillist magazine.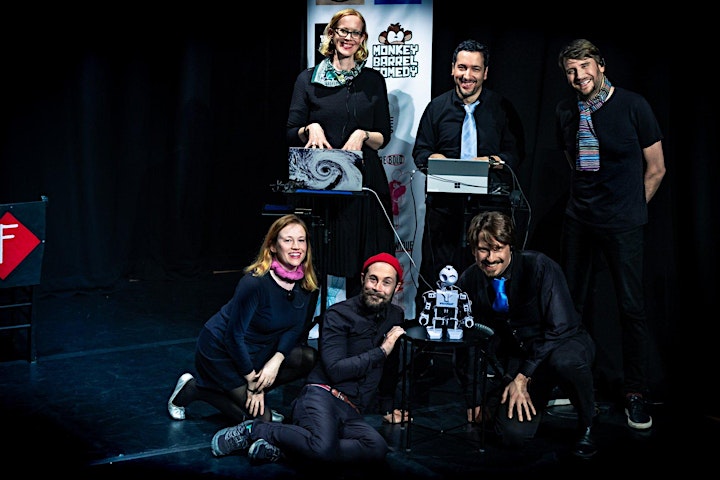 This show is co-produced by DC Science Comedy and the Maryland STEM Festival, which takes place through October. Join us on Saturdays in October for a new science-themed comedy show. Stay tuned on Facebook.
October 3, 2020 (7pm Eastern): Robots vs. Humans
October 10, 2020 (7pm Eastern): Engineer Comedy (tickets now available)
October 17, 2020: Physics Comedy
October 24, 2020: Science by Accident