The Silicon Valley Robotics Robot Block Party is BACK! Demos, workshops, job fair, speakers, robots, fun and fiesta!
About this event
The Silicon Valley Robotics Robot Block Party is BACK! Join us at Circuit Launch in Oakland for a Saturday full of robot demos, developer workshops, speakers, job fair, show'n'tell, Brazilian BBQ and Bliss Pops, and most of all lots and lots of fun!
AGENDA:
Acknowledgement of Land
Robot Demos (upstairs, downstairs & outside - all day)

Play with Spot the robot dog
MechLabs Robot Building Workshop Intro
See full exhibitor list below

Robot Races (upstairs, downstairs & outside weather permitting)
10am-2pm Indoor DIY Robocar Track Day
2pm-4pm Outdoor Autonomous Rover Rally
10am-1.30pm Indy Autonomous Challenge Live Stream
11am-4pm on Tech Talk Stage
2pm-4pm on Indoor Robocar Stage
See full Tech Talk program below
Robojobs Job Wall & Community Notice Board
Networking events at 10am & 3pm : Women in Robotics, Black in Robotics (tbc) and Bots&Beverages
RoboCafe, Brazilian BBQ & Bliss Pops (thanks to Haddington Dynamics!)
What are you going to bring??? (aside from your masks of course!)
Oct 20-21 ROSCon '21 Viewing Party at Circuit Launch if you're in the Bay Area. Almost as good as New Orleans ;p https://roscon21-viewing-party.eventbrite.com
Oct 22 Keep your hands busy with an indepth Robot Developer Day of workshops at Circuit Launch https://robot-developer-day.eventbrite.com
Robots roaming around:
OhmniLabsTM create flexible robotics modules and scalable additive manufacturing processes. Their flagship product, the Ohmni Robot is an award-winning telepresence robot that transforms how people connect, from their homes, businesses, classrooms, to hospitals. You can even visit the Robot Block Party via an Ohmni Robot! @OhmniLabs
Friendly Robots won the DOE ERobot Challenge in 2021. The company is based on the principle of creating sustainability through the automation of maintenance jobs and currently has a commercial grade floor care robot in the market. @friendly_robots
Cartken builds AI powered delivery robots for indoors or outdoors, reducing the labor and environmental costs of current solutions. @gocartken
Dusty Robotics accelerates the digital transformation of the construction industry by developing robot-powered tools for the modern construction workforce, starting with BIM-driven robotics layout. @DustyRobotics
GotRobots is an online showcase for Nick Donaldson's robot projects. He's bringing Marauder, a giant octopod skating robot to the Robot Block Party. @Got_Robots
Ubiquity Robotics Magni is a highly capable robot platform at an affordable cost. Built with a sturdy aluminum chassis, Magni has a substantial payload capability, able to carry upwards of 100 kilos. @UbiquityR
Robots in real world applications:
Haddington Dynamics, recently acquired by Ocado, build Dexter, a light industrial collaborative robot with better than human touch sensitivity and up to 3kg payload. @HDRobotic
Boston Dynamics' Spot is the world's most famous robot dog, now being deployed in construction and other areas. You'll program Spot to lift a leg or bust a dance move. @BostonDynamics
Foxglove Dev accelerates your robotics development with Foxglove Studio, an open source visualization & debugging tool. @foxglovedev
SICK/EandM need to buy, build or accessorize a robot? EandM is the SICK representative and automation leader on the West Coast. @EandMonline
Parker Hannifin is the global leader in motion and control technologies, with a new line of inertial sensor technologies to showcase. @ParkerHannifin
Dexterity Robotics delivers true autonomy in the warehouse with a full-stack integration that increases productivity, safety and control. @DexterityRobotics
Caterpillar, the leading manufacturer of large-scale equipment for construction, mining and transportation is hiring for their robotics division. @CaterpillarInc
Ologic, the company behind everyone else's robots, is Silicon Valley's premier engineering consultancy. @ologicinc
Monarch Tractor implement smart technology on a fully electric tractor platform, leading the digital transformation of farming. @MonarchTractor
Tangible Research are a breakthrough in telerobotics, allowing you to control and feel a pair of robotic hands as if they were your own. @TangibleRes
Fuji Innovation Lab is a global leader in robotics and automation for manufacturing of electronic devices, the automotive industry, healthcare and logistics. @fujiamerica
Urban Machine salvaging the past to build the future (with robots). Still in stealth but hiring! @urbanmachinebuild
Merklebot is financing the 4th Industrial Revolution. Want robots? Merklebot finances the upfront costs and provides you with Robots-As-A-Service. @MerkleBot
Item Farm's easy to use Orchard modules can 3D print, laser cut or etch up to 14 things at once for the local production of almost anything. @itemfarm
FreshBot is stealthily developing technology to make quality food MORE accessible than fast food using autonomous restaurant kiosks.
Misty Robotics is changing the way the robotics market works by opening up access to the world's 23 million developers. Meet and customize our very own Misty. @MistyRobotics
Picknik combines world-class robotics expertise and state of the art open source robotics frameworks to save you time and money. @PickNikRobotics
Robots you can make at home:
DIY Robocars for people who want to make and race DIY autonomous cars of any size from tiny 16th scale to full size @diyrobocars
Roboticists in Residence see various projects from our Roboticists in Residence from Tesla's that make tea, to a scale 3D printed Mars Rover and Eliza Dolls for STEM. @svrobo.org
Point1 Seconds meet A1 a mechatronic quadruped and other designs and implementations of limbed robots and humanoids.
Techy Kids is an online educational platform for kids to be inspired with a blend of robotics, creativity, technology, and invention and US distributor of Thymio robots.
HomeBrew Robotics Club is a group enthusiasts interested in the emerging field of robotics, bringing a selection of robot projects to show and tell.
Engineering Chick is a member of HBRC and Cupertinkers and builds 3D printed humanoids and dancing robots for fun. @DDroboticsChick
AI or DIE's MIke Winter builds crazy amazing AI robots, often with daughter Lisa, several times joint winners of Battlebots & Robot Combat League.
Circuit Launch Mechlabs is where you can learn mechatronics in self-paced hands on or virtual programs building robots like Reachy, the humanoid. @circuitlaunch
Silicon Valley Robotics would like to see a robot in every business by 2030 and it's getting super easy and affordable. Let us show you some examples! @svrobo
The Museum of Social Robots will launch next year at Silicon Valley Robotics and Circuit Launch but you can get a sneak peek today with a working Jibo, Kuri and more robots from the past. Let Robot.MD Joanne Pransky, the world's first Robo-Psychiatrist, show you around as she visits us via robot!
AR/VR Zone:
Explore the latest in interface and interaction technologies in the AR/VR zone with Ethereal Matter and the AR/VR Creators Group.
Ethereal Matter is creating the future of exercise with a multimedia, multisensory and multiplayer platform.
Anina Net is a model/fashion designer/technologist who will be roaming in an OhmniBot to talk about her latest AR and robotics designs, as well as Robociti, a new robotics program for women.
AR/VR Creators Group is for all builders and enthusiasts of immersive technology. We are developers, engineers, designers, artists, and more.
Tech Talks Timetable:
10:00 Merklebot
10:20 FoxGlove Robotics
10:40 Dusty Robotics
11:00 DOE
11:20 Parker Hannifin
11:40 Jim the STEAM Clown
12:00 EandM
12:20 Mike Winter
12:40 Haddington Dynamics
1:00 Silicon Valley Robotics & Circuit Launch & Open Robotics
1:20 Techy Kids
1:40 Chris Anderson
2:00 SRI International (Alex)
2:20 Parker Hannifin
2:40 InOrbit
3:00 TRI
3:20 Eliza Dolls
3:40 Matthew Ebisu
4:00 Anina Net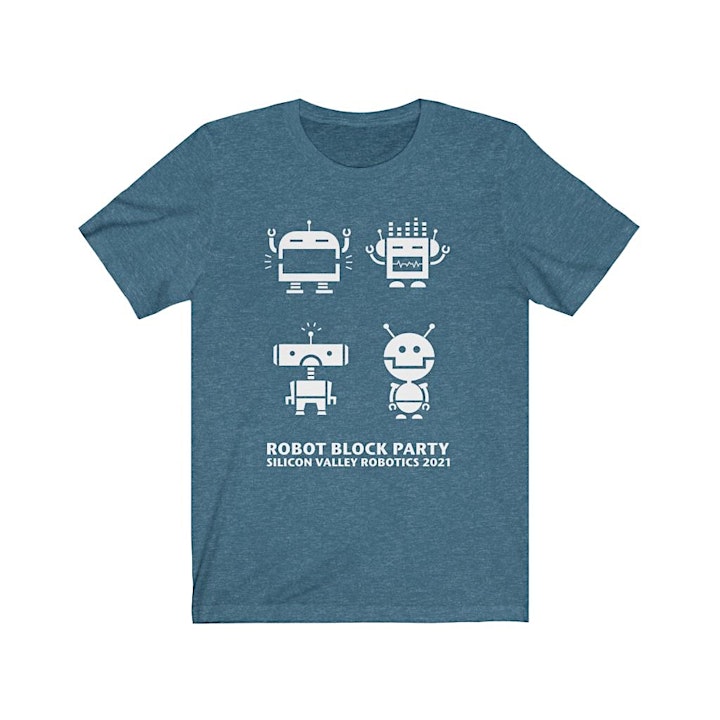 Wear any Robot Block Party T-shirt to the party on Oct 23 and we'll give you free food!
Volunteer ahead of or for the day and we'll give you a free T-shirt!
Sponsored by:
Additional Sponsors:
Foxglove Robotics
Parker Hannifin/Lord Microstrain
InOrbit

Supported by:
The Center for Information Technology Research in the Interest of Society (CITRIS) and the Banatao Institute create information technology solutions for society's most pressing challenges. @citrisnews
Circuit Launch is a community, co-working space and micromanufacturing center for robotics, biotech, AR/VR and electronics hardware companies, with 31,000 sq ft for building the future. @circuitlaunch
Silicon Valley Robotics (SVR) supports innovation and commercialization of robotics technologies. SVR is a non-profit robotics accelerator and industry association started by the robotics community in 2010 and is now the largest cluster of venture backed robotics companies in the world. @svrobo
Organizer of Robot Block Party
Cloud Robotics, Deep Learning, Human-Centric Automation, and Bio-Inspired Robotics are among the primary research themes of the UC CITRIS People and Robots Initiative that focuses on new theory, benchmarks, software, and approaches that address challenges in the interest of society.
Silicon Valley Robotics is a non-profit industry association supporting innovation and commercialization of robotics technologies. With more than 50 robotics research labs, and over 500 robotics startups, the Silicon Valley/SF Bay Area region is the most active robotics cluster in the world.