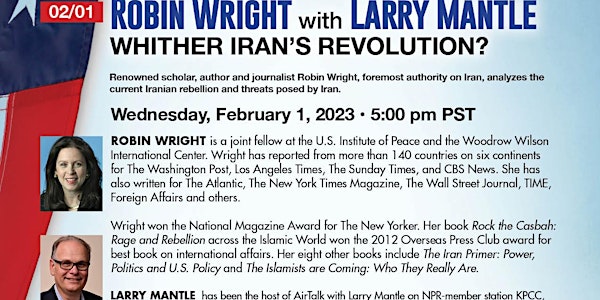 Robin Wright: Whither the Iran Revolution?
Robin Wright, author, journalist & authority on Iran, analyzes the current Iran rebellion & threats posed by Iran:America at a Crossroads
About this event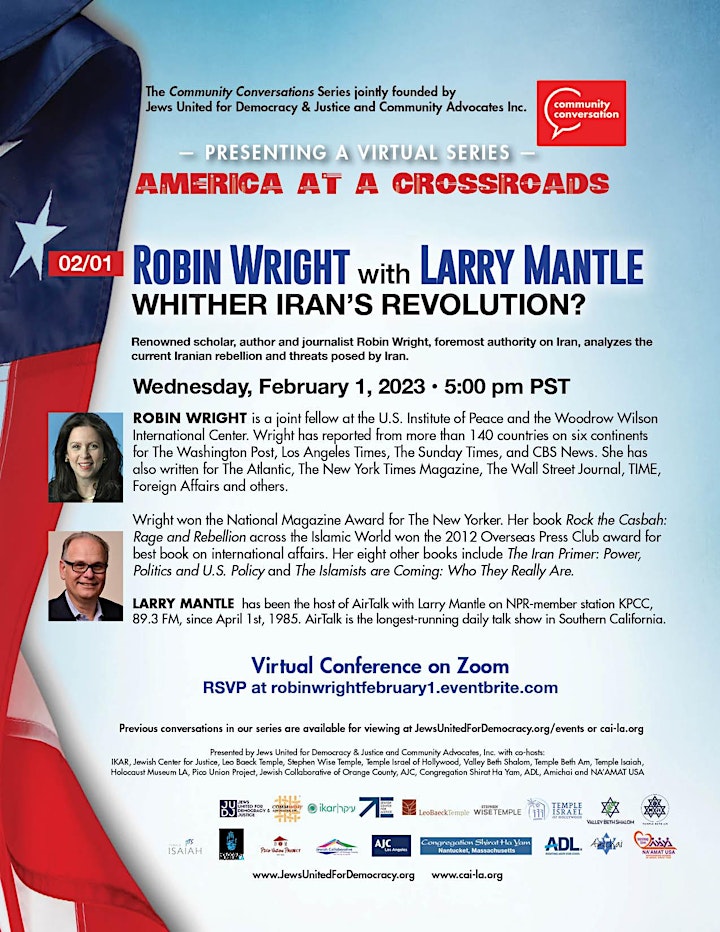 Robin Wright
Robin Wright, a journalist and author, is a joint fellow at the U.S. Institute of Peace and the Woodrow Wilson International Center. Wright has reported from more than 140 countries on six continents for The Washington Post, Los Angeles Times, The Sunday Times, and CBS News. She has also written for The Atlantic, The New York Times Magazine, The Wall Street Journal, TIME, Foreign Affairs and others.
Wright won the National Magazine Award for The New Yorker. Her book Rock the Casbah: Rage and Rebellion across the Islamic World won the 2012 Overseas Press Club award for best book on international affairs. Her eight other books include The Iran Primer: Power, Politics and U.S. Policy and The Islamists are Coming: Who They Really Are.
Wright has also been a fellow at the Brookings Institution, Carnegie Endowment for International Peace, Yale, Duke, Stanford, Dartmouth and the University of California. She won the U.N. Correspondents Association Gold Medal for coverage of foreign affairs, the Overseas Press Club Award for "best reporting in any medium requiring exceptional courage and initiative," and the National Press Club Award for best diplomatic reporting. The American Academy of Diplomacy selected her as the journalist of the year.