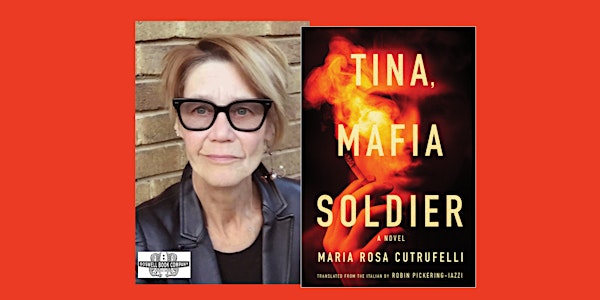 Robin Pickering-Iazzi, translator of TINA, MAFIA SOLDIER - a Boswell event
Robin Pickering-Iazzi, translator of TINA, MAFIA SOLDIER - an in-person Boswell event
When and where
Location
Boswell Book Company 2559 North Downer Avenue Milwaukee, WI 53211
About this event
Boswell presents an evening with Robin Pickering-Iazzi, translator of Tina, Mafia Soldier by Maria Rosa Cutrufelli. Please note that the author will not be attending this event.
Sicily, 1980s: When she was just eight years old, Tina watched as her father, a member of Cosa Nostra, was murdered in cold blood. Now a teenager, she terrorizes her hometown of Gela, having made it her mission to join the mafia, an organization traditionally forbidden to women as made members. Nicknamed ' a masculidda, or "the tomboy," Tina has taken charge of her own gang, and is notorious for her cruelty and reckless disregard for societal expectations.
When a news article is published about Tina's latest crimes, a teacher living in Rome feels compelled to write a novel about her - even though it means returning to her native Sicily to gather material. She and Tina circle around each other in a dangerous dance of obsession and violence until their first, and last, explosive meeting. This groundbreaking exploration of gender identity and clear-eyed presentation of an unseen side of the mafia is a landmark literary achievement by one of Italy's feminist icons.
From the starred Publishers Weekly review: "Readers interested in strong female characters won't want to miss this tour de force."Secrets of Life and Death: Women in the Mafia: "This novel gave me a different view, inviting me to enter a hostile and closed world with a generosity that reverberates through the protagonists of this story and allows us to converse with them. It opens up a way for us to listen to a reality that is easily marginalized."
Robin Pickering-Iazzi is Professor of Italian and Comparative Literature at the University of Wisconsin, Milwaukee. Among her published works in translation are the novel Suspicion by Laura Grimaldi, Unspeakable Women: Selected Short Stories Written by Italian Women during Fascism, and the widely acclaimed Mafia and Outlaw Stories from Italian Life and Literature.
Click here to purchase your copy of Tina, Mafia Soldier. Signed copies and personalization available on pre-orders. Please note that signed copies will not be shipped until after the event.