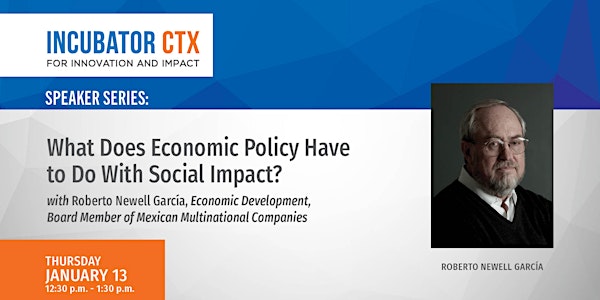 Roberto Newell: What Does Economic Policy Have to do With Social Impact?
Roberto Newell García is in Economic Development and he is also a Board Member for various Mexican multinational companies.
About this event
Title of the Talk: "What Does Economic Policy Have to do With Social Impact?"
Roberto Newell G. is Senior Fellow of the Instituto Mexicano para la Competitividad, A.C., (IMCO), a privately sponsored, independent think-thank located in Mexico City, whose mandate is to analyze and propose policies that will enhance Mexico's competitiveness in the global economy. Newell was the founding director of IMCO. During his tenure as CEO, the Institute became one of the leading exponents of the need for a second wave of reforms to accelerate Mexico's economic development. He served as Vice President of the Board of IMCO between 2011 and 2019,
Mr. Newell served as Chairman of the Board of Grupo Financiero Finterra, S.A. and Centro Médico ABC. He has also served on the Boards of Smurfit-Kappa, Wal-Mart de México, Corporación Mexicana de Inversiones de Capital (Fondo de Fondos), Jugos del Valle and Grupo Financiero Principal. He was a Public Policy Scholar at the Mexico Institute of the Woodrow Wilson Center in Washington, D.C. during Spring, 2011.
Mr. Newell has a Ph.D. in Economics from the University of Texas at Austin (1979), and a B.A. (1969) and M.A. (1973) from the Universidad de las Américas in Mexico.