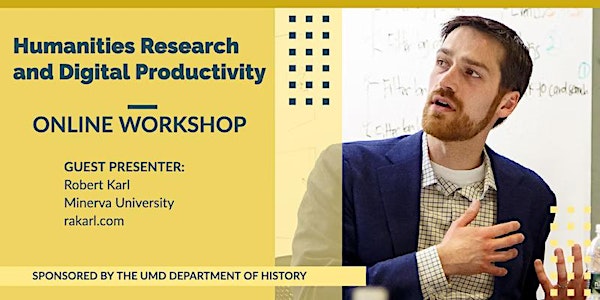 Robert Karl (Minerva Univ) on Humanities Research and Digital Productivity
A workshop scheduled for Monday, August 15th from 2:30-4:00pm via Zoom
About this event
This is the second part of a two-workshop series intended to help faculty build a shared language and practical knowledge of common challenges that we all encounter, but rarely talk about, as we research, write, and teach. This 90-minute workshop will focus on minimalist digital tools for effective research. Attention to these practical elements of the scholarly craft can open up richer conversations about methodology and genre, and foster acts of imagination that can enliven research.
The workshop will be organized around questions and ideas shared by faculty via a pre-session survey. Participants will have the opportunity to get hands-on assistance in reviewing their digital academic lives and designing customized workflows and best practices.
The workshop is designed and led by Robert Karl, Professor of Arts & Humanities at Minerva University. A historian of modern Latin America and the Caribbean, Karl advocates for public conversations about how students and scholars can utilize digital tools to learn, research, and teach more efficiently and inclusively. The tutorials and conversations about qualitative research methodologies featured on his YouTube channel, Research/Craft, have been viewed more than 25,000 times and are included in undergraduate and graduate syllabi in multiple disciplines in the United States and Colombia.