Read on for important registration and book order details for this Brookline Booksmith virtual author event!
About this event
Celebrate the final book of the Founders Trilogy, Locklands, with author Robert Jackson Bennett!
Books purchased here include a signed bookplate.
How to Register
Register on this page to receive a Zoom link
Register free, support the store, or buy the book to enter the event
If you don't receive a confirmation email after registering, contact us
Get Your Books
Books are held for pickup or shipped after ticket sales have closed.
STORE PICKUP- Pick up your book in person at Brookline Booksmith (Click here for directions). You will receive an email alert when your book is ready.
SHIPPING - Have your book shipped via USPS priority mail. Shipping is only available in the United States.
If you have trouble checking out, check the Eventbrite FAQ located here.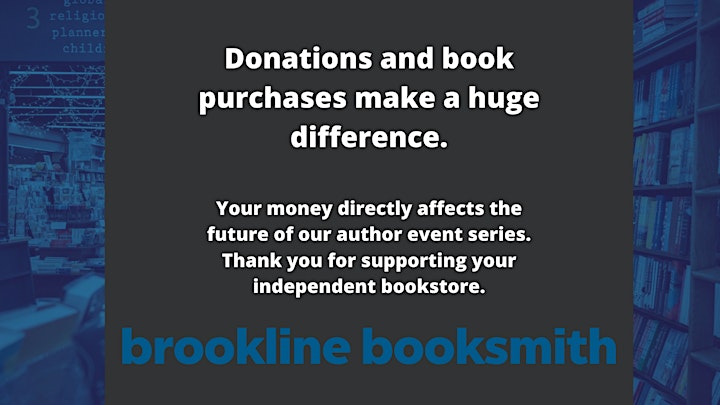 Locklands
The jaw-dropping conclusion to the acclaimed Founders Trilogy, from the Hugo-nominated author of Foundryside and Shorefall.
Sancia, Clef, and Berenice have gone up against long odds in the past. But the war they're fighting now is one even they can't win. This time, they're not facing robber-baron elites or even an immortal hierophant, but an entity whose intelligence is spread over half the globe—one that uses the magic of scriving to control not just objects but human minds.
To fight it, they've used scriving technology to transform themselves and their allies into an army—a society—unlike anything humanity has seen before. With its strength at their backs, they've freed a handful of their enemy's hosts from servitude, and even defeated some of its fearsome, reality-altering dreadnoughts.
Yet despite their efforts, their enemy marches on. Implacable. Unstoppable.
Now, as their opponent closes in on its true prize—an ancient doorway, long buried, that leads to the chambers at the center of creation itself—Sancia and her friends glimpse a last opportunity to stop this unbeatable foe. To do so, they'll have to unlock the centuries-old mystery of scriving's origins, embark on a desperate mission into the heart of their enemy's power, and pull off the most daring heist they've ever attempted. But their adversary might have a spy in their ranks—and a last trick up its sleeve. And to have a chance at victory, Sancia, Clef, and Berenice will have to make a sacrifice beyond anything that's come before.
Author Robert Jackson Bennett is the author of American Elsewhere, The Troupe, The Company Man, and Mr. Shivers, as well as The Divine Cities trilogy and The Founders Trilogy. His work has received the Edgar Award, the Shirley Jackson Award, and the Phillip K. Dick Citation of Excellence, and he has been shortlisted for the World Fantasy, British Fantasy, and Locus Awards. He lives in Austin with his family.
About Brookline Booksmith
We are one of New England's premier independent bookstores, family-owned and locally run since 1961. We offer an extensive selection of new, used, and bargain books; unique, beautiful gifts; award-winning events series; and specialty foods. Every day, we strive to foster community through the written word, represent a diverse range of voices and histories, and inspire conversations that enrich our lives. Find more at brooklinebooksmith.com!
EVENT ACCESSIBILITY
Barring technical difficulty, auto-transcription is enabled on all Brookline Booksmith Zoom Webinar events.
Date and time
Location
Refund policy