The Jones Assembly and Emporium Presents present Robert Earl Keen- Countdown to Christmas with special guests Shinyribs!
About this event
Presented by The Jones Assembly and Emporium Presents.
Doors 7:00. Full bar and walk-up food window available.
Advance GA $35 | Day of Show GA $40
Mezzanine (21+) 75 | Private Booths $900 ($150/person)
Booth tickets include entrance for entire group at a private booth(up to 6 guests per booth), table service, and complimentary valet parking.
The mezzanine is accessible by stairs. For ADA accessibility, please see floor level ticketing or contact info@thejonesassembly.com with any questions. There is no assigned seating in the mezzanine. Any limited seating (such as bar stools) is first come, first serve.
Rain or shine event. Indoor show.
No re-entry. No refunds. No smoking. 18+ event.
Support acts are subject to change without notice.
More questions? Visit our website HERE
Robert Earl Keen
Website | Facebook | YouTube | Instagram | Spotify
"The road goes on forever..."
It's not always easy to sum up a career -- let alone a life's ambition -- so succinctly, but those five words from Robert Earl Keen's calling-card anthem just about do it.
You can complete the lyric with the next five words -- the ones routinely shouted back at Keen by thousands of fans a night ("and the party never ends!") -- just to punctuate the point with a flourish, but it's the part about the journey that gets right to the heart of what makes Keen tick. Some people take up a life of playing music with the goal of someday reaching a destination of fame and fortune; but from the get-go, Keen just wanted to write and sing his own songs, and to keep writing and singing them for as long as possible.
"I always thought that I wanted to play music, and I always knew that you had to get some recognition in order to continue to play music," Keen says. "But I never thought of it in terms of getting to be a big star. I thought of it in terms of having a really, really good career and writing some good songs, and getting onstage and having a really good time."
Now three-decades on from the release of his debut album -- with nineteen records to his name, thousands of shows under his belt and still no end in sight to the road ahead -- Keen remains as committed to and inspired by his muse as ever. And as for accruing recognition, well, he's done alright on that front, too; from his humble beginnings on the Texas folk scene, he's blazed a peer, critic, and fan-lauded trail that's earned him living-legend (not to mention pioneer) status in the Americana music world. And though the Houston native has never worn his Texas heart on his sleeve, he's long been regarded as one of the Lone Star State's finest (not to mention top-drawing) true singer-songwriters. He was still a relative unknown in 1989 when his third studio album, West Textures, was released -- especially on the triple bill he shared at the time touring with legends Townes Van Zandt and Guy Clark -- but once fellow Texas icon Joe Ely recorded both "The Road Goes on Forever" and "Whenever Kindness Fails" on his 1993 album, Love and Danger, the secret was out on Keen's credentials as a songwriter's songwriter. By the end of the decade, Keen was a veritable household name in Texas, headlining a millennial New Year's Eve celebration in Austin that drew an estimated 200,000 people. A dozen years later, he was inducted into the Texas Heritage Songwriters Hall of Fame along with the late, great Van Zandt and his longtime friend from Texas A & M, Lyle Lovett.
The middle child of a geologist father and an attorney mother, Keen was weaned on classic rock (in particular, the psychedelic blues trio Cream) and his older brother's Willie Nelson records -- but it was his younger sister's downtown Houston celebrity status as a "world-champion foosball player" that exposed him to the area's acoustic folk scene. By the time he started working on his English degree at Texas A&M, he was teaching himself guitar and setting his poetic musings to song. That in turn led to a college fling with a bluegrass ensemble (featuring his childhood friend Bryan Duckworth, who would continue to play fiddle with Keen well into the '90s) and front-porch picking parties with fellow Aggie Lovett at Keen's rental house -- salad days captured in spirit on the Keen/Lovett co-write, "The Front Porch Song," which both artists would eventually record on their respective debut albums.
While Lovett's self-titled debut was released on major-label Curb Records, Keen took the road less travelled, self-financing and producing 1984's No Kinda Dancer and leasing it to the independent label Rounder Records, which issued it on its Philo imprint. "It was difficult, because I didn't know what I was doing ... I literally opened up the phonebook and looked for studios," Keen recalls. "I basically put it all together through brute force and ignorance, but I was shocked with how well it worked out and very happy with it. We had a release party at Butch Hancock's Dixie Bar and Bustop, and Lyle and Nanci Griffith and a lot of those people who were a part of the Austin folkie scene came out."
Keen himself had already started to make quite a name for himself on that scene, thanks to four years of constant regional gigging and winning the Kerrville Folk Festival's prestigious New Folk songwriting competition in 1983. After his debut's release, he began touring more and more outside of the state lines, eventually moving to Nashville in 1986. Keen's stint in Music City, U.S.A., lasted just under two years, but he returned to Texas armed with a publishing deal, a new label (another indie, Sugar Hill), and a national booking agent. He closed the decade with 1988's The Live Album and the following year's West Textures, the album that marked the debut of "The Road Goes on Forever" and, consequently, kicked his career into high gear.
With hindsight, Keen admits he no idea at the time of writing it that his song about a couple of ill-fated lovers running afoul of the law would have the legs it did, but he readily points to the forward thinking of DJ Steve Coffman of San Antonio radio station KRIO for helping to start the fire. "He talked the station into doing sort of a free-form programing format, basically anything he liked, which turned out to be some Texas music along with a lot of cool sort of pop music," he says. "So all of a sudden, I heard my song back-to-back with the Sheryl Crow song that was popular at the time, and that was the first time that I really felt like I was a real part of the music business, despite having been in it already for a pretty long time. And right after that, I went to a show in San Antonio and there were 1,500 people there -- whereas up to that point I'd been playing to, max, maybe 150. That was the real ah-hah moment for me that really got me going and kept me going, because before that I'd been doing this for eight or 10 years and had a lot of rejection but very little success."
After that, though, success came in spades. Although he continued to steer clear of the Garth Brooks-dominated waters of the country mainstream, the perfect storm of Keen's literate song craft, razor wit and killer band (more on that in a bit) stirred up a grassroots sensation in Texas not seen since the '70s heyday of maverick "outlaw country" upstarts Willie, Waylon, Kris Kristofferson and the afore-mentioned Guy Clark. Armed with two more albums (1993's A Bigger Piece of Sky and '94's Gringo Honeymoon) brimming with instant classics like "Corpus Christi Bay," "Whenever Kindness Fails," "Gringo Honeymoon," "Dreadful Selfish Crime" and "Merry Christmas From the Family," he began packing dancehalls, roadhouses, theaters, and festival grounds with diverse crowds of rowdy college kids, serious singer-songwriter fans and plenty of folks who, like Keen himself, had been around the Texas music scene long enough to remember Willie's earliest 4th of July Picnics. And the phenomenon was not confined to the Texas state lines. Famed producer and pedal steel ace Lloyd Maines (Joe Ely, Terry Allen) helped Keen and his band bottle lighting on 1996's No. 2 Live Dinner, a next-best-thing-to-being-there concert document that remains one of Keen's best-selling albums, and the burgeoning Americana music scene (bolstered by AAA radio stations across the country and magazines like No Depression) embraced Keen as one of its prime movers. In the wake of albums like 1997's Picnic and '98's Walking Distance (both released on major-label Arista), one would have been hard-pressed to tell the difference between a rabid Robert Earl Keen crowd at Texas' legendary Gruene Hall and those at New York City joints like Tramps and the Bowery Ballroom. Little wonder, then, that when the songwriter-revering "Americana" style was officially recognized by the industry 1998, Keen was the genre's first artist to be featured on the cover of the radio trade magazine Gavin.
The '90s may have been a boom period for Keen, but his momentum hasn't ebbed a bit since then -- nor has his pursuit of continued growth as a writer and artist. If anything, his output from the last decade has been marked by some of the most adventurous music of his career. "Wild Wind," an unforgettable highlight from Gravitational Forces, his Gurf Morlix-produced 2001 debut for the Nashville-based Americana label Lost Highway, captured the character (and characters) of a small Texas town with a cinematic eye reminiscent of The Last Picture Show; but the album's title track also found Keen wryly experimenting with spacey, beatnik jazz. For the freewheelin,' freak-flag-flying Farm Fresh Onions (2003, Audium/Koch), Keen and producer Rich Brotherton (his longtime guitarist) took the band into the proverbial garage to knock out their most rocking set of songs to date -- most notably the psychedelic rave-up of the title track. Brotherton also produced the more rootsy but equally playful What I Really Mean (2005, E1 Music), but Lloyd Maines was back at the helm for 2009's eclectic The Rose Hotel and 2011's spirited Ready for Confetti (both released by Lost Highway). The later was especially well received by fans and critics alike, with AllMusic's Thom Jurek raving, "Ready for Confetti is, without question, Keen's most inspired and focused project in nearly 20 years." Happy Prisoner: The Bluegrass Sessions, released in 2015, was a straight -ahead "love postcard to bluegrass." This was something Keen had wanted to do for a long time and it was now or never. Keen ranked Billboard's No. 2, 2015 Bluegrass Artist of the year. Happy Prisoner: The Bluegrass Sessions, charted as 2015's Top 5 album at Americana Radio and Billboard's 2015 No. 2 album on the Bluegrass Albums chart.
To celebrate the 20th anniversary of the milestone album No. 2 Live Dinner, Keen returned to the legendary John T. Floore's Country Store in the Texas Hill Country town of Helotes in the fall of 2015 where he recorded his latest project, Live Dinner Reunion, and upped the ante by inviting Joe Ely, Bruce Robison, Cory Morrow, Lyle Lovett and a few other friends and fellow Americana and Texas Music stars to sing along. Some 5,000 fans added their voices to the historic occasion.
The result, the rousing double-disc celebration Live Dinner Reunion, released in late 2016 on Dualtone Records, an Entertainment One company. The repartee of Keen and the other artists, the crowd's response, the songs, and inspired musicianship combine to magically create the album's you-are-there experience. It's these many special musical moments that propel Live Dinner Reunion into the stratosphere of live albums.
This brings Keen's career to now. In honor of the 25th anniversary of Robert Earl Keen's iconic album, A Bigger Piece of Sky, Keen and Dualtone will be releasing it on vinyl for the first time. Scheduled for release on November 16, 2019, A Bigger Piece of Sky is available now for advance order at DualtoneStore.com.
"A Bigger Piece of Sky was the most thrilling, hair-pulling, penny-pinching, cliff-hanging, scariest record I've ever made," says Keen. "I love every song on BPS."
A breakthrough album for Keen, A Bigger Piece of Sky and its songs, such as "Amarillo Highway," "Whenever Kindness Fails," and "Corpus Christi Bay" are mainstays of his live set. The album was recorded in Nashville, TN, produced by Garry Velletri, and mixed by Velletri and Jeff Coppage. The project features an amazing lineup consisting of Garry Tallent (E Street Band) on upright and electric bass, Marty Stuart on mandolin, Dave Durocher on percussion, Jay Spell on accordion, Jonathan Yudkin on violin, and Maura O'Connell on vocals. It also features guest musicians George Marinelli (Bonnie Raitt) on harmony vocal and electric guitar, Tommy Spurlock on guitar, Michael Snow on tenor banjo, Bryan Duckworth on violin, Dave Heath on upright bass, and Jennifer Prince on harmony vocals.
In the midst of the vinyl re-issue, Keen is as busy as ever touring. Though Keen has played sold-out theater dates with icons such as Willie Nelson, the lion's share of his concert schedule still finds him playing full-tilt with his seasoned road and studio band: Brotherton on guitar, Bill Whitbeck on bass, Tom Van Schaik on drums, and Marty Muse on steel guitar, Kym Warner on mandolin and electric guitar and Brian Beken on fiddle, acoustic and electric guitars. "Some of my band members have been with me more than 20 years now," Keen says proudly. "I used to think that was just sort of an interesting fact, but now it's almost a total anomaly -- that just doesn't happen much. I always felt like once you lock into the right bunch of people, you try to do the best by them that you can. So, we've been able to stay together a long time, and I think one thing that makes it worthwhile for people to come see us as an act." Keen's act and stage presence more than attest to his career's longevity and its subsequent opportunities.
REK has had the honor of performing with fellow superstars George Strait, Miranda Lambert, Chris Stapleton and Lyle Lovett on the Hand in Hand benefit telethon which raised more than $55 million for hurricane relief efforts in Texas. Keen was featured on a benefit concert hosted by the five former living presidents of the United States in 2017. Keen has been involved in many benefits and charity events for communities in his home state of Texas with his main focus of these organizations being the Hill Country Youth Orchestras in Kerrville, TX. Over the course of the last eleven years he has raised more than $500,000.00 for the organization. Add that to his legendary status in the lone star state, and it is no wonder REK was inducted into the Texas Heritage Songwriters Hall of Fame in 2012.
REK's philanthropic and charity work, along with his legendary music career lead him to be presented with the Distinguished Alumni award from Texas A&M University this fall. Awarded jointly by the university and The Association of Former Students, this honor recognizes those Aggies who have achieved excellence in their chosen professions and made meaningful contributions to Texas A&M University and their local communities.
The recognition of his legendary career doesn't stop there. In March 2015, Robert Earl Keen was distinguished as the first recipient of BMI's official Troubadour Award. The Troubadour Award celebrates songwriters who have made a lasting impact on the songwriting community. The award honors writers who craft for the sake of the song and set the pace for generations of songwriters who will follow. To protect songwriters, Keen was a member of the delegation that lobbied US Congress to support musicians' rights, specifically the "Fair Pay for Fair Play Act" which was promoted to the recently passed Music Modernization Act. Keen's career proves him to be a true trailblazer.
Troubadour Robert Earl Keen has made many meaningful contributions in both his surrounding Texas communities and in the music industry nationwide. As more projects and opportunities come down the pike, and as Keen continues to tour extensively with his band and in acoustic tours with Lyle Lovett, one thing remains the same: Robert Earl Keen loves what he does.
"It's just like, man, I'm lucky to still be hanging out here and doing this," he says. "I feel like everything came full circle in a wonderful way."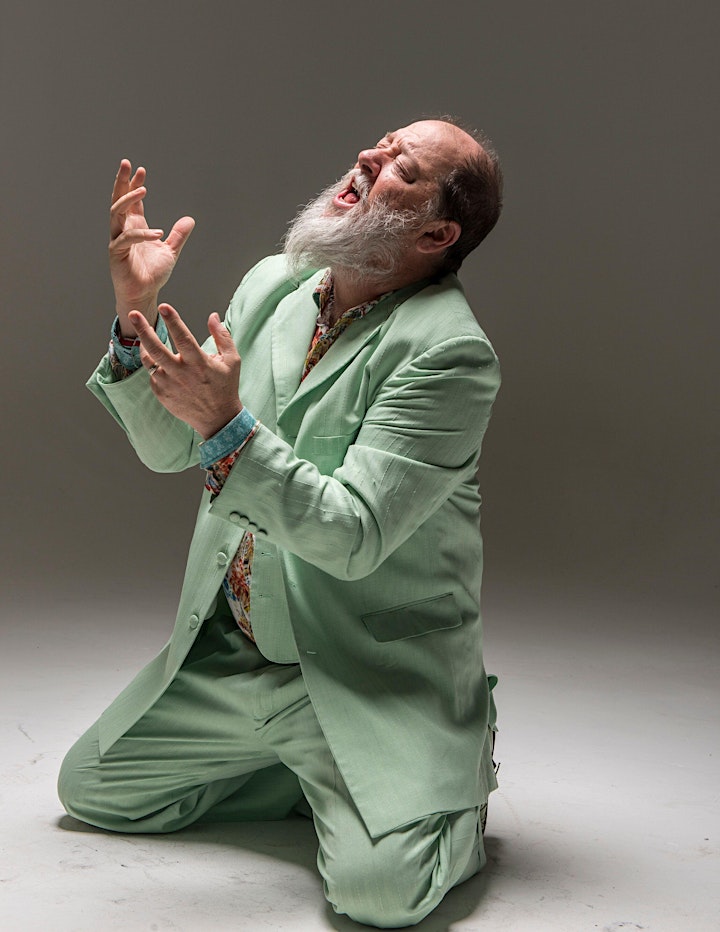 Shinyribs
Website | Facebook | Twitter | Instagram | YouTube
Once you've seen Shinyribs' Kevin Russell on-stage and heard his band's music, it's impossible to forget. Known for his outrageous outfits and antics, he's a regular fashion icon, liable to turn up in anything from his lime-green sherbet leisure suit to a flashing LED cloak, which he donned for a soulful performance of "East Texas Rust" on the award-winning PBS show Austin City Limits.
Born and raised in Beaumont, East Texas, Russell's been variously dubbed (mostly by himself), the Baryshnikov of the Big Thicket, the Pavarotti of the Pineywoods, the Shakespeare of Swamp Pop, or the Shiniest Man in Showbidniz. One of the pioneers of Americana as a member of The Gourds, Russell took his musical inspiration from the fertile Ark-La-Tex turf. In the immortal words of the title track to their most recent album, "I Got Your Medicine," Shinyribs have the cure to whatever ails you, moving that ass until you're a helpless member of the Kevin Russell-led "all-in" conga line which snakes through the audience at the close of every show.
"It's the universal dance anyone can do," he says. "Nobody feels self-conscious or out of place. It's a great way to get everybody involved. You can't really top that."
As Austin royalty, Shinyribs are one of the music world's best-kept secrets, but not for long. The eightpiece outfit was recently named Best Austin Band for 2017, while I Got Your Medicine was tapped as Album of the Year at the Chronicle's prestigious Austin Music Awards. Balding with a scraggly beard and an unapologetic gut, the 50-year-old Russell boasts the indelible spirit and nudge-nudge, winkwink playful quality of a man forever young, who points to the likes of Tony Joe White and the Coasters for his Shinyribs-tickling, mind-expanding, butt-shaking "is he for real" sense of humor.
The crack eight-piece band features, aside from Russell, keyboardist Winfield Cheek, bassist Jeff Brown and drummer Keith Langford, along with the Tijuana Trainwreck Horns (trumpet player Tiger Anaya and Mark Wilson on sax and flute) and the Shiny Soul Sisters (Alice Spencer and Kelley Mickwee), as well as occasional on-stage appearances by the Riblets, Shinyribs' very own dance troupe.
About his status as a local hero, Russell says, "The competition is pretty serious here in Austin. I don't know how big a fish I am, but I certainly flop around a lot."
Kevin Russell might not take himself too seriously, but he is dead-on serious about the eclectic blend of music he favors, combining Texas blues, New Orleans R&B funk, horn-driven Memphis soul, country twang, border music, big band swing, roots-rock, Tin Pan Alley and even punk into a raucous mix that includes such out-of-the-blue cover nods as David Bowie's "Golden Years" (a posthumous tribute with an unlikely "On Broadway" groove) or the Beatles' "Everybody's Got Something To Hide Except Me and My Monkey" (interpolated into a live version of "Poor People's Store," his populist "jingle" for an imaginary bargain basement outlet).
Russell's Shinyribs have recorded four albums since starting out as his "solo" side project, starting with 2010's Well After Awhile, followed by Gulf Coast Museum (2013), Okra Candy (2015) and last year's award-winning I Got Your Medicine. The band's impending release came to fruition with demos Kevin started in his backyard studio, with Los Lobos' Steve Berlin providing some of the horn arrangements.
Russell's parents were both music lovers, his father teaching him his first guitar chords, "then pretty much letting me go my own way." As a teenager, he went through a hard-core punk phase, attracted to west coast acts like Minutemen, Hüsker Dü and Gun Club, followed by an alternative/college fascination with R.E.M., the dBs and the Replacements.
"I was raised in an era where there were no rules, where marketing and specialization hadn't yet become the status quo," he says of his vast musical canvas. "I think of radio as playing all styles of music; everything is up for grabs. I never wanted to play just one kind of music. Honestly, I don't know how to do anything else. I love mashing things together you wouldn't expect, like a donut taco.
"My thing is to love and respect everyone, to accept everyone for who they are. You can be whoever you want to be at a Shinyribs show… that's what I'm trying to convey with my music and the performance."
The past flows through Russell's aesthetic sensibility to become something, well, Shiny and new.
"It's cool to see the old stuff still works. I've taken a great deal from the best showmen I've seen over the years. I don't want people to hero-worship me like a celebrity. This isn't about me… it's about us. Making everybody feel special." His goal remains to create music that makes us feel better about ourselves… even the sad songs.
"I feel good when I play and sing this music. I want everybody to experience that same pleasure. I just want to keep serving the music I love, and continue to evolve my art."