Description
Robert Burn's Birthday Celebration & Tasting
Wear your kilt or play your pipes as we will be honoring our Bard this night. With selected reading of Robert Burn's works, toasting of the Haggis, and of course a few wee drams of the blood of Scotland, whisky.
And there's a hand, my trusty fiere!
And gie's a hand o' thine!
And we'll tak' a right guid-willie waught,
For auld lang syne.
The annual celebratory tribute to the life, works and spirit of the great Scottish poet, Robert Burns (1759-1796). Celebrated on, or about, the Bard's birthday, January 25th, Burns Suppers range from stentoriously formal gatherings of esthetes and scholars to uproariously informal rave-ups of drunkards and louts. Most Burns Suppers fall in the middle of this range, and adhere, more or less, to some sort of time honoured form which includes the eating of a traditional Scottish meal, the drinking of Scotch whisky, and the recitation of works by, about, and in the spirit of the Bard. (Burn's Country web site)
John McDougall has dedicated a new series of tasting events centered on his life and the distilleries he has run. He will take us on a journey from being the son of a grain farmer to running some of the biggest distilleries in Scotland and beyond. Along the way, John will discuss 5 Single Malt Scotch whiskies and his real and personal experiences. (Brands vary from venue to venue)
John McDougall is arguably the most experienced Scotch Whisky Expert, Master Blender, Master Distiller, and best overall judge of Scotch Whisky you will ever meet. He is one of the very rare and elite group of people who have been Production Director, and/or Manager of a distillery in all of the traditionally recognized regions of Scotland.
Beyond having managed Springbank, Laphroaig, Balvenie, Tormore, and Ladyburn - three of which are among the top selling single malts in the world - John has worked or been directly involve with 17 other malt-producing and/or new distilleries, including Aultmore, Knockdhu, Banff, Teaninich, Imperial, Balmenach, Dailuaine, Glenfiddich, Glenugie, Kinclaith, Ben Nevis, Bruichladdich, and Bladncoh. More recently, he helped develop the first Swedish Malt Whisky distillery in Box, Sweden and Dingle Distillery in Ireland.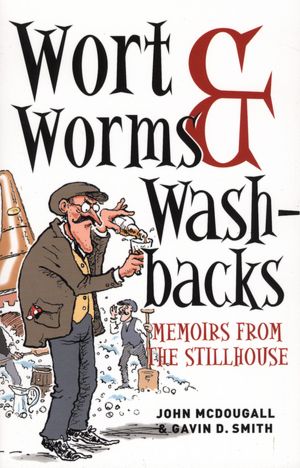 John continues his 52-year commitment to the industry by acting as a consultant for emerging and in-operation distilleries (over 25 to date and likely more than anyone else). He has written a book titled, Wort Worms & Washbacks, in which he describes his early life journeys in whisky. He has developed and/or consulted for several independent brands both independently and with partners like his "Golden Cask Series" with bottling partner Jane MacDuff, Wild Scotsman with Jeffrey Topping, and his own John McDougall Whisky Life Series and John McDougall selections.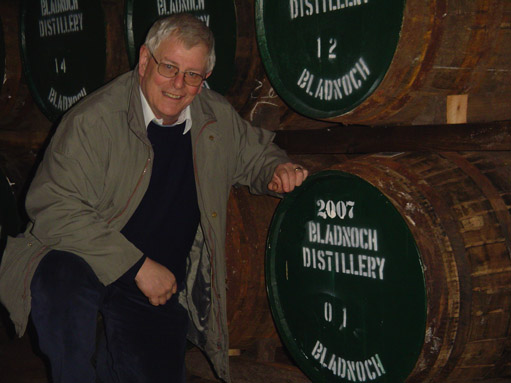 John McDoguall at the Bladnoch Distillery in the Scottish Lowlands.
Date: January 23, 2013
Registration: 6pm-7pm
Enjoy complimentary Hors D'oeurvres, provided by Nicholson's Tavern & Pub
Tasting: 7pm-9:30 pm (or longer if needed)
Scotch Whisky:
Springbank Distillery, Balvenie Distillery, Laphroaig Distillery, *Dailuaine Distillery, and *Tormore Distillery
Haggis Toast Whisky: Wild Scotsman Black Label Blended Malt Scotch Whisky presented by The Wild Scotsman.

*whisky subject to change due to availability in some markets

Complimentary Etched Tasting Glass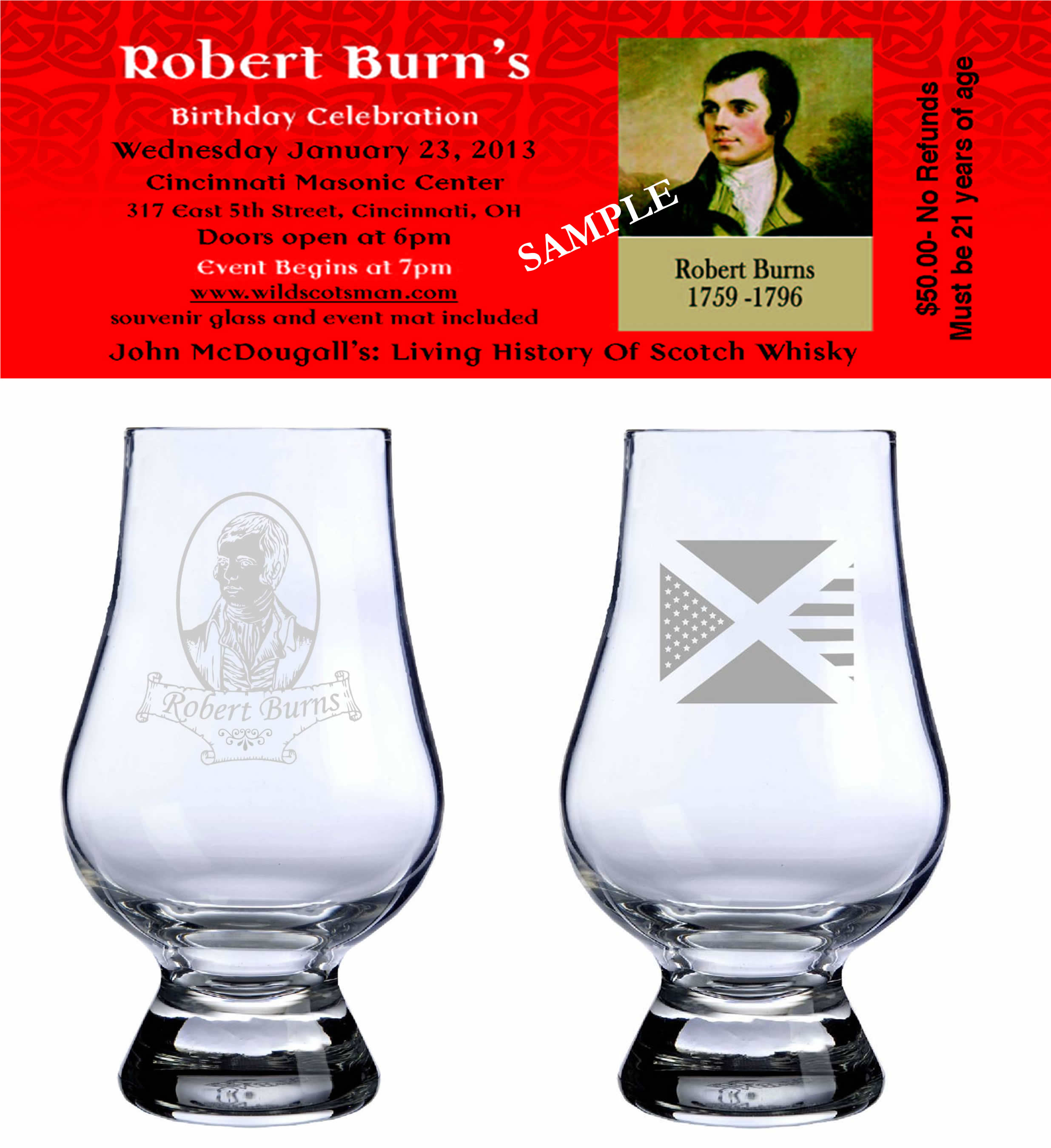 *glassware images subject to change
Note to attendees:
In order to have a successful and fun event the following rules are in place. Violating any of the following will demand immediate removal from event without refund.
Film, video, and sound: Wild Scotsman Whisky & Spirits Limited, Wild Scotsman Productions, and John McDougall are very strict as to regard copyright(s) and trademark(s). Tasting cannot be filmed, videoed, or recorded for television, internet, radio and/or commercial and private use unless permission has been granted in writing or by contract by Wild Scotsman Whisky & Spirits Limited, Wild Scotsman Productions, and John McDougall.
Photography: photo's for personal use and not commercial are allowed providing they are not distracting to the event.
Age: All guest must be 21 years of age and posses a legal government id. We only accept the following: Drivers license, State Issue ID card, military ID, and passport.
Intoxication: Anyone appearing or acting drunk will be asked to leave. Anyone arriving intoxicated to the event will not be admitted.
Disruptive behavior: All guests must be respectful of the venue, staff, fellow guests, speaker, and everyone in attendance.
No Refunds: In the event we cannot hold the event due to declared "weather emergency" we reserve the right to (1) refund ticket costs minus expenses (2) reschedule event for Wednesday February 13, 2013.
Thank you
Jeffrey Topping
Wild Scotsman Whisky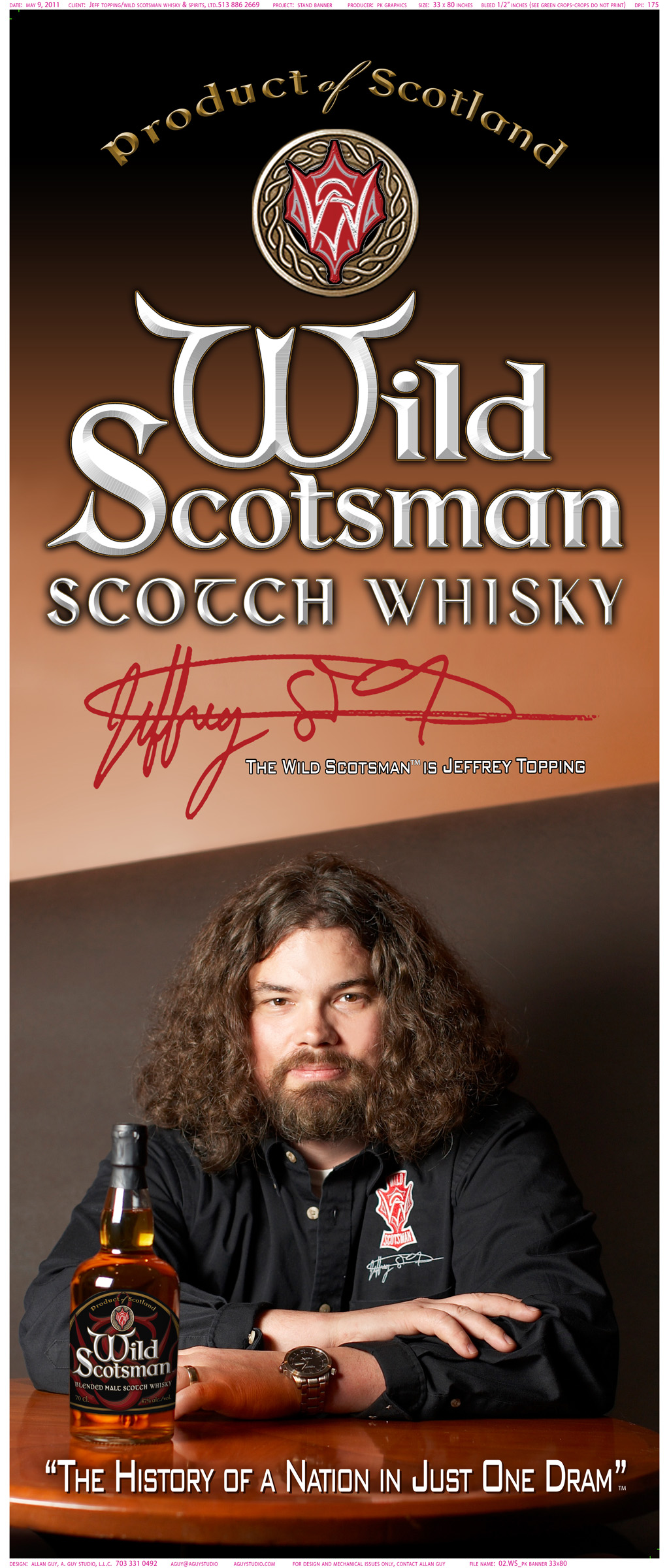 Organizer of Robert Burn's Birthday Celebration 2013
Our philosophy is simple, Scotch Whisky that tastes like Scotch Whisky. No caramel finishes, watered down proof strengths, or chill filtration. Just the simple enjoyment of hand crafted Scotch Malt Whisky bottled as Single Casks, Single Malts, or Vatted Malts in the traditional Scottish methods.
I only bottle the best Scotch Malt Whisky and here's why.
 Wild Scotsman has limited availability, however, we can mail order to many different states through various on line retailers in the states of IL, IN, and KY. Call your favorite shop or try our friends at The Party Source who stock all available US bottlings. Tell them the Wild Scotsman sent you.
Living in the UK, EU, or other countries across the pond? Get your mail order Wild Scotsman Black Label from our on line partners at The House of MacDuff in Scotland. They can also assist if you are a shop or bar needing product in the UK, EU, or other countries across the pond.