Actions and Detail Panel
Robbie and the Dude Ride Again!
Fri, December 9, 2016, 8:30 PM – 10:00 PM CST
Description
THE MERRY MAD MEN 'ROBBIE AND THE DUDE' -- AKA CHRIS SHAW AND ROB BENTON -- SET TO CONVERGE ON THE UNSUSPECTING TOWN OF BLAINE, MN FOR ONE NIGHT ONLY, DECEMBER 9TH
Fast-paced, Often Spontaneous Comedy, Slapstick, Music and Fun Recalls Other Comic Duos Like Smothers Brothers, Abbott and Costello
Comic veterans Chris Shaw and Rob Benton have individually shared stages with the Bigs like Henny Youngman, Ellen DeGeneres, "Weird Al" Yankovic, Brian Regan, Gilbert Gottfried and others. But together as the imploding, impulsive and insanely goofball duo of Robbie and The Dude they create an avant-garde variety of stand up, songs, audience participation and craziness, with a nod to the classic comedy teams of the past, from Abbott and Costello to The Smothers Brothers and other legendary wits.
Robbie and The Dude bring their fast-paced and often spontaneous 90 minutes of comedy, slapstick, music and fun to STICKS and STONES Event Space in the FOGERTY ARENA, located at 9250 Lincoln St NE, Blaine, Minnesota 55434, for a night yuks best experienced live.
There will be dinner service that evening, with seating beginning at 6:30pm, offering the Arena reastaurant's full menu. Show only seating will begin at 8:00pm. For more questions, call them at 763.233.0699.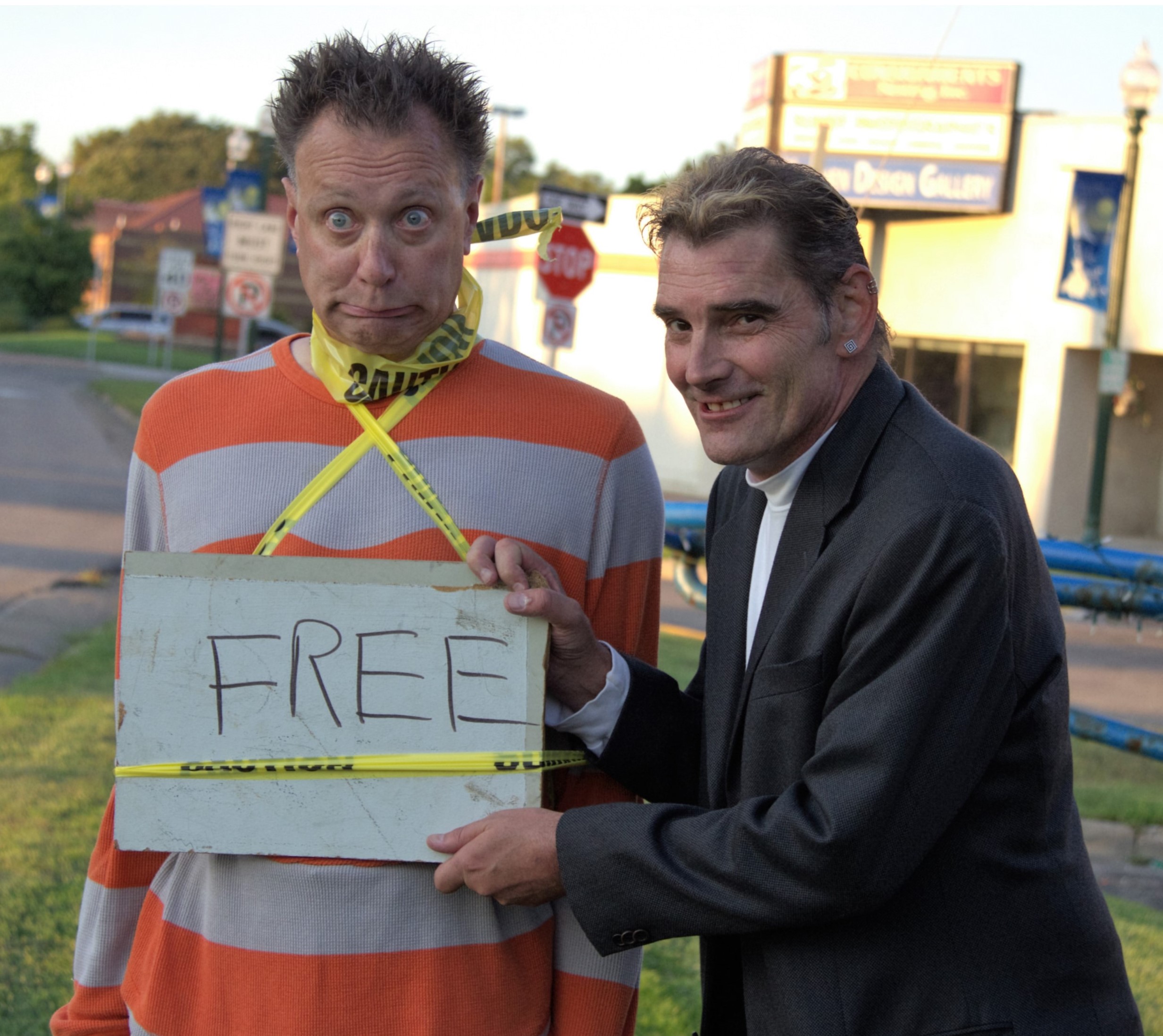 ---
Praise for Robbie and the Dude:
"Very clever, relentlessly funny, and totally original!"-- Senior Editor, IFAI

"A fantastic break from the traditional observational humor format."-- Operational Leader, Key City Ventures
"Hysterically funny!"-- Owner, Flathead Ads




---
Rob Benton
---


This veteran of comedy stages, from clubs to concerts, is more well-traveled than Gulliver himself. In his 30 plus years of experience, Rob has worked coast-to-coast with some of the élite in the business, including Henny Youngman, Tommy Chong and Ellen DeGeneres. Armed with his sarcastic wit, intelligent writing and no safety net, his creative style is sure to regale any audience. Most nights you can find him on stage perfecting his craft, but now as the clever half of "Robbie and the Dude", he has his hands full just keeping the show from running off the rails.
---
Chris Shaw
---
Chris' bouncy, cleverly physical style of placing his faith in observation, agility and wit, draws his audiences in through bizarre metaphors and hilarious facial expressions, bringing the crowd along for the ride...only to send them into unsuspecting waters. Whether touring with "Weird Al" Yankovic, Brian Regan or Gilbert Gottfried, or on the road as a national headliner, Chris proves how this frenetic and misguided "dude" has become a crowd favorite!
Date and Time
Location
Sticks & Stones Event Space @ Fogerty Arena
9250 Lincoln Street Northeast
Blaine, MN 55434