Description
The Interval at Long Now welcomes
Rob Reid (author, entrepreneur)
As a veteran tech founder, entrepreneur, and VC himself Rob Reid has the perfect background to satirize Silicon Valley. And his new book After On overflows with fixtures and foibles of the contemporary tech world including an app gone wild, Artificical Intelligence, the promise & peril of synthetic biology, privacy issues, government intrusion, post-Tinder romance, and much more.
He is also a New York Times best selling author, so this story is in good hands. And if he looks familiar, maybe you've seen him around The Interval. Rob worked out of The Interval to write much of this book, and even features it in the story. We're honored to have him back to discuss his new book and more in our salon series. Long Now Executive Director Alexander Rose will host.
Check-in begins 6:30pm; talk starts at 7:30pm
at The Interval at Long Now
Long Now members can watch free
via livestream on our member site
Rob Reid doesn't write science fiction; he writes future history. After On is the best account I've read on how superintelligence will arrive, and what it will mean for all of us. Hilarious, frightening, believable, and marvelously constructed; After On has it all. — Hugh Howey, author of Wool
Rob's book After On will be on sale and he will sign copies of it after the talk.
Rips the lid off Silicon Valley! And what lies beneath.
— Stewart Brand, Long Now Foundation co-founder on After On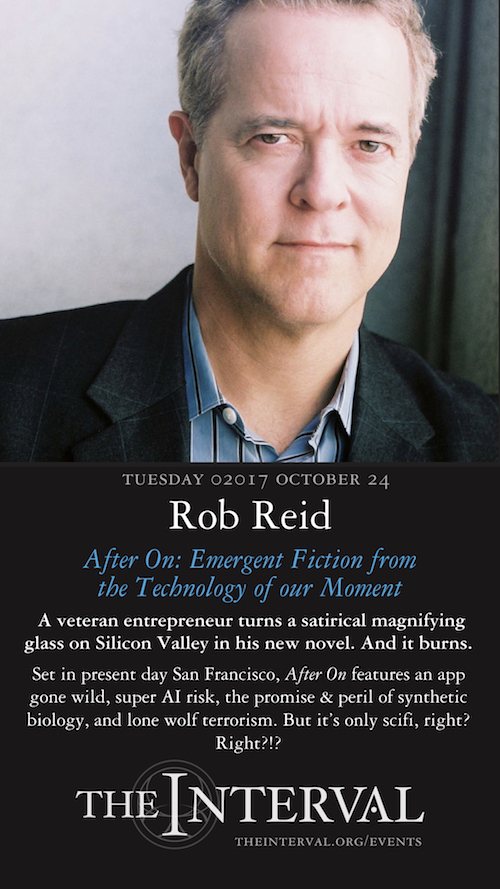 Become a Long Now member to support this series, get early access to tickets, and other benefits.
Rob Reid's time in the technology industry dates back to 01994. He was founder and CEO of Listen.com, which created and developed Rhapsody, the first unlimited music streaming service which he sold to RealNetworks. This is his fourth book and second tech-themed novel after Year Zero (02013) about what happens when extra-terrestrials get hooked on pirating Earth's music. Rob's essays, articles, and op-eds have been featured in the Wall Street Journal, Business 2.0, and Wired. His TED talk on "copyright math" has been watched by more than a million people online. He recently started a podcast related to After On. Rob holds an MBA from Harvard Business School, a BA and an MA from Stanford University, and was a Fulbright Scholar in Cairo Egypt.

Long Now members hear about Interval events first: become a member today