Rob Higgins - He Got Game in Tampa; Pitching Like a Pro

Tuesday, May 3, 2016 from 6:00 PM to 8:00 PM (EDT)
Event Details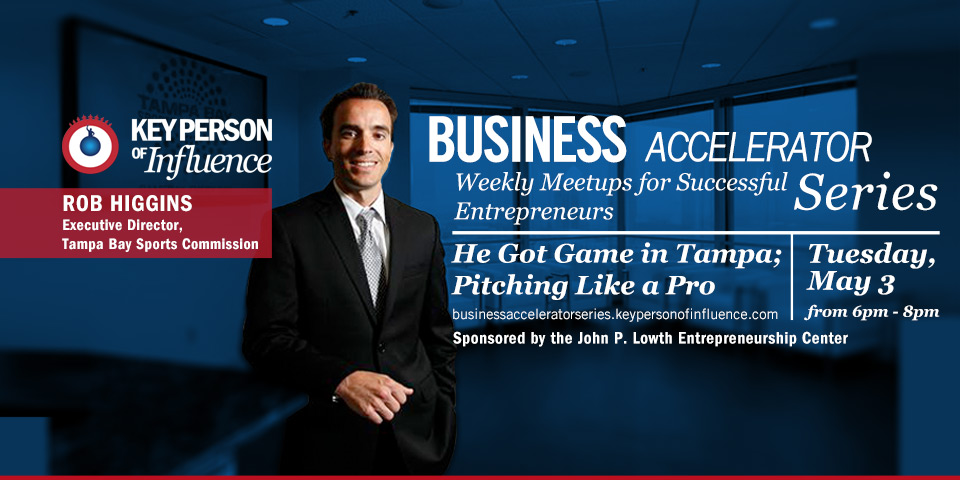 ---
THIS WEEK'S TOPIC: 
PITCH: He Got Game in Tampa - Pitching Like a Pro

with Rob Higgins

$50 At the Door / $30 Advance Purchase through EventBrite

This is a unique occasion where our guest contributor literally has conquered 3 of our 5 soft skills:  Pitching to get the big game opportunities to the city of Tampa, Partnering with elite operations the likes of the NCAA and the NFL, and raising his own personal Profile while elevating the Profile of Tampa by bringing game-changing sporting events to our favorite city. 

In this Business Accelerator, you will have the opportunity to spend two hours with Rob, and learn about his journey that has awarded him such claims to fame as being named one of Street & Smith's Sports Business Journal's 2016 "Forty Under 40" and one of the top-30 sports marketers in the world by the Huffington Post.  You'll discover things like:
How do you make your pitch stand out from your competition, knowing that they will be promising relatively the exact same thing you will?


How do you calculate the risk of going too far in your pitch?

What are the key ingredients to forging partnerships with people and organizations way bigger than you? 


How to get on the radar of your industry organizations that recognize the best and the brightest?
WHO SHOULD ATTEND?
Business owners who want to align with Tampa's remarkable sports scene

Business owners who want to discover new ways of pitching an older, established business 

Business owners who seek to raise their profile on a national scale

Business owners who are looking for strategies on how to create alliances with other people of influence and organizations of power


Business owners who want to network and associate with other established business owners

Key Executive Management Leaders who need to turn their company into a high-performance team.  
Business Acumen Rating: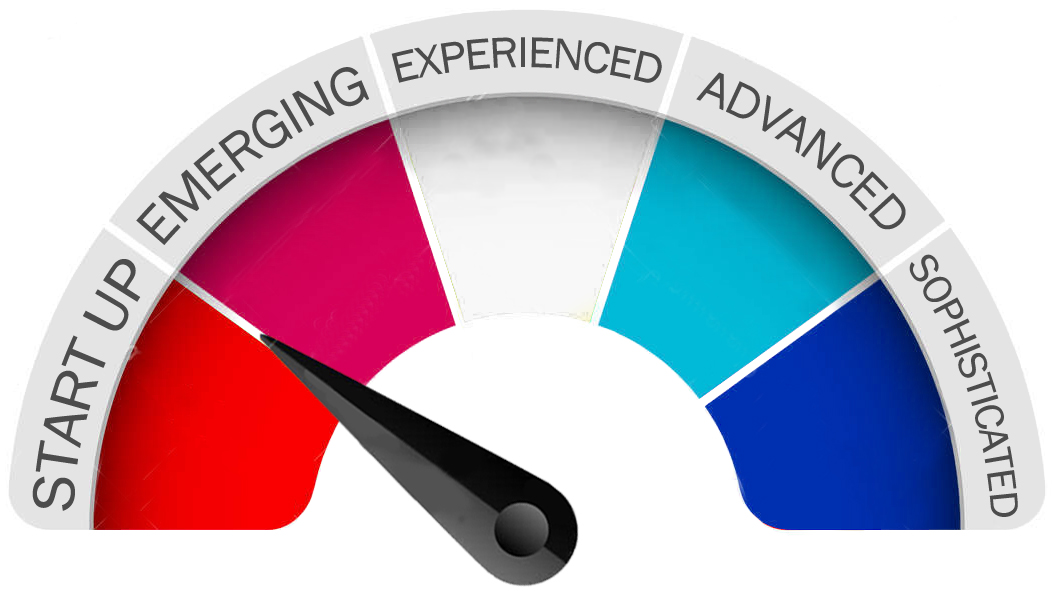 Ticket Price: $50 At the Door, $30 In Advance
ABOUT THE CONTRIBUTOR: 
Rob Higgins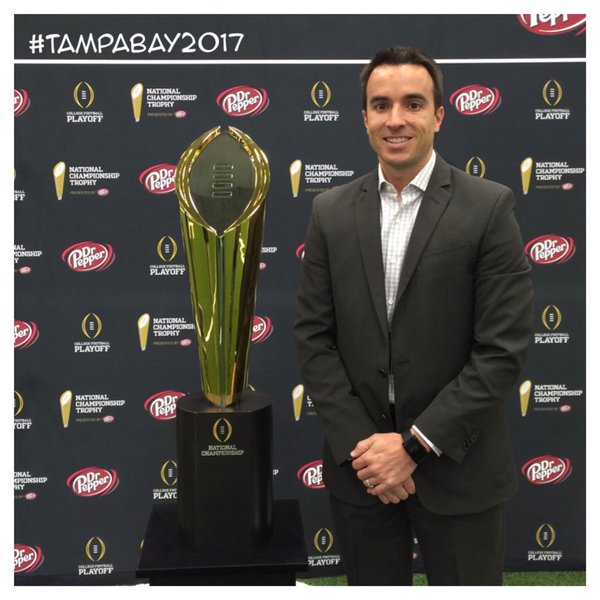 In June of 2004, the Tampa Bay Sports Commission named Rob Higgins as its Executive Director. Higgins primary responsibility is to promote the development of community sports in the Tampa Bay area, as well as leading the Sports Commission as the principal organization that bids on and hosts sports and entertainment events in Tampa Bay and Hillsborough County.

In the nearly 12 years Higgins has held his position, Tampa Bay has successfully hosted and/or been awarded the following events: 2007 ACC Men's Basketball Tournament, 2008 NCAA Men's Basketball First and Second Rounds, 2008 NCAA Women's Final Four, 2008 and 2009 ACC Football Championships, 2009 SEC Men's Basketball Tournament, 2009 NCAA Women's Volleyball Championship, 2011 NCAA Men's Basketball  Second and Third Rounds, 2012 NCAA Men's Frozen Four, 2015 NCAA Women's Final Four, 2016 NCAA Men's Frozen Four, 2017 College Football Playoff National Championship, the 2019 NCAA Women's Final Four and the 2022 SEC Men's Basketball Tournament.

Higgins served on the bid and operations committee which successfully landed and hosted the 2009 Super Bowl. He was named to Tampa Bay Business Journal's 30 under 30 list and the Tampa Bay Times named Higgins as one of the top 10 difference makers in the Tampa Bay area.

Most recently, Higgins was named to the prestigious Street & Smith's Sports Business Journal "Forty Under 40" fo 2016. He was also recognized as one of the most influential sports figureheads in the history of Tampa Bay by CBS Radio, one of the top-10 most influential people in Tampa Bay by WTSP 10 News, and Huffington Post listed Higgins one of the top-30 sports marketers in the world.
When & Where

University of Tampa Entrepreneurship Center
820 West North A. Street
8th Floor
Tampa, FL 33606


Tuesday, May 3, 2016 from 6:00 PM to 8:00 PM (EDT)
Add to my calendar
Organizer
Welcome to the Key Person of Influence events page for Eventbrite. 

Our Profitable CEO Workshop Series is exclusively for owners and C-suite executives of successful, growing, professional service companies. Most of these workshops are ticketed events through Eventbrite.
These workshops aren't generic or boring presentations; they are highly-interactive conversations backed with implementable, proven strategies. You will be able to ask your specific questions to get the answers you need for your business to excel in this new collaboration economy.
Our KPI CEO Socials are are casual but highly-vetted, high-level gatherings for the sole purpose of connecting with area leaders, and connecting them to one another.  These socials are by invitation-only and are limited to 12 attendees. To be considered for an upcoming CEO Social, visit our landing page for list of qualifications and for more info:  CLICK HERE FOR INFO
To learn more about our Personal Brand Accelerator program, and for video testimonials from some of our clients, visit our website: KEYPERSONOFINFLUENCEUSA.COM

---