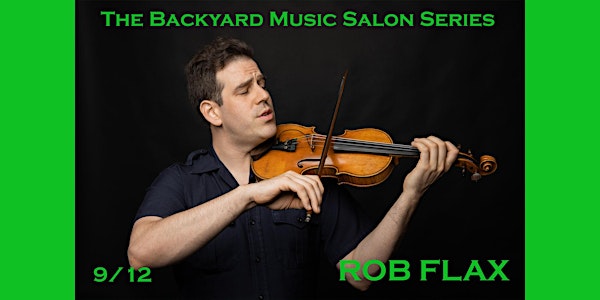 Rob Flax @ The Backyard Music Salon Series
Location
School Lane
School Lane
Watertown, MA 02472
Refund policy
Contact the organizer to request a refund.
Eventbrite's fee is nonrefundable.
Join us for an afternoon or an evening of delightful live music with violinist Rob Flax, and then a facilitated group discussion afterwards.
About this event
We are excited to welcome Rob Flax, an award-winning multi-instrumentalist, composer, and educator from Evanston, IL with a playful heart and an open mind, to the Backyard Music Salon series. Rob has performed nationally and internationally with groups of many different styles, including opening for B.B. King and Tower of Power, playing viola and violin with the Trans Siberian Orchestra and YouTube star Jacob Collier, upright bass in an Argentine tango ensemble, mandolin and fiddle in various bluegrass bands, electric violin in several rock bands, collaborations with modern dancers, and more. As a composer Rob has written music for choreographers, film (including work on the soundtrack of James Franco's film As I Lay Dying), and several original projects. On 9/12, join us for delightful live music with our featured performer Rob Flax, and then a facilitated discussion with the entire group afterwards about the music and our experiences to promote connection between audience members, as well as the featured artist. There will be two events held on 9/12 with our featured performer to facilitate appropriate social distancing; one will be an afternoon performance (3:30-5 PM), and one will be an early evening performance (6:30-8ish pm). Once you have secured your ticket, we will send you the exact address of the event, as the host in Watertown would prefer to keep that information only for guests.
Check out a video of Rob Flax performing "Photosynthesis" at #YouTubeNashville:
https://www.youtube.com/watch?time_continue=3&v=Kt0_1mDmnOE&feature=emb_logo
More information about the Backyard Music Salon series:
The emphasis of the series is on having a very small, socially distanced gathering of people (6-10 max) in a beautiful open-air backyard space. One thing scientists all agree on at this time is that it is much safer to be socially distanced outside than inside, so the backyard music salon series will always be held in an inspiring backyard space where there is plenty of room for social distancing with masks to enjoy the music safely and get back to some of the communities we are sorely missing. Masks will be required for all attendees. We will have a set featuring live music from the artist of the evening, and then there will be a facilitated discussion afterwards with the group about the artist's music and their reactions to the songs, their experiences and how they relate, what the artist thinks about their music and what they've been thinking about creatively during these times, etc, and having just conversations about creativity and surviving through these times in general. The capacity limit to the audience will be positive for these events as it will keep the atmosphere intimate as to provide a safer space for sharing and discussion. We connect when we see each other, and hear each other as well, so there will be space for everyone at these events, and it will be a really cool way to connect with your favorite artists, or perhaps artists you've never heard, but you've absorbed their music for an evening and get a lens into their thought process in a way you might never otherwise in a regular concert. Though I will disclose I am a licensed therapist (LMHC) and this discussion may be likely therapeutic for attendees and/or the artist, it will technically not be therapy.
As I am watching myself and other artists struggle with paying the bills and sustaining themselves and their livelihoods at this time, I want to make sure I can provide a positive force for good during this time with the series, and that means aiming for sustainability in the earnings for the artists as well as a fair portion for myself as an artist/organizer! I hope this will be a public service as well as an enjoyable concert and event, and hope to compensate the artists and myself appropriately for our time. I also am dedicated to keeping this series as safe as possible, so I will be following and enforcing all recommended safety protocol, and cleaning supplies and time will be factored into cost.
If you do not want to pay the eventbrite fee, VENMO $30 (@Melissa-Nilles) or send a payment to paypal at melissaleenilles@gmail.com to secure a spot. We can send you a confirmation email for the event if you include your email in the description. I will distribute the proceeds from the sales of tickets fairly to the artists as mentioned. Venmo or paypal is highly preferred as eventbrite charges fees and I don't want to take anything away from you as the consumer or from the hard-working artists who are performing. You can also shoot me an email at melissaleenilles@gmail.com and try to work out another option if needed. Thanks! Looking forward to a beautiful series built on connection, intimacy, and creativity that can hopefully provide a space for resilience and beauty during these difficult times. ♥