Description
DON'T MISS "ROAST DAT TURKEY" COMEDY JAM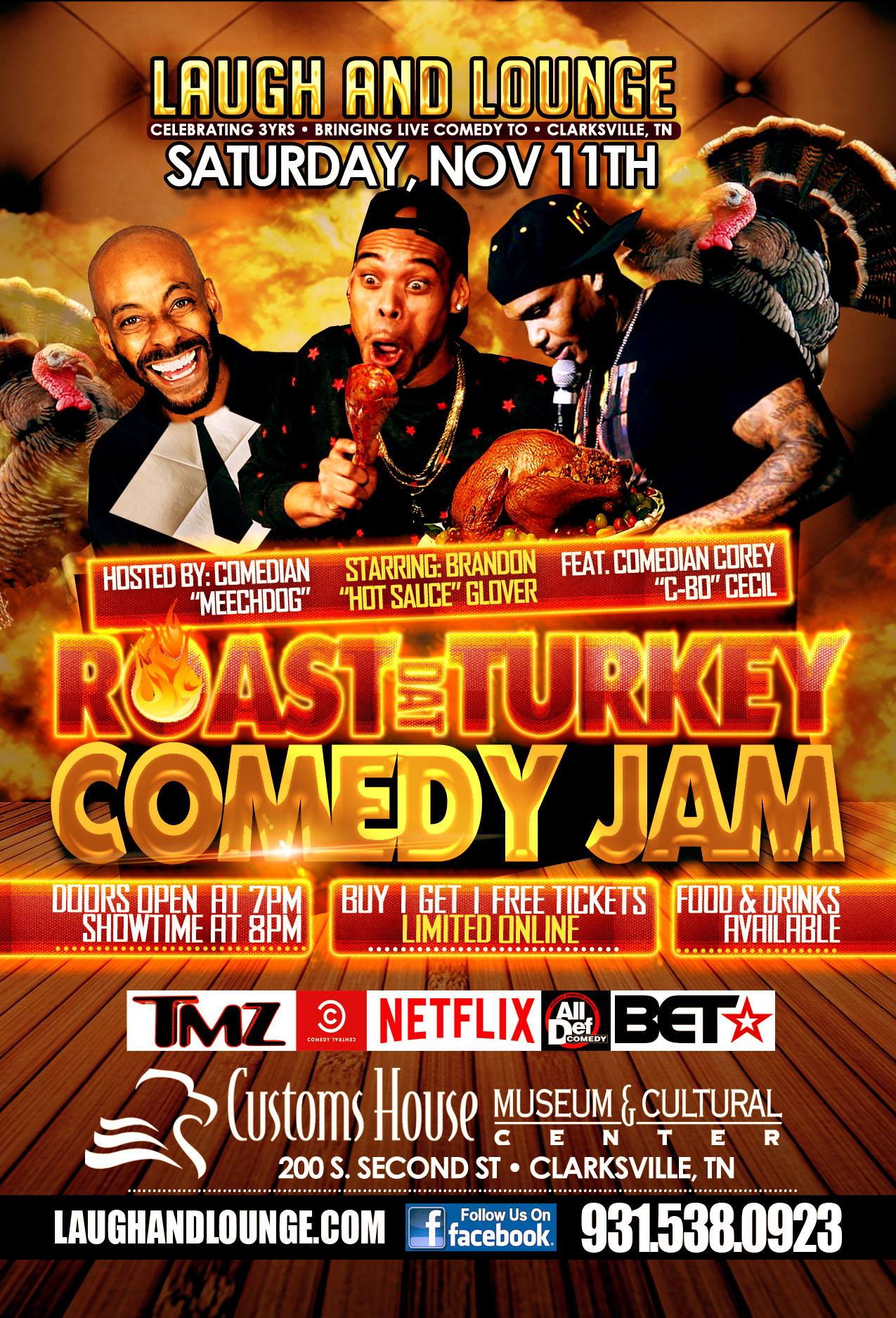 LAUGH AND LOUNGE CELEBRATING 3YRS - BRINGING LIVE COMEDY TO - CLARKSVILLE, TN
Starring Headliner/Comedian: BRANDON "HOT SAUCE" GLOVER
People know him from. Comedy Central Russell Simmons presents stand up at the el ray. B.E.T Comic View One Mic Stand hosted by Kevin Hart. Aspire TV laffmobbs who's got next TMZ TruTV Laffmobb laugh tracks video with UGK.'s BUN B.!!! He's done skits with Murphy Lee from the St Lunatics He's been on tour with Mike Epps and working on his cartoon little sauce and Friends. Just did the TBS JUST FOR LAUGHS festival.With Tood Glass And IM NOT DONE ITS A HOTSAUCE MOVEMENT!!!! He's Going in to 2018 with a bang!!!!! Dont miss this BUS @jokerjamcomedy jokerjamcomey.com see him on there now showtime Laff Mobb presents and aspiretv we got next also go to his Pandora station Brandon Glover radio
Starring Feature: Comedian/Actor Corey "C-BO" Cecil
Former Black Boots cast member Corey "C-Bo" Cecil has appeared in such films as G-Unit Videos and The Castle with Robert Redford, and the feature length film King of the Ville. In post-production is his latest project with Comedian Tony Roberts the star of Not So Fast My Tooth Is Loose (2015).Cecil, a comedian since 1997, was born in South Nashville Tennessee. The first official host of Jazz & Jokes in his hometown of Nashville, TN. Cecil toured with Mike Epps in 2013. Collaborating with many veteran comedians such as Red Grant host of the Comedy Store, Deon Cole writer of the Conan O'Brian Show and producer of Blackish. Also collaborated with comedian JB Smoove from Husbands of Housewives. Currently working with Black Jesus star Slink Johnson.
Starring Host/Comedian: "MEECHDOG"
The Louisville "King Of Comedy" Filmed Special at the Comedy Caravan Coming Soon to BounceTV
DOORS OPEN AT 7PM | SHOWTIME 8PM
Live Mix with the Famous DJ Cut.D | Event Sponsored In Part By BIGFISH Limousines
---
Good Food + Good Drinks + Good Laughs + Good Times = #LAUGHANDLOUNGE
CLARKSVILLE'S ONLY OFFICIAL COMEDY EXPERIENCE...