ROASA's 8th Annual Leading Within Conference (YOU MADE IT!) - Black History Month 2021 #LWC2021 #WAS2021
About this event
Register Today!
Get ready to enjoy a Black History Month, Leading Within Next Generation Conference!
Special Level- Up Virtual Conference!
Theme - We Made It - We Are Synergized!
Time to Learn How to Fish Globally to Claim What's Rightfully YOURS!
#LWC2021 #LWWAS2021 #YOUMADEIT2021
"We Are Synergized" WAS"! Unlimited Global Connections!
Level-up and Encourage - Lead – Grow Together!
Sharon Parker, President of ROASA, Inc., is excited to connect our Next Generation Speakers, with those Leading Within in ALL industries.Details about Virtual Conference (Jot From link will Zoom access):
What: ROASA's 8th Leading Within Virtual Conference
Theme: "Reclaim Your Legacy..."
When: Saturday, February 20, 2021
Host: Sharon Parker, President of ROASA, Inc.
Connect, Have Fun and Engage with Profession-to-Youth Executive, Leading Within Speakers, Businesswomen, Authors, and aspiring Entrepreneurs and seasoned professionals.
Your will hear inspiring stories of how the Next Generation of Leading Within Professionals are thriving during COVID-19, and encouraging other professionals like YOURSELF!
Learn about great stories of #Legacies like, Booker T. Washington, Charles R. Drew, George Washington Carver, Arthur A. Schomburg, Carter G. Woodson, W.E.B. Du Bois, Dr. Martin Luther King, Jr., Billie Holiday, Josephine Baker, Diahann Carroll, Sojourner Truth, Harriet Tubman, Ida B. Wells, Rosa Parks, Michele Obama, Madame C. J. Walker, Jeanette J. Epps, Mary McLeod Bethune, Nannie Helen Burroughs, Fannie Lou Hamer, Katherine Johnson from Hidden Figures, Mae Carol Jemison, Eartha Kitt and many more.
Fun and Engaging Virtual Activities:
- Global Branding of Your Business! Strut that stuff on the Virtual Leading Stage! - Power of Your Story Speakers!
- 2020 Leading Within VIP Speakers Presenters (Fitness, Fashion, Hair, Leadership, Finance, Creativity/Art, Social Awareness, Unlimited Connections!
- Claim Your True Legacy by, Sharon Parker, President of ROASA, Inc.
For questions, please contact Ms. Parker on 202-365-8277 or our Leading Within Executive Project Manager, Ms. Tonique Parker on 301-200-2024.
Feel free to also email Ms. Parker at ccparker123@aol.com or sharon@leadingwithin.org.
Thank you in advance to investing in your legacy!
Leading Within Executive Project Manager c/o Sharon Parker, President Remembering Our Ancestors Synergistic Association, (ROASA), Inc. www.leadingwithin.org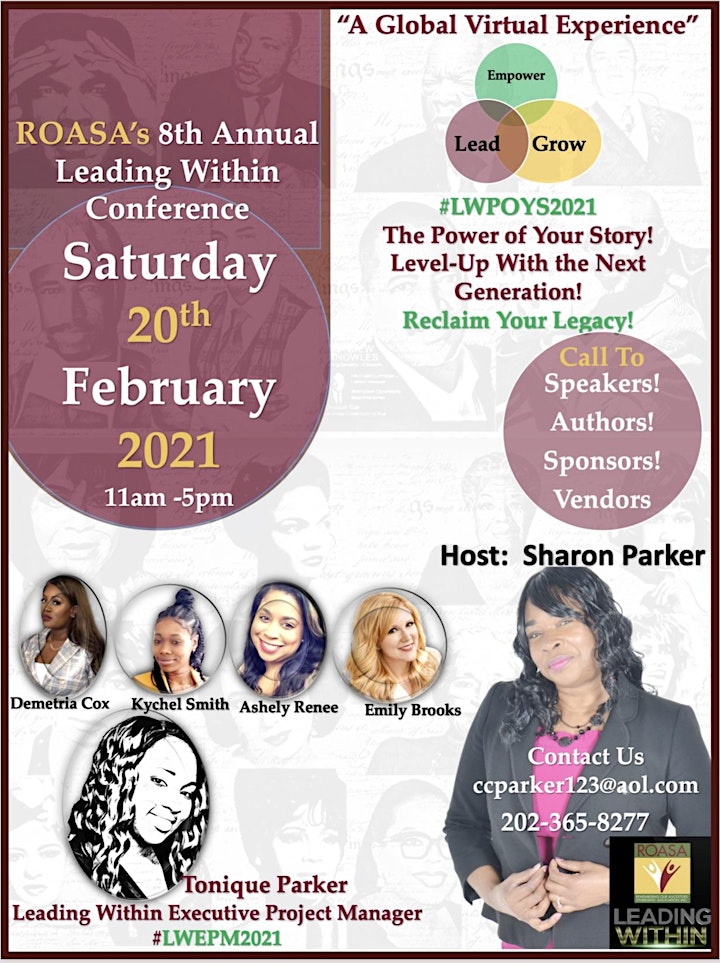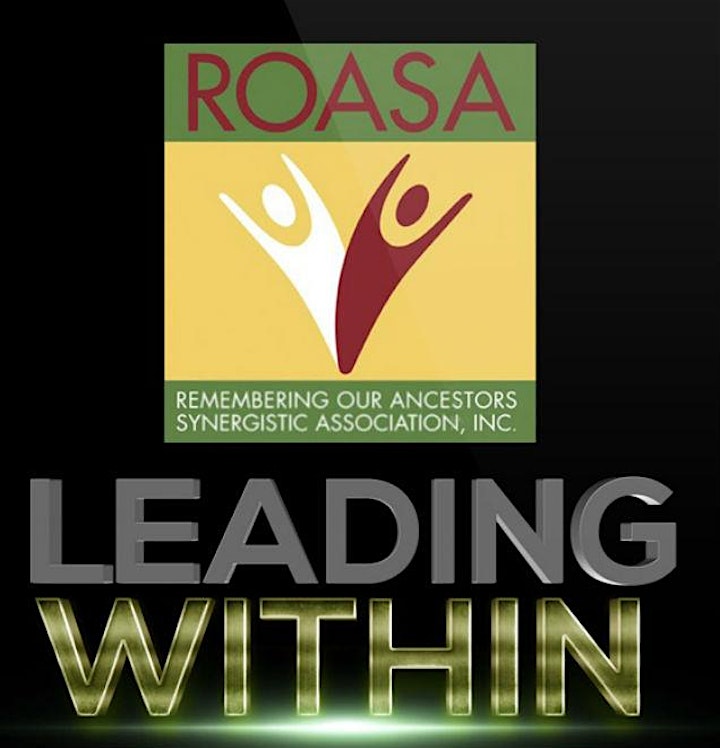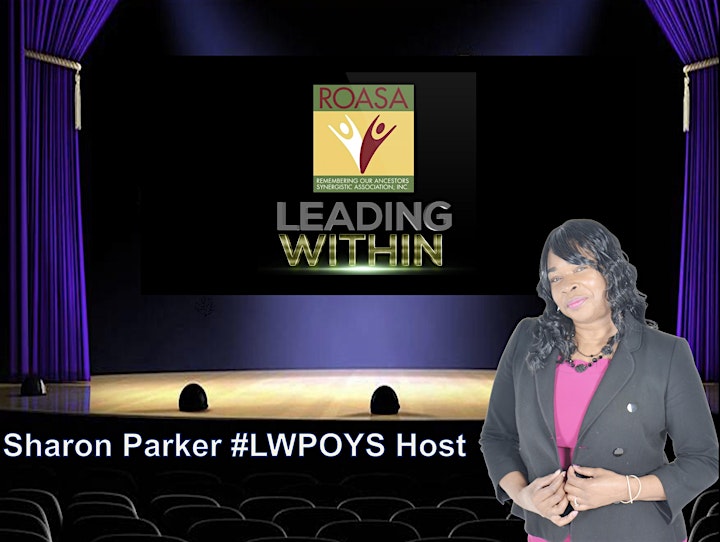 Organizer of ROASA's 8th Annual Leading Within Virtual Conference #LWWAS2021