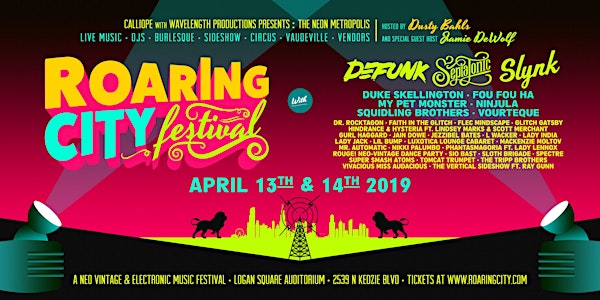 Roaring City Festival 2019
When and where
Location
Logan Square Auditorium 2539 North Kedzie Boulevard Chicago, IL 60647
Description
ABOUT THE ROARING CITY FESTIVAL:
Join us for Roaring City, The Neon Metropolis - Chicago's newest 2 day neo-vintage music and performance festival! Featuring live bands, DJs, sideshow, circus, burlesque, ambient performance and more!
The Roaring City festival celebrates the future in the spirit of yesteryear- bringing vaudevillian style entertainment from all over the United States and beyond for one weekend of awe and delight. You'll be taken through time in the heart of historical Logan Square within our prohibition era host venue, The Logan Square auditorium (built in 1915).
It's an old time spectacular event with a futuristic twist. Featuring a huge variety of performance, you'll be amazed by stage acts, laugh aloud to circus clowns, dance like no-one's looking to DJs, rock out to electrified swing-style bands, and be enticed for more every step of the way.
We hope you can join us for this neo-historic occasion, pre sale tickets will be limited so don't hesitate to take advantage of early bird pricing!
For updates please visit: The Official Roaring City Website
#RoaringCity #RoarWithMe
THIS EVENT IS 21+

· · · · · · · · · · · · · · · · · · · · · · · · · · · · · · · ·
OFFICIAL LINEUP:
Headlining Acts:
Defunk - Calgary, Canada
Slynk - Brisbane, Australia
Sepiatonic - Portland, OR
With Special Guests:
Duke Skellington - Los Angeles, CA
Fou Fou Ha - San Francisco, CA
My Pet Monster - Kansas City, MO
Ninjula - Los Angeles, CA
Squidling Brothers - Philadelphia, PA
Vourteque - Chicago, IL
And Featuring From All Over North America:
Dr. Rocktagon
Faith In The Glitch
Flec Mindscape
Glitch Gatsby
Gurl Haggard
Hindrance & Hysteria Ft. Lindsey Marks & Scott Merchant
Jain Dowe
Jezzibel Bates
L Wacker
Lady India
Lady Jack
Lil Bump
Luxotica Lounge Cabaret
Mackenzie Moltov
Mr. Automatic
Nikki Palumbo
Phantasmagoria Ft. Lady Lennox
Rouge! Neo-vintage Dance Party
Sio Bast
Sloth Brigade
Spectre
Super Smash Atoms
Tomcat Trumpet
The Tripp Brothers
Vivacious Miss Audacious
The Vertical Sideshow Ft. Ray Gunn
The Roaring City Festival is brought to you by Calliope Presents and Wavelength Productions.