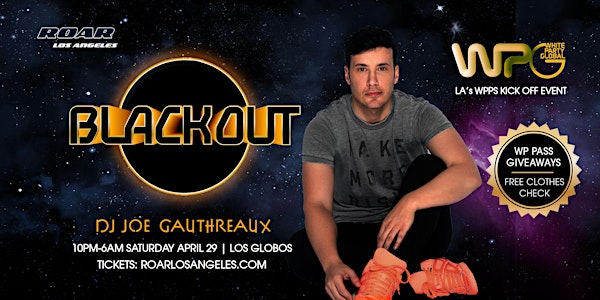 ROAR Los Angeles: BLACKOUT with DJ JOE GAUTHREAUX
JOE GAUTHREAUX spins OFFICIAL WP PALM SPRINGS Kick Off Event
Date and time
April 29 · 10pm - April 30 · 6am PDT
Location
3040 Sunset Blvd 3040 Sunset Boulevard Los Angeles, CA 90026
Refund Policy
Contact the organizer to request a refund.
Eventbrite's fee is nonrefundable.
About this event
Reflex in assoc. with Gay Almanac & White Party Global present the third event in our BLACKOUT "trilogy" 10pm-6am Saturday Night April 29th at Los Globos. DJ/Producer JOE GAUTHREAUX spins another 8-Hour extended set for LA's official White Party Palm Springs kick-off event with FREE WP Pass & Garçon giveaways, FREE CLOTHES CHECK & Blackout Room plus decor by Mario Sandoval & 3DX Miami; Lasers by Robert Harper; Lighting Effects by Tattoo Chris Perry; video by Jeremy Beard an dancers dressed by White Party Global sponsor Garçon.
FREE WP Pass Giveaways: Everyone attending this event will receive a raffle ticket upon entry to win one of two WP Weekend Passes. The winning tickets will be drawn at 3am and winning number will be posted at the front desk. For the White Party Pass raffle and clothes check we encourage you take a picture of your ticket number with your phone.
TICKET TIERS are Tier One: $30, Tier 2: $34, Tier 3: $38 with price changing as they sell out. Tier 4 $40 goes on sale 24 hours before we open. 100 tickets are always held in reserve to sell at the door and we alwyas reduce the door entry to $30 at 3am and drop it to $10 less each hour until we close.
PARKING: Los Globos no longer has its own parking lot, we encourage you to park on Sunset or Silverlake Blvds or use Uber/Lyft. Please be respectful of nearby neighbors and avoid parking on Vendone Street as those homes are prone to complaining about noise.
Refund Requests must be reeived 48 hours before the event opening time. E-tickets can be transferred, try posting to LA Circuit Scene or Gay Rave & Circuit Almanac in Facebook.
Q & A:
Are you changing the name to Blackout?
No. Blackout is a theme, a dark room with Black Lit neon highlights. A carry over them from REFLEX in West Hollywood. We use the Blackout theme couple times a year, other themes include "MidSummer Night's Jungle Party" in the summer and "XXX-Men" in the fall. All events feature the FREE Clothes Check and adjacent Blackout Room.
Why don't you use both floors at Los Globos?
Good Question, because of Korean After Hours. Rhonda and other events do use both floor. but they consolidate to the lower level at 2am to make room for Los Globos long running Korean after hours upstairs. Roar runs until 6am and while most people do arrive before 2am very very few leave before 2am so consolidating at that hour to the lower level would not work. For the REFLEX 20th Anniversary in summer of 2024 we are considering buying out the Korean after hours if they are willing and doing the enrtire building all night long with multiple DJs spinning multiple Rooms.
Is the event Gay Men Only?
The event is 99% Gay Men and security makes a point of telling people it is a gay event at entry.ROAR is not a "bachelorette party" destination and we do not want to scare away our transgendered friends. It is a very diverse gay crowd in terms of age and ethnicity. About 40% utilize the clothes check, and we keep the room so dark it just hasn't felt necessary to say NO WOMEN or MANDATORY Jocks.
What's the music like?
ROAR is a classic circuit vibe, with one or two dis spinning an 8-hour predominately tribal journey. We do not tell DJs what to play. Some will start with lower tempo house or trance tracks earlier in the night and inspiring vocals toward the end. The peaking hour of the party 12am-5am are understood to be higher energy circuit.
Private Parties & Bottle Service
Bottle service is available but not common. 
The best time for birthday or special occasion gatherings is when the party begins 10:30pm-12am We can arrange special priced group ticketing and bottles for groups of 10 or more arriving, In the first hour we are open. E-Mail: mevenstar1@gmail.com.
Have Comments?
Everyone is welcome to give feedback at the front desk. Just ask anyone with a ROAR/Blackout laniard around their neck. Or e-mail Michael directly at: mevenstar1@gmail.com
UPCOMING EVENTS
ROAR Los Angeles is produced by REFLEX presents (formerly Reflex after Hours of West hollywood) 4 times a year one for each season plus an Anniversary party. The schedule is not precisely one every 13 weeks, we usually opt for months with five Saturdays taking the 4th or 5th Saturday. That said sometimes there are just a few weels between events, sometimes seveal months. Presently our 2022 schedule is WINTER: January 28, SPRING: April 29, SUMMER: July 22; SECOND ANNIVERSARY: August 26; and AUTUMN September 30th. We have on occasion produced pop-up ROARS on less than a weeks notice when the venue has a cancellation. These events are lower cover, less production and usually end by 4am.