About this Event
A night of amazing music from some of the regions most talented female performers as the Roar Festival of Women's Music culminates the Lismore Women's Festival.
This event follows on from the highly successful Women's Micro Music Festival hosted by the ArtHouse at the Gollan Hotel in 2018. Last year's organiser, Janelle Buckley has teamed up with ArtWomb and through renowned community arts organisation Slippry Sirkus Inc. they have been successful in gaining support from the Women NSW Women's Week Grant program to grow and diversify this year's event – now known as ROAR.
Kicking off with a panel discussion on 'Women in Music between 5-6pm, the musical entertainment will follow with the ArtWomb open stage in Gollan Hotel's main bar, featuring house band 'The Fill Inns' seen regularly rocking the Back-Alley Gallery at the Lismore Lantern Parade, inviting musician's poets and comedians alike to perform impromptu. Alongside the stage will be the delightful open canvas where all are invited to contribute to a collaborative painting.
Featuring on the Roar Stage in 2019 will be the infamous Rosie MissChief and DJ Ego who will take you on an energetic musical adventure and get you moving with a blend of electro swing through to drum n bass. Also joining the bill are 'Jex Lopez and The Gravediggers' landing spaceships from queer utopic planets to bring you evocative musical soundscapes by well-dressed skeletons. The hugely popular 'Fisted Sister' will be returning with their 'Babe Collective' a troubadour of sailors massacring pop music, as will Songsmith accompanied by Jewel Musica forming 'Songsmith and Jewel'. Michelle Fitness returns as 'Two Tears in a Bucket' along with two delightful burgeoning young female soloists Jessica Maree and Mykaela Jay. As always, the night will include comedy and poetry bringing you the hilarious Vanessa Larry Mitchell from Lismore's own Larry Laughs Loud Comedy Club. The Roar stage will run from 8pm to Midnight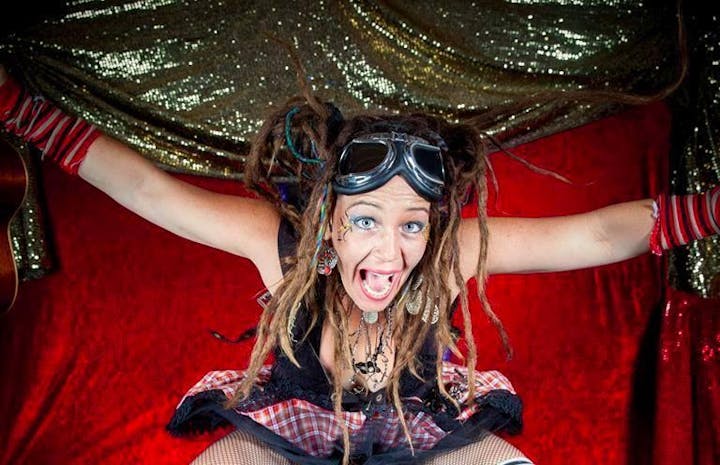 Rosie MissChief will get your beautiful booties shakin when she hits the stage with DJ Ego.