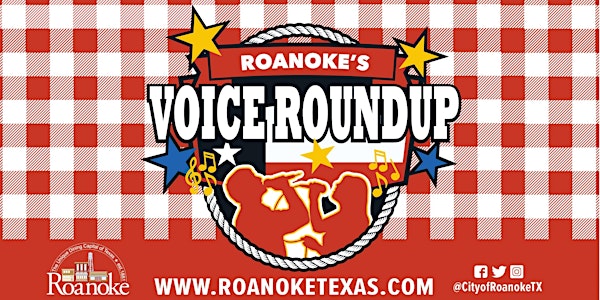 Roanoke's Voice Round Up
The City of Roanoke is hosting its first Roanoke's Voice Round Up!
When and where
Location
City of Roanoke City Hall 500 South Oak Street Roanoke, TX 76262
About this event
The City of Roanoke, and 99.5 The Wolf, is excited to announce the headlining artist for the 6th annual Roanoke Round Up is season 11 winner of The Voice- Sundance Head! We believe Texas has some of the best talent in the world so we are roundin' up North Texas singers to participate in Roanoke's Voice Round Up on May 7, 2022. The vocal competition is open to all North Texas residents ages 9-99 . Details are:
1. Roanoke's Voice Round Up competition is divided into 4 age categories: 9-12, 13-17, 18-49, 50+.
2. Participants are asked to submit a 90 second video audition which includes: age, brief introduction, name of song choice, and a song with accompaniment (can be an instrument or track).
3. All songs must be family friendly. The song choice for the participants video will also be the song the participant will be asked to sing if chosen for the finalist competition on May 7th.
4. Videos can be submitted via email to diane.rice@roanoketexas.com, or sent via direct message on the City of Roanoke Facebook or Instagram pages.
5. All video auditions must be submitted by 6:00 PM May 4, 2022.
6. Video submissions will be narrowed to the top 5 per age category. Those finalists will then be invited to participate in the competition on the Roanoke Round Up stage on May 7, 2022.
7. The top 5 chosen from each age category will compete in front of a panel of talented judges. The winner of each category will win: $250, fun prizes, and will be invited to perform as one of the musical performers for Celebrate Roanoke- Roanoke's largest annual event (October 8,2022).
8. Roanoke Round Up is the City of Roanoke's biggest annual charity fundraiser. For that reason, Roanoke's Voice Round Up participants are encouraged to submit a donation. Click here to donate, or add on a donation when registering. All proceeds benefit Guns & Hoses and Speedway Children's Charities.
9. All participants under the age of 18 must have parent/guardian permission to participate in Roanoke's Voice Round Up.
I, binding my heirs, executors, administrators, estate and assigns, do hereby agree to completely and wholly release, indemnify and hold harmless the City of Roanoke, its officers, agents, independent contractors and employees for any and all claims, damages, harm, personal injury, including death, property damage, lawsuits and judgments, including court costs, expenses and reasonable attorney's fees, and all other expenses resulting from the activities, programs and events occurring on the above-stated date of the stated event in Roanoke, Texas.