Sales Have Ended
Ticket sales have ended
Aw shucks! We are bummed to have missed you. Go ahead and signup for our waitlist and keep those fingers crossed. Also, check out our other retreats around the country and see if another location piques your interest.
Sales Have Ended
Ticket sales have ended
Aw shucks! We are bummed to have missed you. Go ahead and signup for our waitlist and keep those fingers crossed. Also, check out our other retreats around the country and see if another location piques your interest.
Specialized Presents Roam Retreats | Three day, all-inclusive, fun as hell, adventure mountain bike vacations.
About this event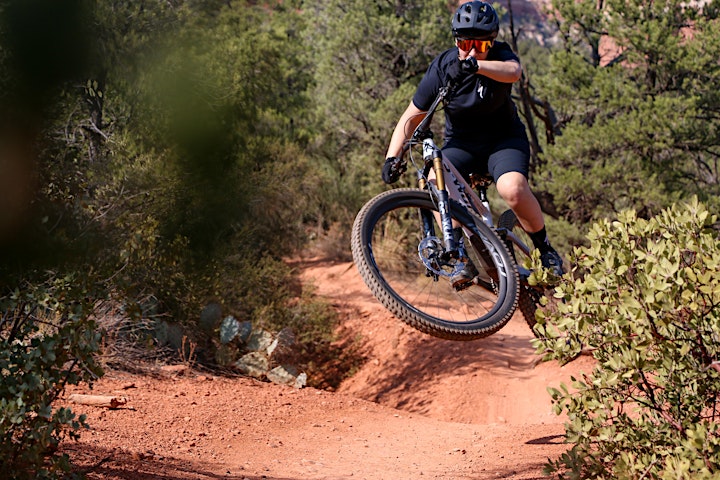 Join us for a 3 day/2 night weekend of mtb shred, professionally catered food, Specialized demo bikes, Industry Nine wheelset demos, SRAM supported technical workshops, and so much more.
WHATS INCLUDED
3 days of riding with a crew of stoke-fueled local ride leaders
2 nights accommodations in stunning trailside chalets
All breakfasts, dinners, trailside lunches & après bike appetizers
Professional guest chef Lentine Alexis - Whole Foods ambassador and chef to the pro riders!
Complimentary drinks, including coffee, Sierra Nevada beer (GF available!), wine, and LaCroix a plenty!
High end 2020 carbon demo bikes from Specialized Bicycles
Custom demo wheels from Industry Nine Components
Ride nutrition & hydration provided by nuun Hydration
In-depth bike maintenance clinic taught by professional female mechanics and supported by SRAM
Transportation & ride support to shred iconic Sedona trails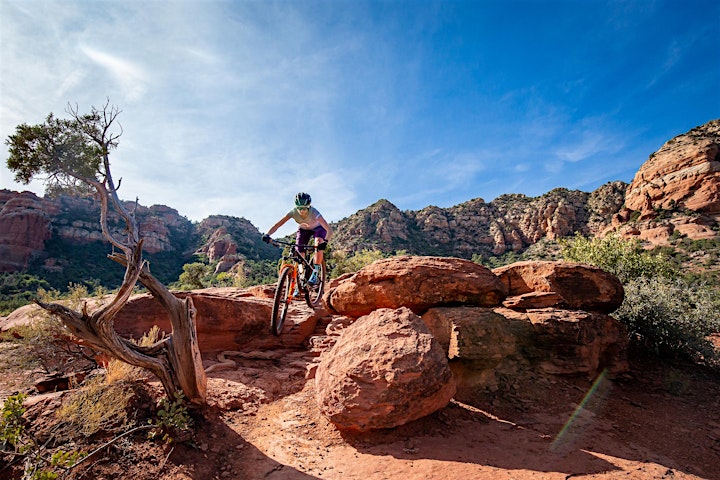 Required Skill: Level 4 | Required Fitness: Level 4
Recommended Skill: Level 5+ | Recommended Fitness: Level 4+
"I attended my first Roam Retreat in Sedona, AZ. It was the most amazing experience. I can't speak highly enough of the staff. The amazing meals and snacks they personally prepared were absolutely delicious. The Specialized demo bikes they provided were top of the line. I cant recommend Roam enough and I am already looking forward to my next retreat."
- Heather, Kingman Arizona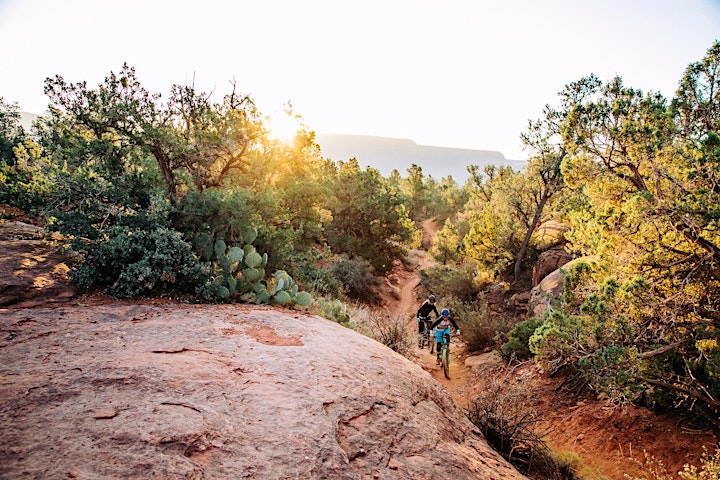 What To Expect?
From the moment you arrive at your retreat, you will likely receive a very genuine bear-hug from one or more members of our staff. After we hug-it-out, you'll get settled into your accommodations and then ready to ride. This may include getting setup on a 2020 Specialized carbon full-suspension demo bike and/or Industry Nine wheelset; we'll work closely with you to hand-select the right bike and size that suits your riding style and experience level.
After a quick description of the day's rides, we will pair you up with a group of similarly skilled riders and an expert ride leader to whisk you away onto the epic hero dirt that these trails are famous for. Don't worry if you aren't sure where you fit in; our team has helped thousands of women find their "sweet spot" within group rides, and girl, we're here to help you do the same.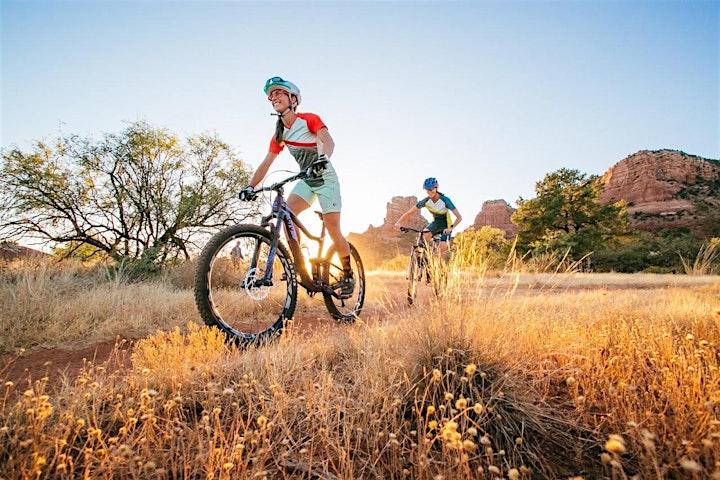 Meals & Après Ride
You'll enjoy hearty breakfasts, impressive lunch spreads, delicious appetizers and beautiful dinners curated and prepared by chef Lentine Alexis to ensure you are properly fueled to maximize ride effort and recovery. Vegetarian, gluten-free, dairy-free, and vegan options will always be available.
In the evenings we will set aside time for an optional technical workshop where you'll have an opportunity to learn basic bike maintenance, as well as a chance to delve into more advanced topics such as suspension and brakes with our team of professional female mechanics with support from SRAM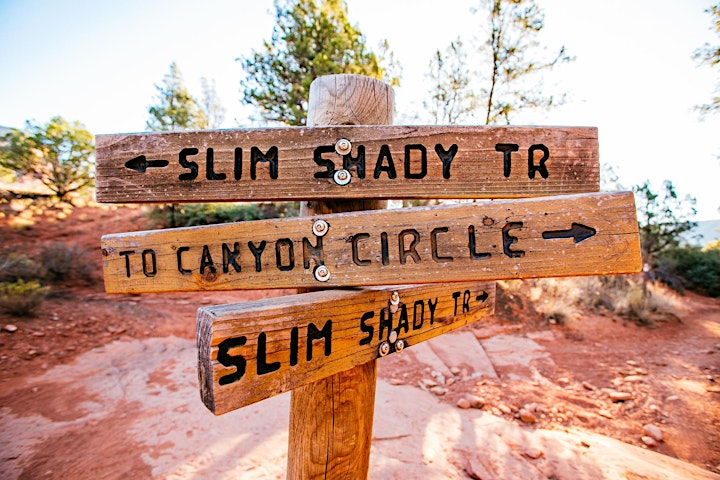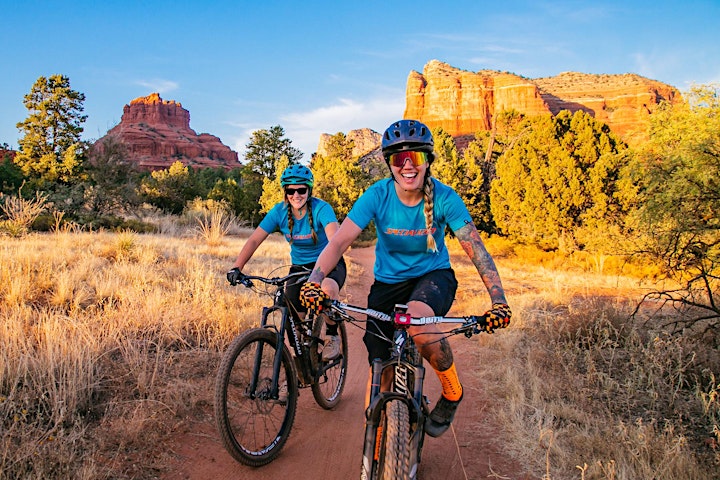 Throughout the weekend you can choose your own adventure. Ride until you can't feel your legs anymore? Enjoy a relaxing afternoon in a hammock or poolside? Chat up our staff about suspension technology? Or maybe just enjoy a Roamarita while getting to know fellow shredders. However you adventure with us, we know you will thoroughly enjoy this stunning destination.
We can't wait to ride with you,
-The Roam Crew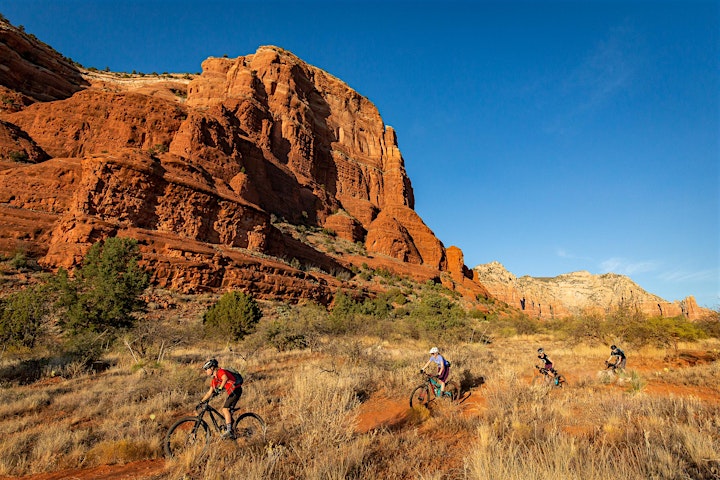 I'm a dude, can I join this event solo?
No siree. You'll need to find a lady friend to join you at the retreat. She can be your wife, girlfriend, coworker, or cat sitter, but she's your golden ticket! We're working on a dating service for 2021 ;)
Do any ladies join coed events by themselves or with a group of lady friends?
About a third of our lady shredders join us solo and we've always had lady crews at our coed events!
Is this a skills clinic?
Noooope. We're here to shred!
Do I need my own bike?
We have a custom fleet of full-suspension carbon Specialized demo bikes available all weekend - you may still want to bring your own bike, but if you are flying, or in the market for a new steed, a demo might be your best option. Demo bikes are first-requested, first served, and we will confirm bike/wheel reservation prior to the Retreat.
What is the average age of your participants?
Our youngest shredders tend to be in their late twenties, with nearly half of our participants being over 40. We host multiple 60+ (and completely badass 70+) riders every year. You must be 21 to attend.
Is this a WTF friendly event?
Absofrigginlutely.
What is the riding going to be like?
First things first: check out our event details, including our skill and fitness rating. The majority of trails in Sedona have loads of rocky, technical climbing and descending with bits of exposure. Intermediate trails have stretches of tame terrain but still have short features requiring an expert level of skill (even our ride leaders will frequently walk these sections). There is a small handful of green level trails, however those are often spotted with difficult sections as well. What we're saying is...Sedona is technical and fun!
If you are concerned about the difficulty of trails, please contact us at hello@thisisroam.com
I am an advanced/expert rider, should I even bother coming?
Rebecca Rusch, Jill Kintner, Kelli Emmett, and current Queen of Crankworx Vaea Veerbeck had a blast at our events. Our answer is a hearty EFF YEAH!
Can I bring my dog?
We heart Fluffy, but she needs to stay home.
Which airport should I fly into?
Pheonix Sky Harbor International (PHX) : is a 2 hour drive to Sedona
We do NOT recommend flying into Flagstaff (FLG) as transportation is often more expensive, and you may end up having a layover in PHX anyway. If for some reason FLG is direct and cheaper, go for it!
What are my transportation options getting to/from the event?
Please arrange your own transportation. Any participants who are flying will be connected with one another to coordinate shared transportation. Groome Transportation offers shuttles directly from the airport to the Red Agave Resort and are able to accommodate soft-shelled bike bags.
Can I book a room at the venue for early or post-event nights?
Please book at an alternate location prior to the retreat. We scurry around like little elves before the event making sure everything is dialed and we want you to see the party-ready version of our venue when you arrive. You are absolutely welcome to book additional nights after the retreat, but please be mindful that our crew will be back in elf mode cleaning up.
When does the Retreat start and end?
Plan to meet us after 10am with rides rolling out at 12 noon. PLEASE DO NOT ARRIVE EARLY. Early arrivals totally salt our setup and event preparation; if left to our devices, we will be completely shreddy for ya at 10am. The Retreat will officially end at 3pm on Sunday, but participants often choose to ride until a bit later. We will have a custom late checkout option for those needing to shower post-ride.
What should I bring? What is the schedule? Can you give me more details?
We will be sending you a weekend schedule, packing list and all sorts of details prior to your arrival.
Where can I learn more about Roam Events?
Learn more at www.thisisroam.com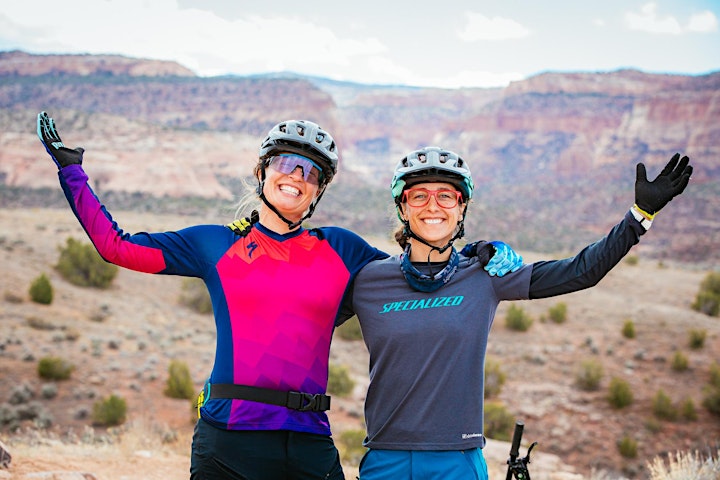 TRANSFERS/REFUNDS/CANCELLATION POLICY
TRANSFERS
Up to 48 hours prior to a retreat, a registered guest can transfer their ticket to another person*.
Up to 30 days before retreat start date, a registered guest can transfer the cost of ticket to a future Roam Retreat, less a $50 administration fee.
Within 29 days of retreat start, no cost transfers are allowed, only transfers to another person to attend in your place.
REFUNDS
Up to 45 days before retreat start date: full refund, less $50 administration fee.
44-30 days before retreat start date: 50% refund
29 or fewer days before retreat, or "no show": no refund.
*Please note that we have the right to refuse transfer to another person. Due to safety or logistical concerns, we occasionally cannot approve a transfer. (i.e. registering for an advanced retreat and requesting to transfer your ticket to a beginner rider)
We also understand illness, injury, or family emergencies do happen. While we'll always want to help, please be ready for the above policies to still apply.
I have more questions, who do I contact?
Please be sure to fully look over details on our website, including the specific details for this event (don't forget to browse our comprehensive FAQ while you're there). Still have questions? We can be reached by email at hello@thisisroam.com