Sales Have Ended
Ticket sales have ended
Aw man! We are bummed to have missed you! Go ahead and signup for our waitlist and keep those fingers crossed. Also, check out our other retreat's around the country and see if another location piques your interest.
Sales Have Ended
Ticket sales have ended
Aw man! We are bummed to have missed you! Go ahead and signup for our waitlist and keep those fingers crossed. Also, check out our other retreat's around the country and see if another location piques your interest.
Description
"Absolutely beautiful, amazing, most mind-blowing weekend of my life."
- Roxie, Participant, Roam Retreat @ Sedona 2016
We are headed to stunning Oakridge Oregon for an epic weekend of lady shred!
Our weekend will be focused on one thing: shredding trail. Of course, there will be food and drinking aplenty...just think of this Retreat as a hassle-free girls weekend with all your favorite ride buddies.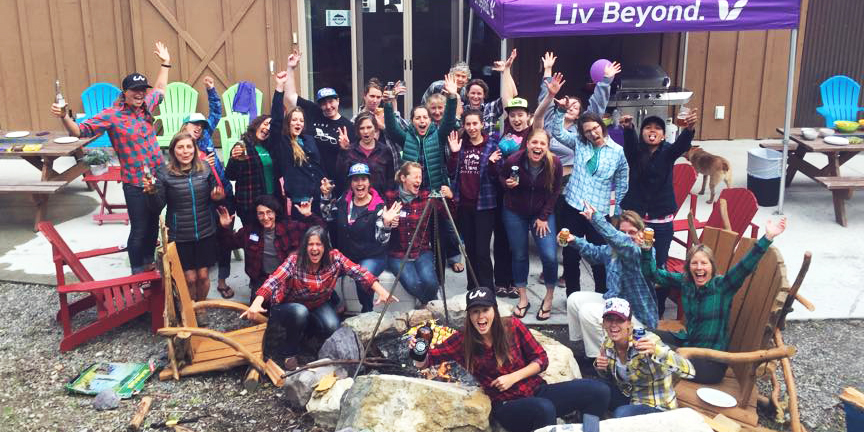 Introducing our event partners:
WILLAMETTE MOUNTAIN MERCANTILE
Roam Events is excited to share with you the epic trails surrounding Oakridge OR with shuttles, guided rides, relaxing accommodations, and great food (did we mention booze?) to keep your adventures fueled. New to our 2017 event lineup is a free Roam Wrench Clinic - learn basic bike care and maintenance from professional female mechanics!
EVENT SCHEDULE
Friday
Arrive in Oakridge morning-ish.

Join us for a ride, hang out, or explore Oakridge.

Welcome reception / Roam Wrench Clinic
Saturday
Ride ALL DAMN DAY

Roam Wrench Clinic

BBQ and Hoedown (bring your flannels!)
Sunday
Morning shred session

Head home and plan for your next adventure with us!
(Fully detailed schedule will be available upon registration)
---
FAQs
What should I expect from attending this event?

Uhh...the best weekend of your life? Okay, that's a big statement, and we want to be realistic with you: there will be options for long days of shredding one of the most magical places on earth, heaps of food, opportunities to meet new lady friends, warm fireside juju, and there just might be some alcohol-induced shennanigans. Wow, guess reality isn't too shabby.
Is this a skills clinic?
Nope. There are a ton of amazing skills clinics out there (ah-hem, like our friends at Liv Ladies All Ride) and we are not trying to be one of them. The purpose of this event is to bring together a community of female riders for a fun weekend of riding together, eating together, and drinking together (if you're into that kind of thing). In some ride groups we may stop and session a few things for fun, but that's about it.
What is a Roam Wrench Clinic?
Professional female mechanics will be leading optional hands-on bike maintenance and education sessions. We will cover the basics of bike maintenance (parts of the bike, safety checks, cleaning your bike, etc.) and more advanced topics (tubeless setup, suspension tuning, derailleur adjustments) as well as how to fix a flat. Participants will have an opportunity to wrench on their own bikes, check out different bike geometry and suspension styles, and ask questions from our knowledgeable and experienced staff.
What is the difference between a Roam Premiere Retreat and Roam Retreat?
Accommodations. Roam Premiere Retreats are hosted at hotels, lodges, or cabins (as indicated in the price variations). Non-Premiere retreats might include camping, primitive accommodations, or hostel-style bunk housing.
Is there an age limit to enter the event?
Yep.. You must be 21 to attend this event. All participants will need to sign a liability waiver when they arrive.
What should I bring?
We will be sending you a packing list and all sorts of details prior to your arrival.
What are my transport/parking options getting to the event?
Participants will need to get themselves to the Tired Dog Ranch. Keep your vehicles close by because we may need them for additional shuttles to some epic ride spots (if you want to explore rides not on our agenda)
Do I need my own bike?
Most likely. It is a good idea to have your own steed just in case, but if your travel plans are a bit complicated, contact us regarding a demo bike or rental for the entire weekend.
Do I need to bring my own food and beverages?
Only if you are crazy picky. Breakfast, lunch, and dinner will be provided along with beverages. We will be providing vegetarian & gluten-free options if requested.
What is the riding going to be like?
Oakridge is often referred to as mountain bike capital of the Pacific Northwest. Located in the heart of the Cascade Mountains, this western Oregon destination is surrounded by hundreds of miles of beautiful singletrack paradise for anyone seeking adventure on two wheels. Full disclosure: The trails here can be gnarly, long, steep, and technical...which is why its our favorite place to shred!
I'm a beginner rider, can I come?
We don't reccomend this trip to beginner riders unless you are really looking to push your limits and have a good level of fitness.
I'm an intermediate rider, can I come?
Yes! You are going to love the trails Oakridge has to offer, but be ready to pedal!
I'm an advanced/pro rider, can I come?
Yes! We promise not to make you coach anyone or ride with the newbies, unless you want to. There are wicked challenging trails that we will make sure you have access to so you can get your shred on.
I forgot something I need for riding or I broke my bike Friday afternoon, can you help?
Heck yeah. Pro mechanics will be on hand for minor fixes, unfortunately, we don't have a bike shop full of parts with us. Luckily there are a number of local shops that we can get you hooked up with!
I always ride with my husband, can he just come and hangout?
Nope. Sorry fellas, ladies only. Your hubby, boyfriend, brother, or male sidekick is welcome to stay off-site and enjoy Oakridge on his own, but we really can't risk catching their cooties at the event.
My friend is signing up too; can we share a room/cabin?
Yes. Please notate who is joining you when you signup and we will do our best to accommodate your request to stick together.
I want to stay in Oakridge forever! Do you provide accommodations prior to or after the event?
You can book your own accommodations with Tired Dog Ranch for as long as you want. If you want some other options, ask us and we can help you find a place!
What can/can't I bring to the event?
Bring anything fun and legal, but please leave Fido at home.
What is your cancellation policy?
A full refund (minus a $25 per ticket processing fee) is available up to 2 weeks prior to the event. Any cancellations for any reason after 7/10/17 will not be refunded but can be transferred to another Roam Retreat pending available space.
I have more questions, who do I contact?
Please reach out to Ash Bocast, our event director at Hello@thisisroam.com