Description
Roam Retreats are all-inclusive women's mountain bike trips in world-class riding destinations led by the ridiculously fun crew of women from Roam Events (the same team that launched world-first women's-only events Roam Bike Fest and the Sturdy Dirty Enduro Series)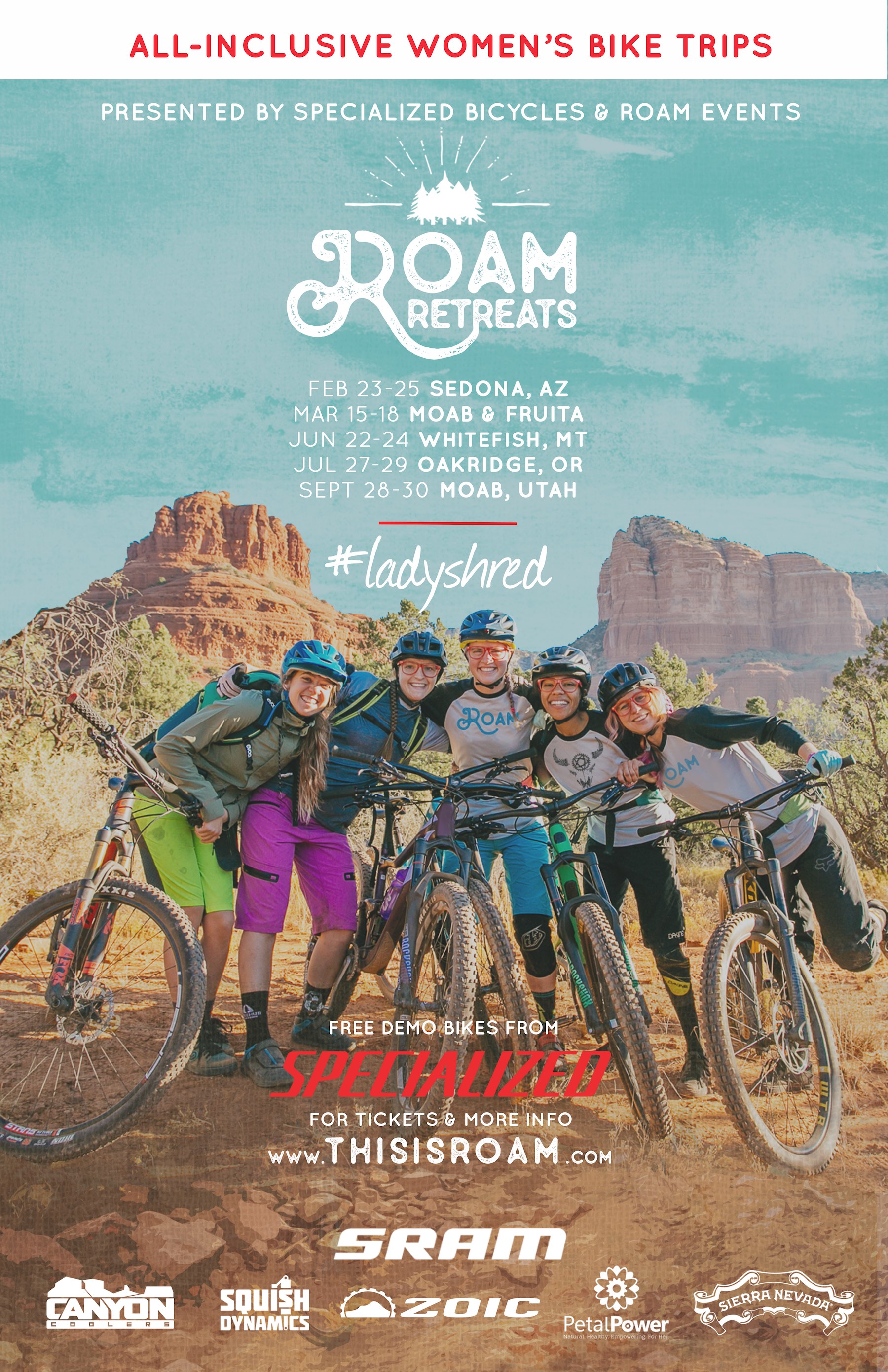 About Moab & Fruita: Our ONLY 4-day retreat in two iconic biking destinations. Moab needs no explanation other than you are going to have insane amounts of fun shredding. We've teamed together with the crew at The Hot Tomato to add a bonus round of riding in Fruita Colorado - the less known cousin of Moab where the riding is just as epic and the trails less crowded. Join us for a 4 day/3 night weekend of lady shred, gourmet food, free Specialized demo bikes, and SRAM supported technical clinics taught by professional female mechanics.
20 LADIES | 5 STAFF | MOUNTAIN BIKING, MAITENANCE CLINICS, MEALS, & "Plain, unadultarated, unsucky fun!" (as one of our participants described)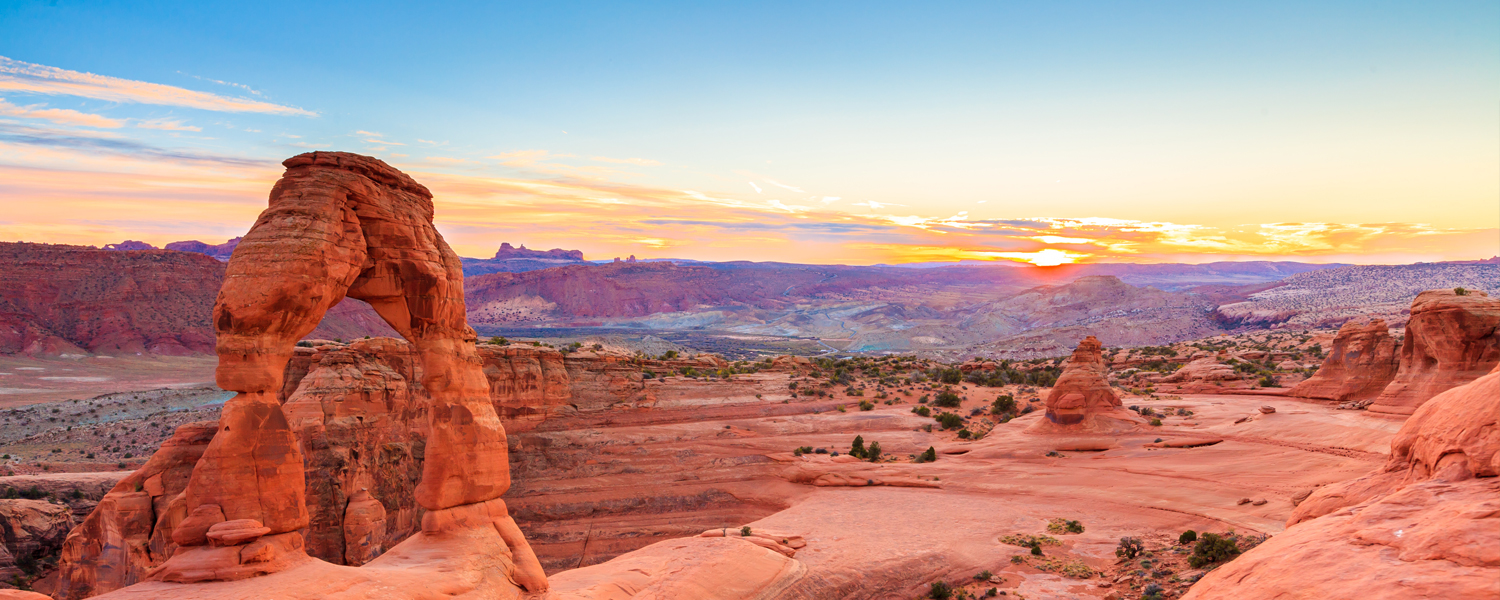 MAR 15-19, 2018
What's Inlcuded?
4 days of riding with a crew of experienced locals & knowledgable trail leaders
2 nights camping, 1 night at Moon Farm (camping or warm comfy bed) including downtime spent relaxing in the jacuzzi or viewing the sunset by campfire
Gourmet breakfasts, lunches, dinners, appetizers and snacks, including famous Hot Tomato pizza!
Speciality drinks, including beer & wine
Free 2018 carbon demo bikes from Specialized Bicycles
In-depth bike maitenance clinic taught by profressional female mechanics and supported by SRAM
Shuttles & ride support to shred iconic Moab & Fruita trails
What To Expect?
From the moment you arrive at your "Roam Retreat", you will likely recieve a very genuine bear-hug from one or more members of our staff. After we hug-it-out, we will gather the crew into a caravan to bust a move down to Moab from our meetup location in Fruita Colorado (you can also meet us in Moab at the start of the retreat). Once in Moab, we will get ready to shred, or as we like to say, "get shreddy". This may include getting setup on a carbon 2018/2019 Specialized bike; we'll work closely with you to hand-select the right bike and size that suits your riding style and experience level.
Once shreddy, we will pair you up with a group of similarly skilled riders and a knowledgable ride leader to whisk you away to shred hand-selected trails -the best of the best in our humble opinion. Your ride duration will depend on your arrival time, but afterwards, you'll enjoy a beautiful meal carefully curated and prepared by our staff to ensure you are properly fueled for a weekend of riding. Vegetarian, Gluten-Free, Dairy-Free, and Vegan options will always be available.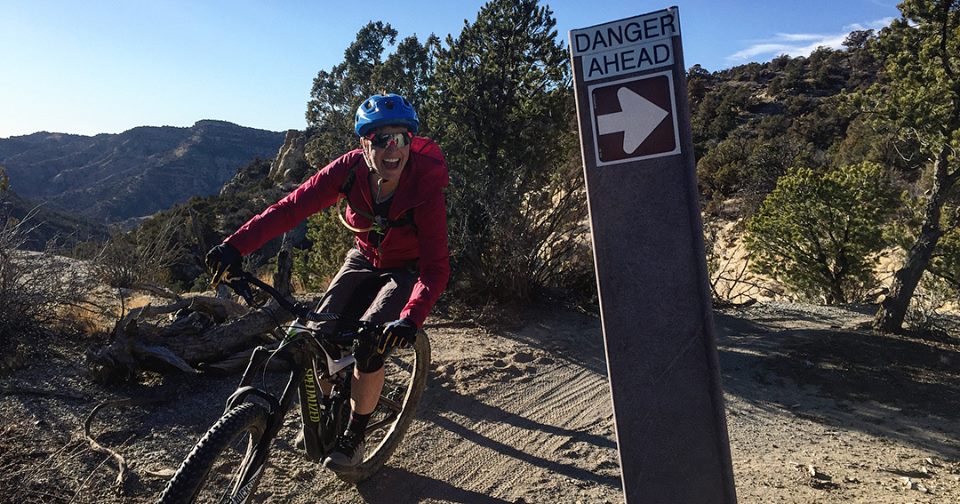 Breakfast will be plentiful, and after a quick description of the day's rides, you will self-select into a group of lady shredders of similar skill and speed. Don't worry if you aren't sure where you fit in; our team has helped thousands of women find their "sweet spot" within group rides, and we're here to help you do the same. We've had world champion pros join us, along beginner weekend warriors and everything in-between (frequently all on the same trip)...we get asked a lot, and we'll let you know in advance that absolutely there are trails and a group for you to ride with.
Lunch is prepared daily with an impressive DIY sandwhich spread and easy-to-take-with-you snacks so you can opt to chill and eat, or take a lunch to-go, allowing for more ride time. In the evenings we will set aside time for an optional "Roam Wrench Clinic" where you'll have an opportunity to learn basic bike maitenance, as well as a chance to delve into more advanced topics such as suspension and brakes with our team of professional female mechanics with support from SRAM.
On Saturday morning, we will boost back up to Fruita for the remainder of our weekend with more choice trails and a must-do experience of eating at the Hot Tomato, made extra awesome by our hosts, Hot Tomatoe owners Jen and Anne.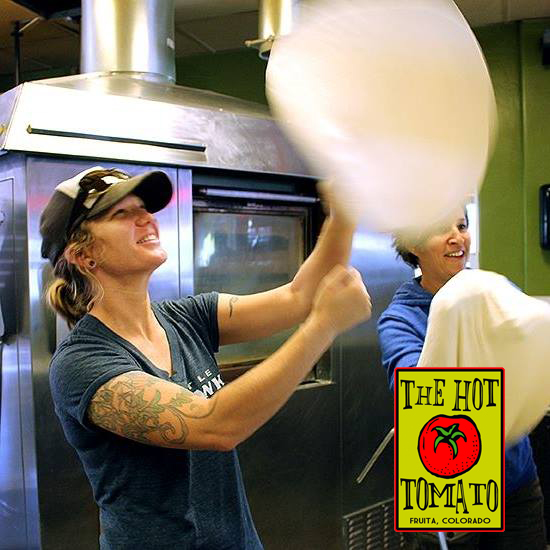 Throughout the weekend you can choose your own adventure and ride until you can't feel your legs, or take a mellow approach and ride less, opting for more free time to relax and enjoy the stunning surroundings.
We can't wait to ride with you,
-The Roam Crew
"Absolutely beautiful, amazing, most mind-blowing weekend of my life." - Roxie, Roam Retreat @ Sedona 2016
---
FAQs
Where can I learn more about Roam Events?
Learn more at www.thisisroam.com
What is the difference between a Roam Premiere Retreat and Roam Retreat?
Accommodations. Roam Premiere Retreats are hosted at hotels, lodges, or cabins (as indicated in the price variations). Non-Premiere retreats might include camping, primitive accommodations, or hostel-style bunk housing.
Is this a skills clinic?
Nope. The purpose of this event is to bring together a community of female riders for a fun weekend of riding together, eating together, and drinking together (if you're into that kind of thing). In some ride groups we may stop and session a few things for fun, but that's about it...we're here to ride! Please feel free to ask us for reccomendations for skills clinics - we're big fans and have a large network of coaches that we work with.
What is a Technical Clinic?
SRAM technicians and other professional female mechanics will be leading optional hands-on bike maintenance and education sessions. We will cover the basics of bike maintenance (parts of the bike, safety checks, cleaning your bike, etc.) and more advanced topics (tubeless setup, suspension tuning, derailleur adjustments) as well as how to fix a flat. Participants will have an opportunity to wrench on their own bikes, check out different bike geometry and suspension styles, and ask questions from knowledgeable and experienced staff.
Are there age restrictions associated with this event?
Yep...you must be at least 21 years of age to attend this event.
What are my transportation options getting to the event?
Participants will need to get themselves to The Hot Tomato in Fruita Colorado (or plan to meet us in Moab at the campsite). Flying in? We recommend Grand Junction regional airport (GJT) - sounds crazy, but it is often less expensive, and definitely closer than Denver or Salt Lake City. We will be providing airport pickups from GJT. Plan to shuttle to Fruita/Moab or rent a car if you fly into DEN or SLC.
Do I need my own bike?
We have free Specialized demo bikes available - you may still want to bring your own bike, but if you are flying, or in the market for a new steed, a demo might be your best option. You must request a demo bike and confirm availability prior to the Retreat.
Do I need to bring my own food and beverages?
Breakfast, lunch, and dinner will be provided along with beverages and healthy snacks. We will be providing vegetarian, gluten-free, dairy-free and vegan options if requested.
What is the riding going to be like?
Due to this being a trip with 4 days of riding, we reccomend you have a few years of riding under your belt and some decent fitness. Trails in Moab and Fruita are primarily intermediate and advanced, but there are some easier green trails around too.
I'm a beginner rider, can I come?
We do not reccomend this trip for absolute beginners (first year mountain biking), but, if you are advancing your beginner skills, are up for a challenge, and are mentally prepared, you may just love this retreat. If you're unsure of your riding level just shoot us an email or a phone call and we can talk it out. Newer riders with a good amount of fitness and a good attitude are encouraged to join.
I'm an intermediate rider, can I come?
Yes! You are going to love the challenge the trails in Moab and Fruita have to offer.
I'm an advanced/pro rider, can I come?
Yes! We promise not to make you coach anyone or ride with the newbies, unless you want to. There are wicked challenging trails that we will make sure you have access to so you can get your shred on.
What time should I plan to arrive/depart?
We will meetup in Fruita at 9:30 on Thursday with a scheduled 10:00AM departure. We reccomend getting into the area Wednesday night to make sure you don't miss the party bus down to Moab. The retreat will officially be over at noon on Sunday (ending in Fruita), but if you need to stay Sunday night to catch a Monday flight (or just want an extra day of riding), you can stay at Moon Farm Sunday night (meals will not be provided after lunch on Sunday).
What should I bring? What is the schedule? Can you give me more details?
We will be sending you a weekend schedule, packing list and all sorts of details prior to your arrival.
I forgot something I need for riding or I broke my bike Friday afternoon, can you help?
Heck yeah. Pro mechanics will be on hand for minor fixes, unfortunately, we don't have a bike shop full of parts with us. Luckily there are a number of local shops that we can get you hooked up with!
I always ride with my husband, can he just come and hangout?
Nope. Sorry fellas, ladies only. We really can't risk catching your husband's/boyfriend's/male sidekick's cooties at the event.

My friend is signing up too; can we share a room?
Yes. Please notate who is joining you when you sign up and we will do our best to accommodate your request to stick together.
What can/can't I bring to the event?
Bring anything fun and legal, but please leave Fido and little Tommy Jr. at home.
What is your cancellation policy?
A full refund (minus a $25 per ticket processing fee) is available up to 30 days prior to the event. Any cancellations for any reason after 2/15/18 will not be refunded but can be transferred to another Roam Retreat pending available space.
I have more questions, who do I contact?
We can be reached by email at hello@thisisroam.com