Location
Red Agave Resort
120 Canyon Cir Dr
Sedona, AZ 86351
The world's biggest women's mtb festival | Presented by Roam Events Phase 2 is sold out. Come back July 1 for Phase 3.
About this event
"I went out on a limb and went to Roam Fest completely solo without knowing a single soul there. I wasn't sure if that was normal or how the weekend would turn out, but the website made it look pretty fun and welcoming and boy, did I make the right decision. The community of women at Roam was so supportive, so rad, welcoming and open. It was like summer camp for adult women who love to shred. I made some friends for life, got in some incredible riding, grew and challenged myself as a rider, enjoyed some baller demos, took in the energy from some unreal scenery and am still on cloud nine after my experience. "
- Kristina, Roam Fest Participant
Roam Fest is a three day party for female-identifying riders all gathered for one purpose: to spend a weekend slaying trail and playing bikes in a world-class riding destination.
REGISTRATION SCHEDULE
To better accommodate varying work & pay schedules, we are holding multiple registration phases.
Phase 1: Tues March 1, 2022
Phase 2: Sun March 20, 2022
Phase 3: Fri July 1, 2022
Phase 4: Sun July 17, 2022
Follow us @thisisroam
*Please note: Roam Fest Sedona is NOT intended for new/beginner/novice riders. Check out Roam Fest Knoxville or Roam Fest Fruita for more novice-friendly events.
LGBQT+, BIPOC, & FAT CYCLISTS ARE ABSOFRIGGINLUTELY WELCOME TO THIS EVENT.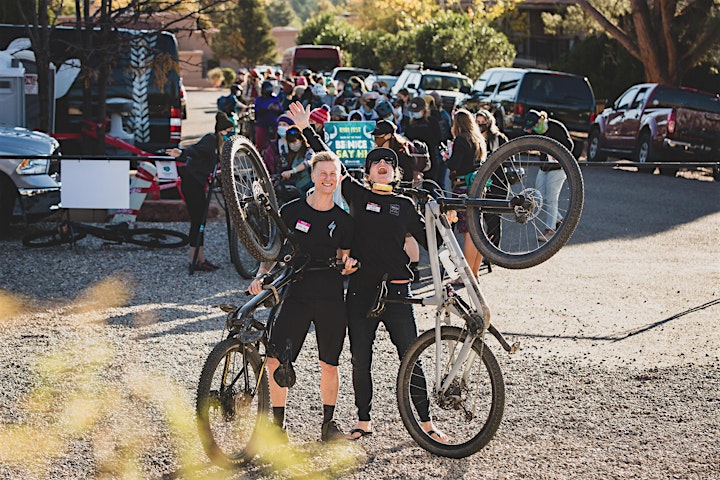 FESTIVAL PASS (BRING YOUR OWN BIKE) - WHAT'S INCLUDED
Our famous SWAG Bag full of crazy amounts of goodies
Unlimited wheel, gear, & accessories demos
Shuttles on shuttles on shuttles
Dozens of group rides w/ local ride leaders & brand ambassadors
Dinner Fri & Sat night with celebrity chef Lentine Alexis
Access to our expo space including premium mtb apparel & gear
Bike related workshops, panels, discussions, & presentations
Film screening of a women's adventure film festival
Free mega raffle ticket for our famous giveaway with absolutely insane prizes
Free dranks at our Happiest Hour (best hour of your life)
Much much more!
DEMO FESTIVAL PASS - WHAT'S INCLUDED
All of the above PLUS full-access to hundreds of top-notch demo bikes!
__________________________________________________
"If Roam Fest were any more fun, it would be illegal." - Singletracks.com
(Please don't mind the dust, our website is still under construction while we finalize 2022 event details)
WHO'S COMING
SRAM. Industry Nine . Specialized . Sierra Nevada Brewing . Pivot Cycles . Liv Cyling . Juliana Bicycles . Rocky Mountain Bicycles . Ibis Cycles . Revel Bikes . Transition . Norco Cycles . SHREDLY . Club Ride . Smith Optics . Muc-Off . Kāma Surface Co . Canyon Coolers . Velo in a Jar . Absolute Bikes . Thunder Mountain Bikes . Roam Adventure Film Tour . Verde Valley Cycling Coalition . World Ride . (check out www.roamfest.com for the most up to date list)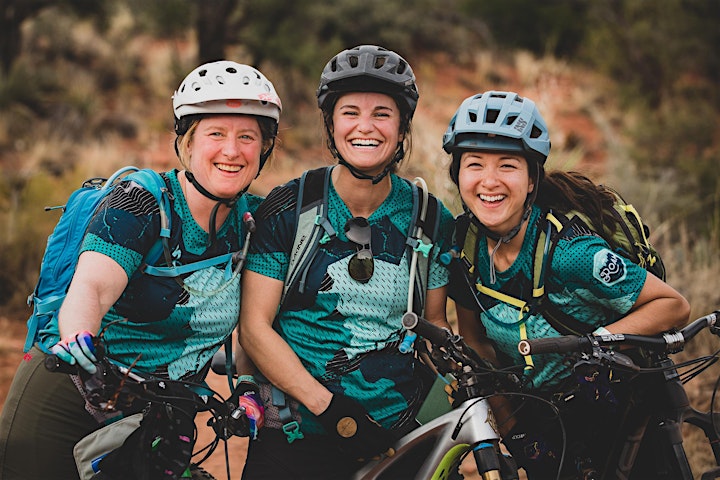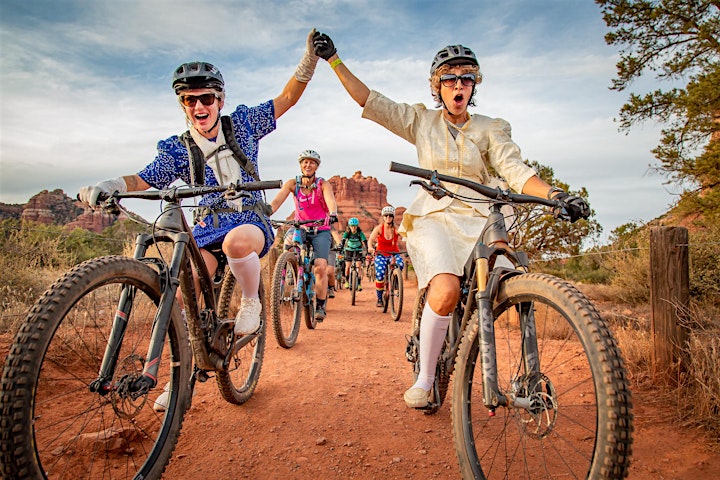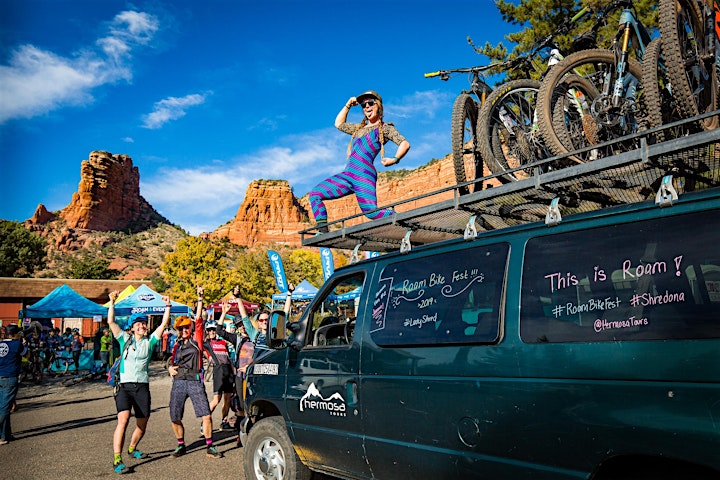 FESTIVAL PARTICULARS:
Bike Demo: DOOOOO IT! Get yourself a Demo Festival Pass and choose a test rude from hundreds of sexy bikes.
Expo Wheel & Gear Demo: Everyone gets access to our Mega Expo featuring wheels, accessories, apparel, and gear to try out from dozens of our favorite brands.
Shuttles: Will depart from the main festival area to specified trailheads.
Group Rides: For intermediate to expert ability levels. Led by locals and our event partners. Limited spaces to ensure quality ride experience. Sign up at festival.
Workshops & Presentations: Will be amazing and plentiful. Check our website for schedule. NO SKILLS CLINICS - we're here to SHRED!
Film Screening: Program TBA...but we promise it will be badass!
Dance Party: Animal costume themed. Or other. We've had humans dressed as hotdogs. Go with what feels right.
Apparel & Gear: High quality bike apparel & gear will be for sale from our vendors.
SWAG & Merch: No one goes home empty handed. SWAG bags for everyone, experience our Roam apparel center with festival hats, shirts, and gear for sale .
Food: Several restaurants and grocery stores are within walking distance of the festival. Dinner Friday and Saturday night is included in your festival pass.
Drink: Sierra Nevada Brewing Company & friends will be serving donations-based beer and beverages. All "tips" and donations are being gifted to local trail advocacy groups. Water & sports hydration is free.
Facilities: Portable toilets and hand washing stations.
Age Restrictions: Must be 21 to attend. Under 21? Contact us.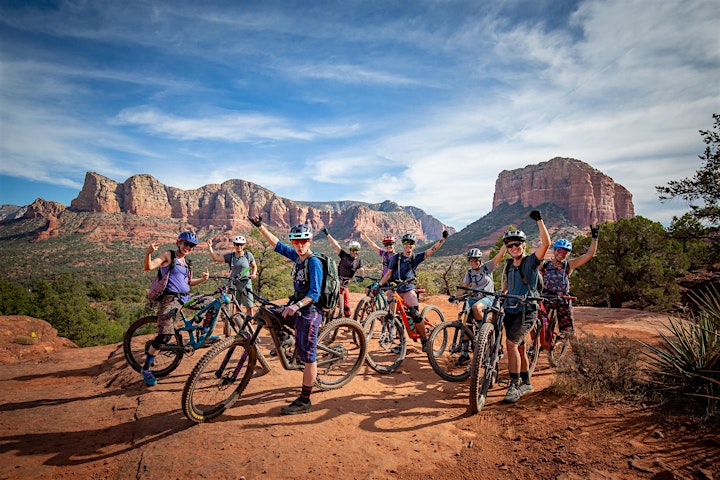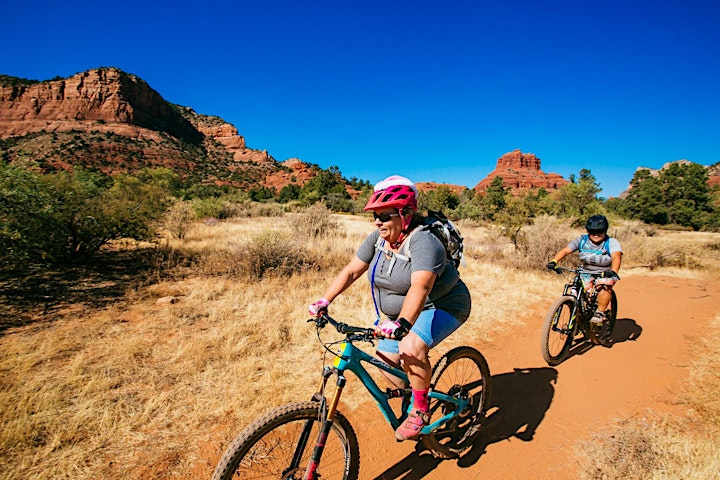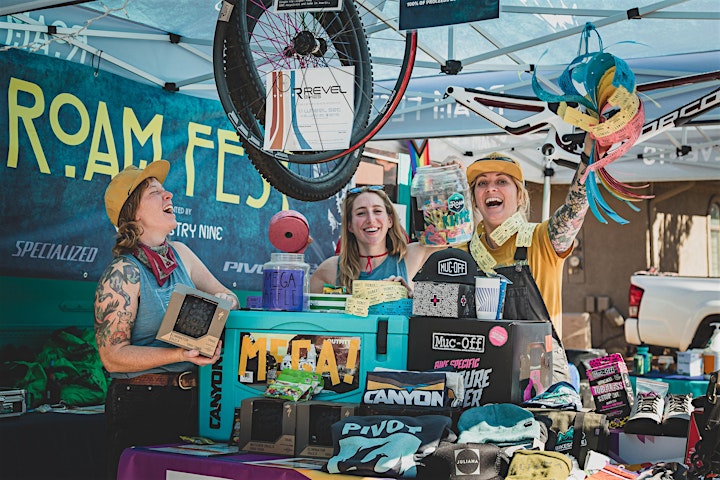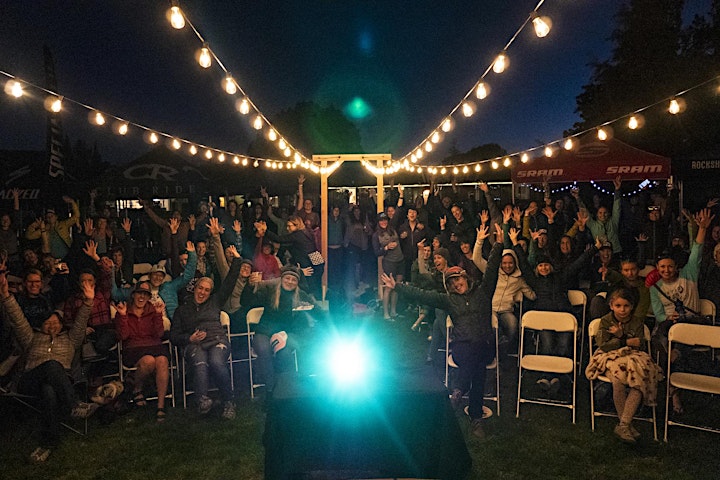 TENTATIVE SCHEDULE:
__________________________________________________
FRIDAY Nov 4th
8:00AM - Registration opens
9:00AM - General demo/expo opens
9:45 AM - Roam Fest welcome!
10:00 AM - Shuttles and rides begin
2:00PM(ish) - Workshops begin
5:00PM - Catered Dinner
6:00PM - Happiest Hour
7:00PM - SHREDTalks Panel
SATURDAY Nov 5th
8:00AM - Registration opens
9:00AM - Demo/expo opens, shuttles & group rides begin
2:00PM - Workshops begin
5:00PM - Catered dinner
6:00PM - Roam Adventure Film Tour
7:00PM - Really Fast Raffle That Doesn't Suck
7:30PM - Dance Party: animal house theme (interpret as you wish)
SUNDAY Nov 6th
9:00AM - All demo/expo opens, shuttles & group rides begin
11:00AM - 3:00PM - Workshops
3:00PM - Last shuttle returning
4:00PM - All demo bikes returned
__________________________________________________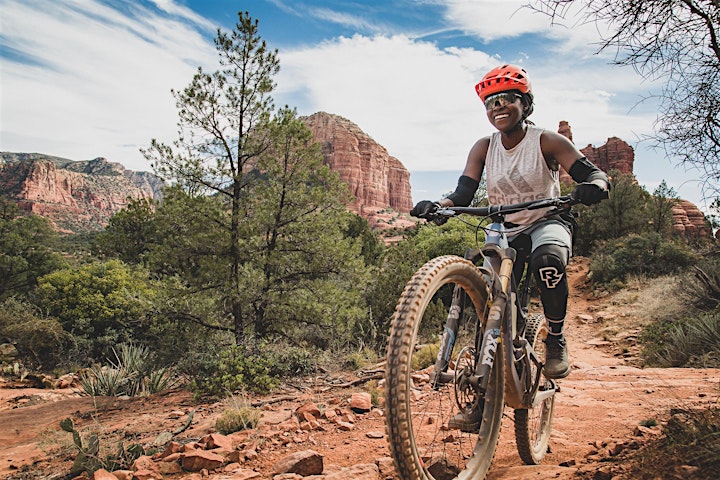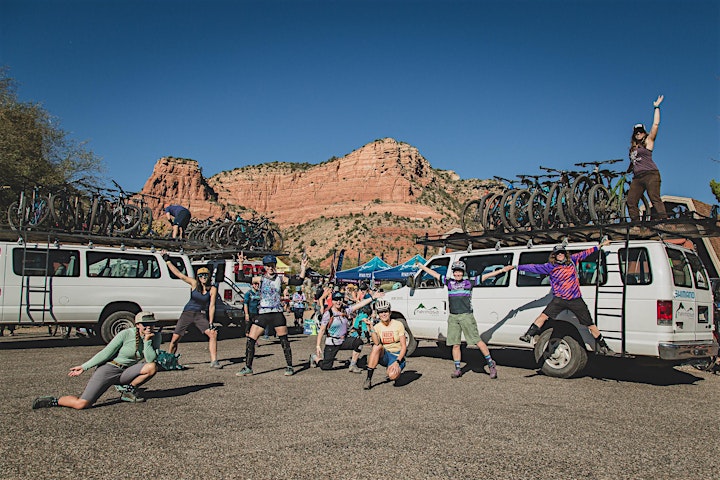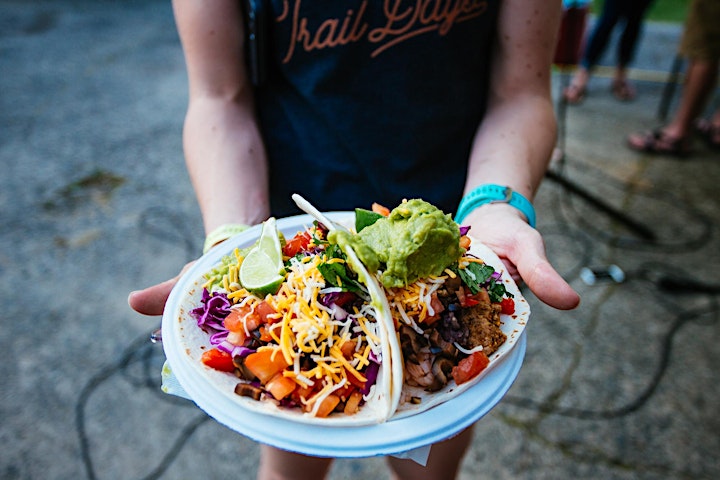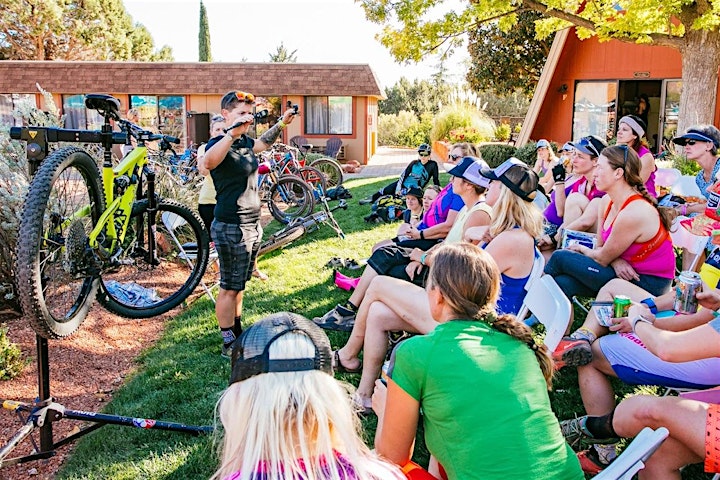 FREQUENTLY ASKED QUESTIONS - AND ANSWERS
Q: Is this festival beginner friendly?
A: Due to the technical trails, the Sedona festival location is NOT intended for beginner or newer riders. We recommend newer riders join us at Roam Fest Knoxville, Roam Fest Fruita or get some more riding under your belt before heading to Sedona.
Q: Will there be on-the-bike skills clinics?
A: Nooope! We're here to shred!
Q: Does anyone ever join the festival solo?
A: Hell yeah they do! About 1/3 of our participants come to the festival on their own.
Q: Are WTF invited? Are Non-binary folks welcome?
A: Absolutely to both. Anyone who identifies as female or non-binary (comfortable in a femme environment) and is over the age of 21 is welcome to join the festival.
Q: Why is Roam Fest Sedona more expensive than Roam Fest Knoxville & Fruita?
A: The cost of putting on the Sedona festival is significantly more...approximately shittons if you want to get specific. Our ticket pricing has always directly correlated to the cost of the event and we only think it fair for ladies attending a less expensive event to pay less.
Q: Can my super adorable fur baby Fluffy come to the festival?
A: Due to the insanity that would ensue if 300 women showed up with their 465 dogs...we ask that you leave Fluffy at home.
Q: Can my kids come?
A: Are you still breastfeeding a child? If yes, please contact us and we can make arrangements. Otherwise, enjoy your break from the kiddos! Our event is legally for those 21 and over, we run into permitting and insurance issues if anyone under 21 is onsite with us. Thanks for understanding.
Q: Can my husband/boyfriend/dad/totally platonic man-friend come?
A: Nope. Roam Fest is a women's-only bike festival. We can't go catching any cooties (we've neutralized the handful of guys working at the festival for their respective bike companies.)
Q: Should I bring my bike or rent one?
A: Snag a Demo Festival Pass and don't worry about it! If you are bringing or renting your own bike, we have an onsite bike corral where it can hang out.
Q: What is camping like?
A: Public land camping is all over the place. The nearest BLM sites are off of Beaver Flats Road. About 7 million people have camped here in the last three years, the Google rabbit hole has loads of info.
Q: What if it rains or the weather is crummy?
A: The festival will go on as scheduled and we will practice being hardcore.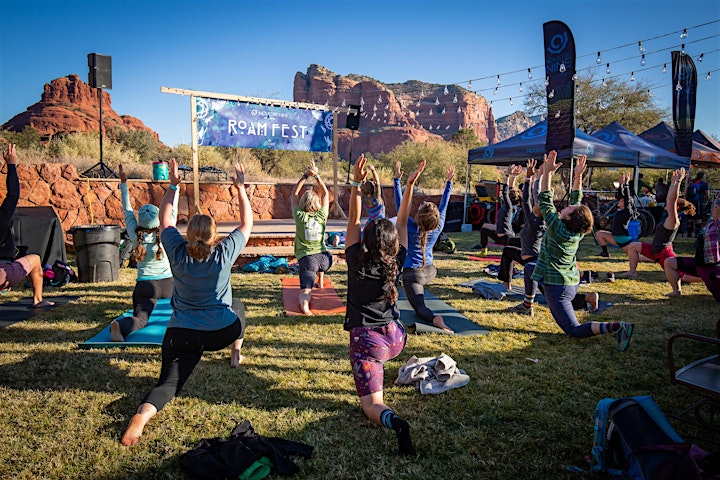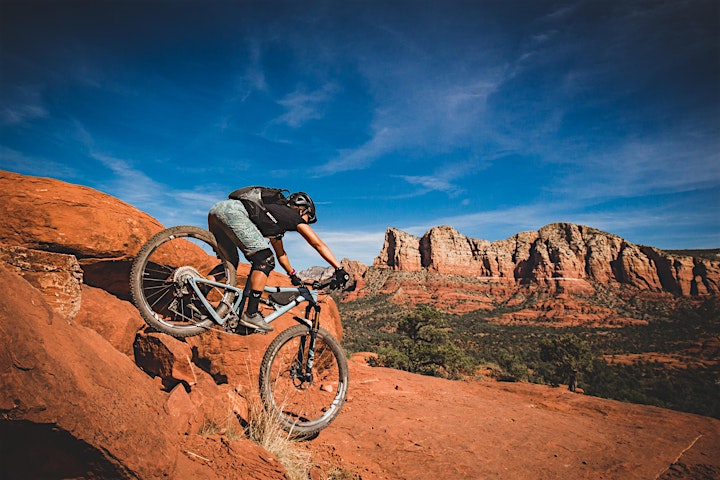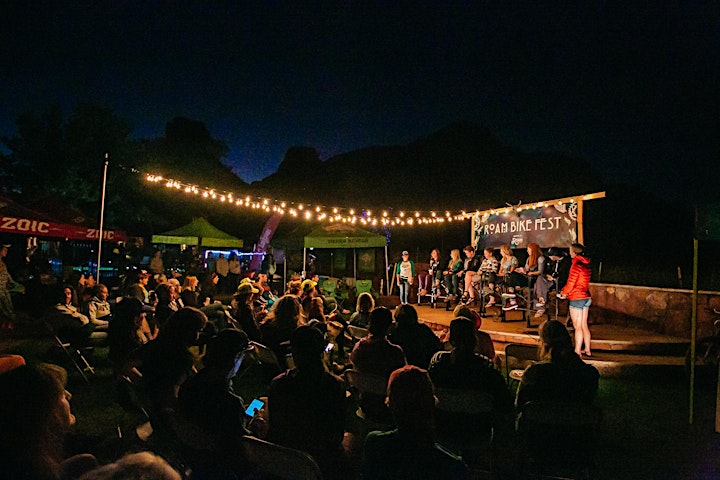 __________________________________________________
WAITLIST, TRANSFERS, & REFUND POLICY
WAITLIST
GET ON THE WAITLIST! Our waitlist is your only hope of getting into the festival once we've sold out. Be sure to register your entire group individually as we release waitlisted tickets one at a time.
The waitlist will open up if the event sells out after Phase 4.
Please leave your email address AND phone number so we can double-notify you should a ticket become available.
When a ticket becomes available, you will have 24 hours to register. Once this time frame has passed, your spot will automatically be released to the next person on the waitlist. We cannot re-release you a ticket if you miss your registration window.
TRANSFERS
Up to 48 hours prior to the festival a registered pass holder can transfer their ticket to another participant. No registration transfers to another event.
No transfers within 48 hours of the festival start date.
See our transfer refund policy below
REFUNDS
Transfer refund: Don't have anyone to transfer your pass to? Contact us about transferring your registration to a waitlisted party. If a waitlisted person is able to register into your open spot, we can refund your registration. If we are unable to register someone off the waitlist, we cannot offer you a refund for any reason.
No refunds. We understand illness, injury, or family emergencies do happen. While we'll always want to help, please be ready for our policies to still apply.
I have more questions, who do I contact?
Please be sure to fully look over details on our website, including the specific details for this event (don't forget to browse our comprehensive FAQ while you're there). Still have questions? Please email us at hello@thisisroam.com
__________________________________________________
TICKET INFORMATION
Once you purchase, you will receive an order confirmation email from Eventbrite on behalf of Roam Fest organizer Roam Events. Your e-ticket(s) will be attached to your order confirmation email. You do NOT need to print them out - we will have a registration list at the event.
Please check e-mails from Eventbrite and hello@thisisroam.com leading up to the festival- these messages will contain important event information
No refunds. See refund & transfer policies
Due to alcohol permitting, this is 21 and over event
Event is rain or shine
Schedule and vendors subject to change without notice
__________________________________________________
LEARN MORE ABOUT ROAM EVENTS
ROAM EVENTS INSTAGRAM @THISISROAM