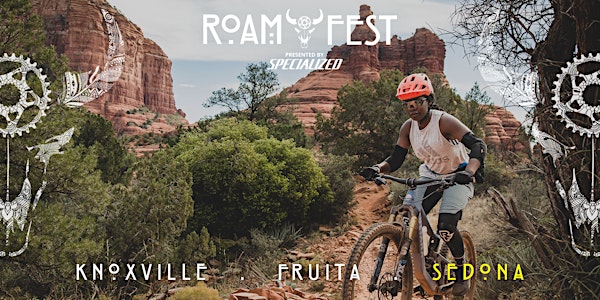 Roam Fest Sedona | A Women + Femme MTB Festival
Phase 2 tickets go on sale: Sun March 19, 2023 | The world's first and biggest femme mtb festival | Presented by Specialized Bicycle Co.
Date and time
November 3 · 8am - November 5 · 4pm MST
Location
Red Agave Resort 120 Canyon Cir Dr Sedona, AZ 86351
Refund Policy
Contact the organizer to request a refund.
About this event
2 days 8 hours

Mobile eTicket
Roam Fest is a three-day femme bike party in a world-class ride destination
"I went out on a limb and went to Roam Fest completely solo without knowing a single soul there. I wasn't sure if that was normal or how the weekend would turn out, but the website made it look pretty fun and welcoming and boy, did I make the right decision. The community of women at Roam was so supportive, so rad, welcoming and open. It was like summer camp for adult women who love to shred. I made some friends for life, got in some incredible riding, grew and challenged myself as a rider, enjoyed some baller demos, took in the energy from some unreal scenery and am still on cloud nine after my experience. "
- Kristina, Roam Fest Participant
_____________________________________________________________
REGISTRATION SCHEDULE
To accommodate varying work & pay schedules, we are holding multiple registration phases.
Phase 1: Wed March 1, 2023
Phase 2: Sun March 19, 2023
Phase 3: Fri July 7, 2023
Phase 4: Sun July 30, 2023
Follow us @thisisroam or check out roamfest.com
Roam Fest FruitaRoam Fest Knoxville
*Please note: Roam Fest Sedona is NOT intended for new/beginner/novice riders. Check out Roam Fest Knoxville or Roam Fest Fruita for more novice-friendly events. Sedona Ride Guide
_________________________________________________________
QUEER, FTWN-B (Femme Trans Women Non-Binary), BIPOC (Black Indigenous People of Color), & FAT CYCLISTS ARE WELCOME!
20% Pledge: Creating equity in the outdoors starts with action and access. We pledge to hold 20% of our event registration for BIPOC riders and proudly have a historical BIPOC attendance rate of over 20%.
"It quickly became apparent that Roam takes their pledge to create an inclusive space very seriously. I decided to trust & I'm so grateful I did! Not only because that was one of the most epic weekends I've had on a bike (truly). But also because of how it changed and inspired me. I rode in the breathtaking high desert with incredible humans. I didn't desiccate. I learned about hubs, how to properly care for my bike, and how to fix a flat. I danced with new friends under the stars for hours. And I felt like I belonged. Not just on a mountain bike, but in a community of BIPoC that play outside."
- Diana, Roam Fest participant and Founder of @riding_in_color_wnc
WHO'S COMING
Specialized . Industry Nine . SRAM . Sierra Nevada Brewing . Pivot Cycles . Liv Cyling . Juliana Bicycles . Rocky Mountain Bicycles . Transition . Kona . Yeti Cycles . Trek . Propain Cycles . SHREDLY . Handup . Dovetail Workwear . Untamed . Smartwool . Wild Rye . REI Co-Op . Kāma Surface Co . Peak Design . MTB Vibes . Roam Adventure Film Tour . Verde Valley Cycling Coalition
Check out our event website for up to date list of Roam & Ramble Expo vendors
__________________________________________________
WHAT'S INCLUDED IN EVERY SINGLE FESTIVAL PASS
Dopest SWAG bag in all the land – chalked full of goodies that don't suck
Access to our Roam & Ramble Expo including premium mtb apparel & gear
Unlimited wheel, gear, & accessory demos
Locally curated routes and bespoke ride recommendations at our Ride Zone
Healthy & hearty catered dinner Fri & Sat nights
Bike-centric workshops, clinics, discussions, & presentations
SHREDTalks panel featuring bold & inspiring game-changers & community builders
Roam Adventure Film Tour showcasing femme features
Free mega raffle ticket for our famous giveaway with absolutely wild prizes
Free dranks at our Happiest Hour (best hour of your life)
Access to our world-famous dance party with multiple playlists to boogie down to
& more!
DEMO FESTIVAL PASS - WHY DEMO IS DIFFERENT AT ROAM FEST
We work closely with our demo partners (mostly women!) to curate a fleet of bikes in frame sizes that trend femme - you'll find more x-small and small bikes at Roam Fest than most demo events on the planet.
We offer size-specific demo passes (with a few extra bikes in each size for you cuspy riders out there) so you can have peace-of-mind that there will always be a bike in your size available to take out and slap a lap.
We rely on the honor system for all this to work. Please only purchase a demo pass if there is one available in your size.
XXS | Generally 4'8" - 4'10"
XS | Generally 4'11" - 5'2"
S | Generally 5'3" - 5'5"
M | Generally 5'6" - 5'8"
L | Generally 5'9" - 6'0"
XL | Generally 6'1" - 6'3"
__________________________________________________
GUIDED RIDE ADD-ON*
Join a crew of radass locals on customized, small-group (no more than 6 riders) guided rides all weekend long. Shuttled rides included!
SHUTTLE PASS ADD-ON*
Hitch a ride to hand-selected trailheads with an exclusive-offer shuttle pass.
*Due to permitting, shuttle availability, our ultra-high standards for Ride Guides, and, frankly, the maths, we are limited in the number of guided rides and shuttles we can offer. By making Guided Ride & Shuttle Pass Add-Ons, we are able to better accommodate this experience for those who opt in, and remove the costs associated with these offerings from those who DIY their rides.
FESTIVAL PARTICULARS:
Bike Demo: DOOOOO IT! Get yourself a Demo Festival Pass and choose a test ride from hundreds of sexy bikes.
Expo Wheel & Gear Demo: Everyone gets access to our Roam & Ramble Expo featuring wheels, accessories, apparel, and gear to try out from dozens of our favorite brands.
Shuttles: Will depart from the main festival area to specified trailheads. Space is limited - snag a Shuttle Pass Add-On
Guided Rides: For intermediate to expert ability levels. Guided by highly qualified locals. Limited spaces to ensure quality ride experience. Snag a Guided Ride Add-On
DIY Rides: Head to the Ride Zone and talk to our ultra-knowledgable local trail aficionado and/or use our curated Ride Guides to find the perfect route. We'll also have DIY ride signups for those looking to invite or join a small group similar-skilled Roamies.
Workshops & Presentations: Will be amazing and plentiful. Check our website for schedule.
SHREDTalks Panel: Presented by The Roam Collective & featuring inspiring humans doing rad things in the bike world
Film Screening: Program TBA...but we promise it will be badass!
Dance Party: Animal costume themed. Or whatever your heart desires. We've had humans dressed as hotdogs. Go with what feels right.
Apparel & Gear: High quality bike apparel & gear will be for sale from our vendors.
SWAG & Merch: No one goes home empty handed. SWAG bags for everyone, experience our Roam merch tent with festival hats, shirts, and gear for sale .
Food: Several restaurants and grocery stores are within walking distance of the festival. Dinner Friday and Saturday night is included in your festival pass.
Drink: Sierra Nevada Brewing Company & friends will be serving donations-based beer and beverages. All "tips" and donations are being gifted to local trail advocacy groups. Water & sports hydration is available and free.
Facilities: Portable toilets and hand washing stations (wash yo' hands!)
Age Restrictions: Must be 21 to attend. Under 21? Contact us.
TENTATIVE SCHEDULE:
FRIDAY
8:00AM - Registration opens
9:00AM - Demo/Roam & Ramble Expo opens
9:45 AM - Roam Fest welcome!
10:00 AM - Shuttles and rides begin
1:00PM(ish) - Workshops begin
5:00PM (ish)- Catered Dinner + Sierra Nevada Brewing Happy Hour
6:00PM - Really Short Raffle that Doesn't Suck
6:30 PM - SHREDTalks Panel
8:00PM(ish) - Roam Adventure Film Screening
SATURDAY
7:30 AM - Yoga and Streeeeetch
8:00AM - Demo/Roam & Ramble Expo opens, some Guided Rides/Shuttles begin
9:00AM- General shuttles/rides begin
1:00PM - Workshops begin
5:00PM(ish) - Catered dinner
6:00PM(ish) - Happiest Hour!
7:00PM - Really Mega Raffle That Doesn't Suck
7:30PM - Specialized Dance Party: animal house theme (interpret as you wish)
SUNDAY
8:00 AM - Industry Nine Blueberry Pancake Breakfast! Demo/Roam & Ramble Expo opens, general shuttles begin
11:00AM - 3:00PM - Workshops
1:00PM - Femme-led Pivot Dig Party
3:00PM - Last shuttle returning
4:00PM - All demo bikes returned
WAITLIST, TRANSFERS, & REFUND POLICY
WAITLIST
GET ON THE WAITLIST! Our waitlist is your only hope of getting into the festival once we've sold out. Be sure to register your entire group individually as we release waitlisted tickets one at a time.
The waitlist will open up if event passes sells out after Phase 4.
Please leave your email address AND phone number so we can double-notify you should a ticket become available. Also, typos happen.
When a ticket becomes available, you will have 24 hours to register. Once this time frame has passed, your spot will automatically be released to the next person on the waitlist. We cannot re-release you a ticket if you miss your registration window.
TRANSFERS
Up to 48 hours prior to the festival a registered pass holder can transfer their ticket to another participant. No registration transfers to another event.
No transfers within 48 hours of the festival start date.
See our transfer refund policy below
TRANSFER-REFUNDS & NO REFUNDS
Transfer refund: Don't have anyone to transfer your pass to? Contact us about transferring your registration to a waitlisted party.
If a waitlisted person is able to register into your open spot, we can refund your registration less Eventbrite fees. If we are unable to register someone off the waitlist, we cannot offer you a refund for any reason.
Transfer-refund period ends 7 days prior to festival start, after which, we do not offer refunds.
No refunds. We understand illness, injury, or family emergencies do happen. While we'll always want to help, please be ready for our policies to still apply.
I have more questions, who do I contact?
Please be sure to fully look over details on our website, including the specific details for this event (don't forget to browse our comprehensive FAQ while you're there). Still have questions? Please email us at hello@thisisroam.com
__________________________________________________
TICKET INFORMATION
Once you purchase, you will receive an order confirmation email from Eventbrite on behalf of Roam Fest organizer Roam Events. Your e-ticket(s) may be attached to your order confirmation email. You do NOT need to print them out - we will have a registration list at the event.
Please check e-mails from Eventbrite and hello@thisisroam.com leading up to the festival- these messages will contain important event information
No refunds. See refund & transfer policies
Due to alcohol permitting, this is 21 and over event
Event is rain or shine
Schedule and vendors subject to change without notice
__________________________________________________
LEARN MORE ABOUT ROAM EVENTS
ROAM EVENTS INSTAGRAM @THISISROAM
Frequently asked questions
Is this festival beginner friendly?
Will there be on-the-bike skills clinics?
Does anyone ever join the festival solo?
Are FTWN-B (femme, trans, women, non-binary) welcome?
Why is Roam Fest Sedona more expensive than Roam Fest Knoxville & Fruita?
Are there discounted passes available?
Can my super adorable fur baby Fluffy come to the festival?
Can my husband/boyfriend/dad/platonic man-friend or non-festival pass holder join or just stop by?
Should I bring my bike or rent one?
What if it rains or the weather is crummy?
The festival is sold out - how can I get a pass?
About the organizer
 || FOR THE ADVENTUROUS ||