Description
"Absolutely beautiful, amazing, most mind-blowing weekend of my life." - Roxie, Roam Retreat @ Sedona 2016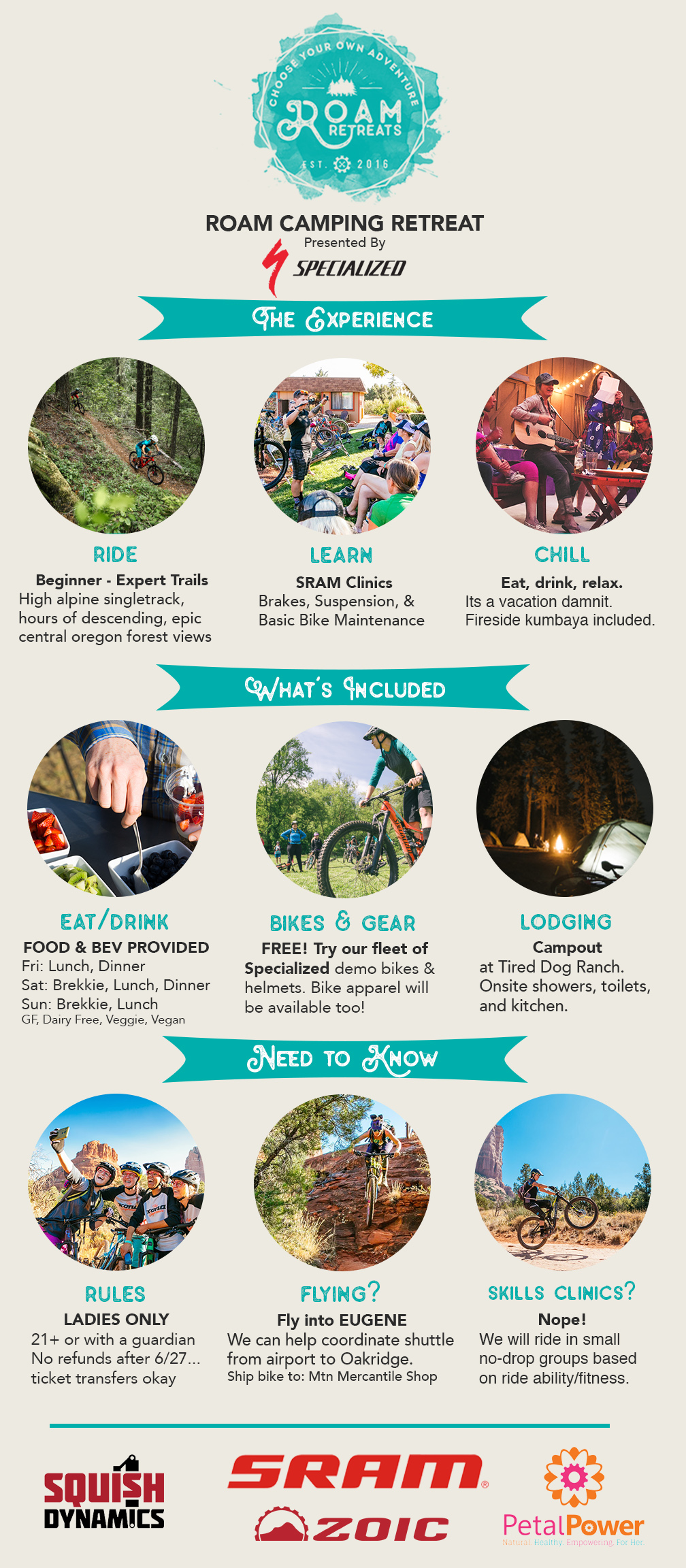 JOIN US
Join us for a weekend of lady shred in a world class riding destination. Roam Retreats are all-inclusive women's ride weekends.
ABOUT ROAM CAMPING RETEAT @ OAKRIDGE: What's a Roam Camping Retreat? It is the same ridiculously fun vacation as our other retreats, but with affordable, camping accomodations. 3 days of shuttles, shenanigans, and shredding. Oakridge is the West Coast's best-kept-secret. High alpine singletrack, hours of descending, crystal clear waterways and epic old-growth forests.
Scroll below for more answers to your questions on our FAQs.
BASIC EVENT SCHEDULE
Friday
Arrive at Tired Dog Ranch.
Have lunch, grab a snack, and ride!
SRAM Technical Clinic
Saturday
Ride ALL DAMN DAY
Afternoon Chillout or Ride More!
SRAM Technical Clinic
Taco Tuesday on Saturday (bring your flannels!)
Sunday
SWAG, Raffle & Giveaways
Morning shred session
Official goodbyes
Head home and plan for your next adventure with us!
(Fully detailed schedule will be available upon registration)
---
FAQs
What is the difference between a Roam Retreat and Roam Camping Retreat?
Accommodations. Roam Retreats are hosted at hotels, lodges, or cabins (as indicated in the price variations). Camping retreats include...well, camping.
Is this a skills clinic?
Nope. There are a ton of amazing skills clinics out there (check out www.thisisroam.com for our recommendations) and we are not trying to be one of them. The purpose of this event is to bring together a community of female riders for a fun weekend of riding together, eating together, and drinking together (if you're into that kind of thing). In some ride groups we may stop and session a few things for fun, but that's about it.
What is a SRAM Technical Clinic?
SRAM technicians and other professional female mechanics will be leading optional hands-on bike maintenance and education sessions. We will cover the basics of bike maintenance (parts of the bike, safety checks, cleaning your bike, etc.) and more advanced topics (tubeless setup, suspension tuning, derailleur adjustments) as well as how to fix a flat. Participants will have an opportunity to wrench on their own bikes, check out different bike geometry and suspension styles, and ask questions from knowledgeable and experienced staff.
Are there age restrictions associated with this event?
Yep...you must be at least 21 years of age to attend this event.
What are my transportation options getting to the event?
Participants will need to get themselves to Tired Dog Ranch. Flying in? We recommend the Eugene Airport. From there you can rent a car or contact us about coordinating a shuttle.
Do I need my own bike?
Not neccessarily! We have a fleet of 2018/2019 Specialized bikes for free demo. Indicate your prefernce in registration and we will help get a bike reserved for part of, or the entire weekend (great if you are flying or otherwise choose not to bring your own steed!)

Do I need to bring my own food and beverages?
Only if you are crazy picky. Breakfast, lunch, and dinner will be provided along with beverages. We will be providing vegetarian, gluten-free, dairy-free and vegan options if requested.
What is the riding going to be like?
Beginner riders with great fitness can handle almost everything Oakridge has to offer. The most difficult sections of trails in Oakridge have tight, exposed, and sometimes rocky switchbacks (we walk a lot of them). The biggest challenge in Oakridge is the sheer elevation gain/loss of otherwise fairly tame trails. There's plenty of exposure and some screaming fast corridors - be sure to have functioning brakes! There is a small handful of beginner level trails, however those are often spotted with difficult sections as well. The good news? Even if you are walking your bike the vistas are just as breathtaking as when you're riding.
I'm a beginner rider, can I come?
How fit are you? Oakridge is a physically demanding ride location with a load of sometimes steep/long climbs and descents, but the trails aren't extremely technical. We recommend that you have at least a season or two of mountain bike experience and/or have taken a skills clinic. If you're unsure of your riding level just shoot us an email or a phone call and we can talk it out.
I'm an intermediate rider, can I come?
Yes! You are going to love the challenge the trails in Oakridge have to offer. Just have your pedaling legs and lungs ready!
I'm an advanced/pro rider, can I come?
Yes! We promise not to make you coach anyone or ride with the newbies, unless you want to. There are wicked challenging trails that we will make sure you have access to so you can get your shred on.
What should I bring?
We will be sending you a packing list and all sorts of details prior to your arrival.
I forgot something I need for riding or I broke my bike Friday afternoon, can you help?
Heck yeah. Pro mechanics will be on hand for minor fixes, unfortunately, we don't have a bike shop full of parts with us. Luckily there are a number of local shops that we can get you hooked up with!
I always ride with my husband, can he just come and hangout?
Nope. Sorry fellas, ladies only. We really can't risk catching your husband's/boyfriend's/male sidekick's cooties at the event.
I want to stay in Oakridge forever! Do you provide accommodations prior to or after the event?
We have negotiated participant rates at the Tired Dog Ranch and you can book your own accommodations with them for as long as you want (just be sure to mention you are a part of our group). If you want some other options, ask us and we can help you find a place!
What can/can't I bring to the event?
Bring anything fun and legal, but please leave Fido at home.
What is your cancellation policy?
A full refund (minus a $25 per ticket processing fee) is available up to 30 days prior to the event. Any cancellations for any reason within that 30-day time period will not be refunded but can be transferred to another participant or Roam Retreat pending available space.
I have more questions, who do I contact?
We can be reached by email at hello@thisisroam.com