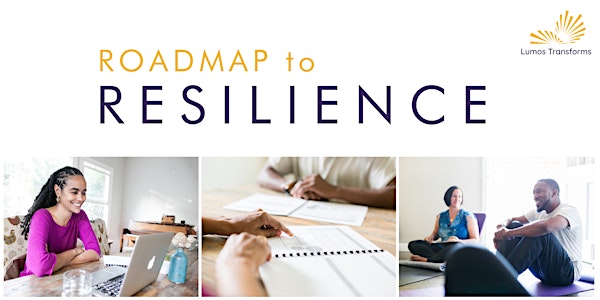 Date and time
Tuesday, May 21, 2019 · 7 - 7:45pm PDT
Refund Policy
Contact the organizer to request a refund.
Description
Roadmap to Resilience
How do you handle stress in your life? Do you bounce back quickly? Or do you find yourself struggling emotionally, checking out mentally, or dealing with troubling physical symptoms? Sometimes circumstances and stress can become so overwhelming that we disconnect from our natural ability to calm down, process experiences, and move forward. The good news is that there are simple strategies you can use to relax and build resilience.
This 45-minute, interactive online class introduces you to The Resilience Toolkit, a groundbreaking system for unlocking your inner ability to rest and recover in a stress-inducing world.
Learn how stress and trauma hijack the nervous system, making it increasingly difficult to feel calm and manage day-to-day obstacles.
Discover why we get stuck when trying to improve our mental, physical, and emotional health.
Find out what you can do to start responding to stress rather than reacting or tuning out.
We'll explain The Toolkit's approach to activating your body's natural ability to relax and grow from stressful situations. We'll show you our strategies for overcoming roadblocks to progress. You'll leave with access to a practical roadmap for effective self-care and new way of navigating challenges.
Roadmap to Resilience introduces the framework and core components of The Resilience Toolkit, but is not a prerequisite for taking the 3-part Intro to The Resilience Toolkit workshop.
---
Tuesday: May 21 | 7:00 PM PDT to 7:45 PM PDT
$20/per person*
*5 complete scholarships are available to attendees in need of financial assistance. If you are having trouble meeting your basic needs (housing, food, healthcare) or paying for this class is a hardship, select the "Scholarship" ticket option during checkout.
---
This class will be conducted online via Zoom. Meeting details will be emailed 24 hours prior to the start of the session. You will need a computer or mobile device, reliable internet connection, and a private space in which to attend meetings.
This class is limited to 20 participants.
About the organizer
Website: https://lumostransforms.com/organizer/lumos-transforms-2/