| | |
| --- | --- |
| Roadmap to Freedom: Your Money, Your Time and Your Game Plan | |
Event Details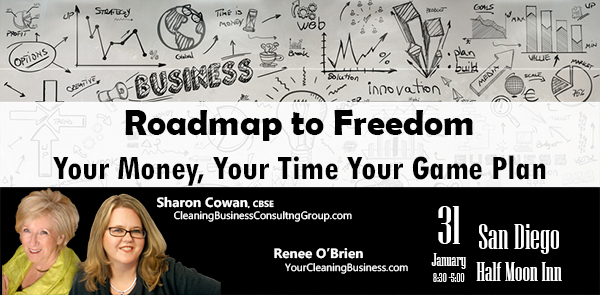 Do you just need a break from the prison of your business?  Tired of three-steps-forward-two steps-back?  Stop Spinning, Start Driving!  You work like a dog, and at the end of the day what do you have to show for it?  This whole day workshop will deep dive into things that matter.  Everybody wants the good life, but not many of us actually achieve it because we are too busy spinning our wheels, chasing our tail, and grasping at straws.  Ideas are easy, its implementation that is rare and of value.  Come learn the skills to be in control of your money and time!   
Have You Heard the 5 Greatest Lies in Small Business Ownership?
Video about the workshop: https://www.youtube.com/watch?v=K0_WvnSw8b4 
In this Workshop you will build a custom 2018 Roadmap for YOUR business that will:
Get you more Control over your TIME and your Money
STOP those long hours, and give you a blueprint for how and when to step away
Get essential Systems designed for Business Owner FREEDOM
Increase your profit with experienced based proven strategies
Breakthrough your growth limits
Set a direct path that avoids false tactics and quick fixes that don't produce results that last
Extinguish distractions, and get LASER CLARITY
8-hour, Hands-on Workshop Details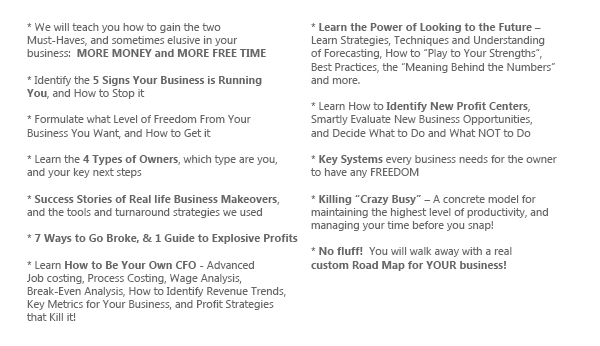 Upgrade Your Experience and Enjoy Multiple Days 
Get the most out of your trip by signing up for all of the activities.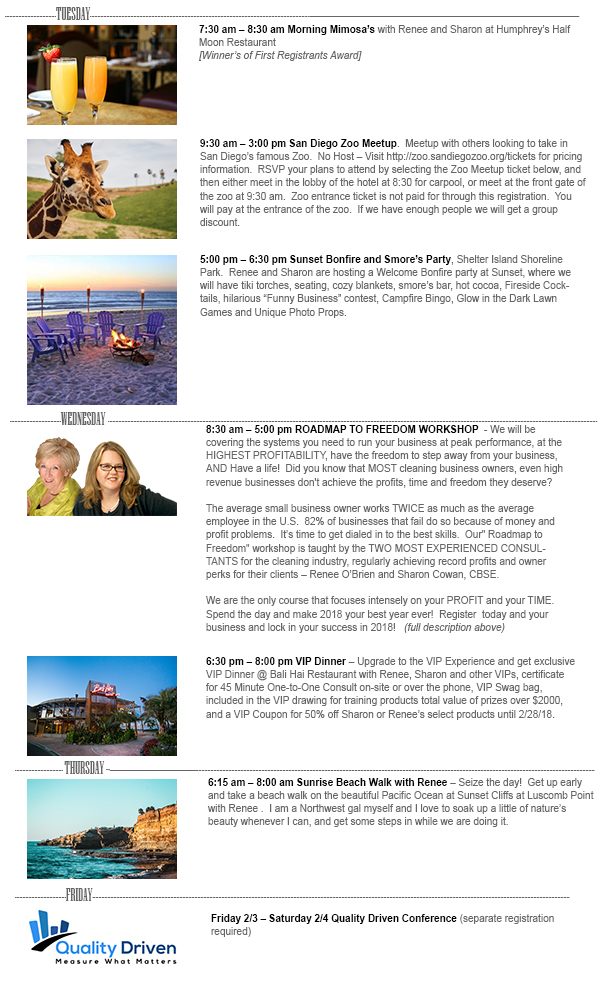 Conference Hotel
Go to http://www.halfmooninn.com and book your room using special discount code "QDS JAN2018"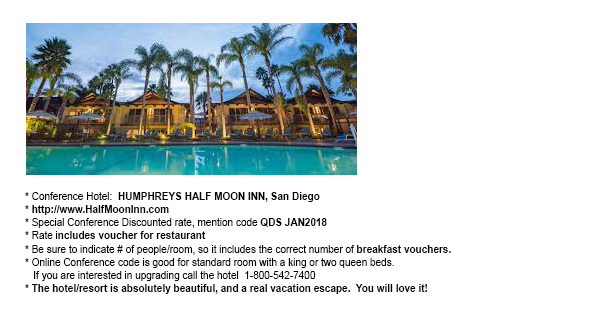 ---
Registration Opens TUESDAY, OCTOBER 24, 5:00 pm Pacific Time!  
Be the first to sign up for the "Roadmap to Freedom Workshop" and win tons of extra bonuses.  When you complete your purchase online for your the "Roadmap to Freedom Workshop" the time of your order is noted, and we will notify you of what your placement number was.  And yes, if you are the first registrant you DO get the bonuses for #1, First 3, First 5 and First 15.  Signups for the other events are welcome, but do not qualify for the "First in line" incentives.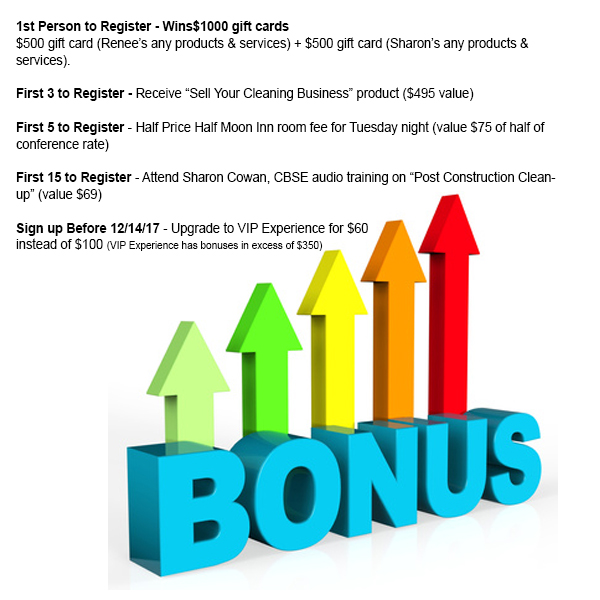 ---
Speakers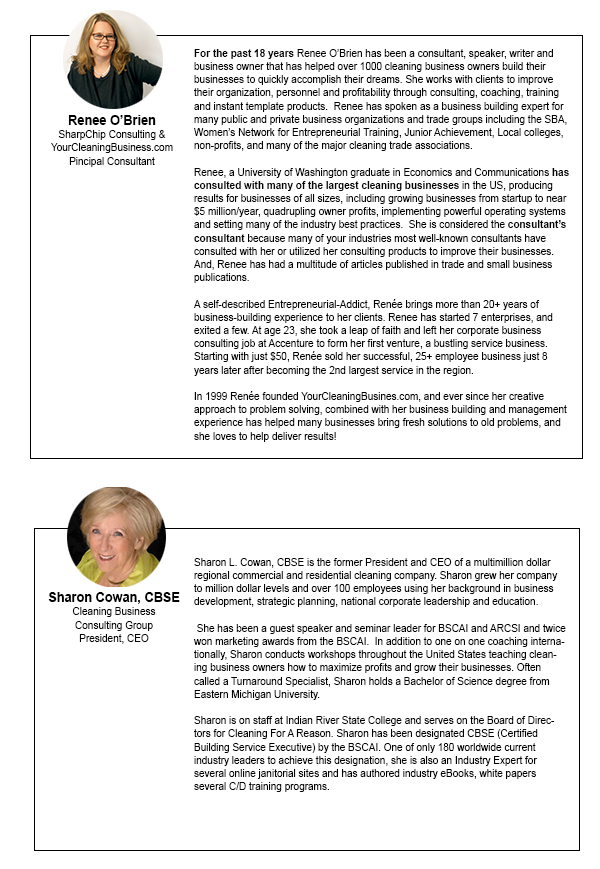 FAQ
Who should attend this event?  This class has enough specific case studies, new strategies and high level skills to thrill large businesses, while using simple language and step-by-step teaching tools and take-homes for newer owners as well.  We guarantee these will be some of the best 8 hours you will spend all year.
Will there be takeaways from the event?  Yes!  You will go home with a 30+ page notebook from the workshop class with your custom Roadmap enclosed.  Also, you will receive all Powerpoints from the workshop as well as some recordings.
If you are discussing Financial numbers what about privacy with my company's numbers?  We will be discussing guidelines in regards to numbers, and the examples we will be working through will be case study businesses.  If you choose to bring your own financial numbers our conversations about your numbers will be private, and we will not share your numbers with anyone.   
Will there be breaks/lunch?  Yes, the Workshop will be intense hands-on learning, and we want you well rested, so we will have breaks every couple of hours.  We are also planning roughly an hour lunch.
What is the VIP experience, and should I do that upgrade?   When you upgrade to the VIP Experience you will participate in anexclusiveVIP Dinner @ Bali Hai Restaurant with Renee, Sharon and other VIPs.  Also, you will receive a certificate for a 45 Minute One-to-One Consult on-site or over the phone, a packed VIP Swag bag, you will be included in a special VIP drawing (separate than general admission prizes) for training products total value of prizes over $2000, and a VIP Coupon for 50% off Sharon or Renee's select products until 2/28/18.
Can I bring someone else from my company with me?  You can register any person that you want from your company.  Be aware that the course is designed for owners of the company and we will be talking freely about typical owner finances, salaries, management compensation, time management strategies, how to go on vacation and manage when you are not there, etc.
Are accommodations separate?  Yes, accommodations and travel arrangements to the San Diego venue site should be arranged by you separately.  We do a wonderful confirmation package pricing for the hotel, Humprheys Half Moon Inn, 2303 Shelter Island Dr., San Diego, CA 92106.  Go to http://www.halfmooninn.com and book your room using special discount code "QDS JAN2018"
What do we do about transportation?  It is recommended that you arrange a car rental to get around and take advantage of the surrounding San Diego area.  The hotel is located on Shelter Island which is a short drive to most local attractions.  Cab, ride share (such as Uber/Lift) and public transportation are also available.
What is your refund policy?  We would like to keep the conference a small conference with lots of personal attention.  For this reason we cannot provide any refunds since we have reserved your limited seat.  We recommend purchasing travel insurance.
How can I contact the organizer of the event?  If you have any questions you can email Renee at Renee@sharpchip.com or Sharon at sharon@cleaningbusinessconsultinggroup.com .
Register Now 
(registration opens Tuesday, 8:00 pm Eastern)
Where

San Diego, Half Moon Inn (Harborview Room)
2303 Shelter Island Dr
San Diego, CA 92106


Organiser
SharpChip, Inc. was founded in 1999 by Renee O'Brien in Seattle, Washington and is an active small business consulting firm that helps businesses nationwide and around the world improve organization, personnel management  and profitability.  And they do this through strategic consulting, coaching, training, marketing services and operational systems.