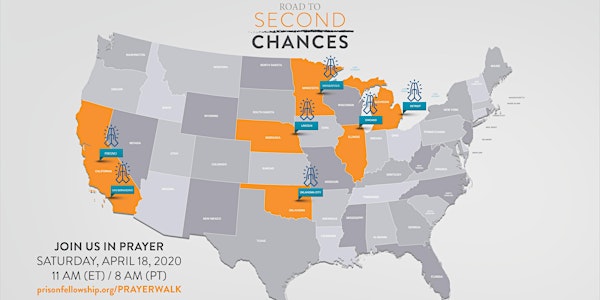 Road to Second Chances Virtual Prayer Meeting
Join Prison Fellowship® and 370+ partners in extending second chances for about 70 million people living in the shadow of a criminal record!
About this event
The Road to Second Chances Virtual Prayer Gathering on Saturday, April 18 is an opportunity to cover our nation with prayer for those affected by crime and incarceration. This special, nationwide prayer event celebrates the dignity and potential of men and women with a criminal history. Join us and hear real-life stories of people across the country living out their second chance. We will make virtual "stops" across the country in cities like Detroit, Chicago, Minneapolis, Lincoln, Oklahoma City, and more.
When:
Saturday, April 18, 2020
11:00 a.m. ET / 8:00 a.m. PT
Where:
Digital Links will be provided before the event.
Why:
While the current public health situation temporarily affects Prison Fellowship and the work of so many of our Second Chance Month partners, our commitment to our shared vision is unwavering. Now, more than ever, it is crucial that we raise awareness about the challenges men and women face upon reentry as they seek healthcare, housing, and employment. Let's use this unique time in our nation's history for good and maximize this opportunity to spread the message of second chances.