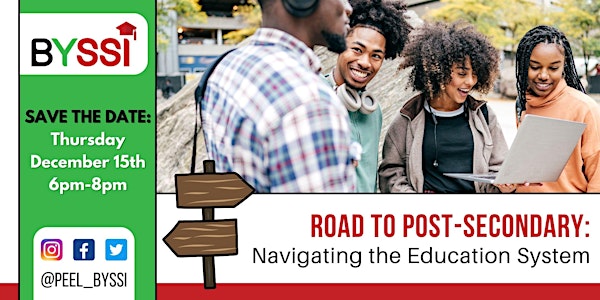 Road to Post-Secondary: Navigating the Education System
Learn about resources, supports, and services that will help students and families with navigating the education system!
About this event
About BYSSI
The Black Youth School Initiative (BYSSI) brings together Black-led agencies, community organizations, and schools in both the Dufferin-Peel Catholic District School Board and the Peel District School Board to support Black students. Our goal is to support approximately 500 Black children and youth in grades 6-8 and for all four years of high school over a five-year period to achieve graduation rates on par with the regional average.
About the Event
BYSSI will be hosting a virtual Road to Post-Secondary: Navigating the Education System event Thursday December 15th from 6pm-8pm. The goal of the session is to help students and their families in discovering resources, supports, and services available that can be accessed to support with their educational journey.
Guest speakers will include the Brampton Library, the Mississauga Library, students currently attending college and university, and a student family advocate representative.
This session is intended for Black, African, and/or Caribbean students and families. However, anyone who wishes to attend is more than welcome to register.
Make sure to register and join the conversation!
Learn about programs and services available through the Brampton and Mississauga Library
Connect with current university and college students and hear about their experiences navigating the education system
Learn about the student and family advocacy role and how they are able to support students and their families