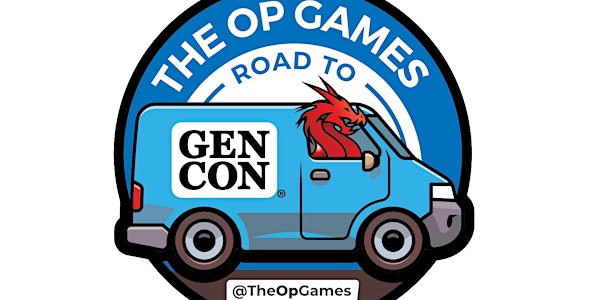 Road to Gen Con- Millennium Games
Register here for a spot in the 5th stop on The Op Games' Road to Gen Con Disney Sorcerer's Arena Tournament.
When and where
Location
Millennium Games 3047 W Henrietta Rd Rochester, NY 14623
About this event
The Op Games' Road to Gen Con Disney Sorcerer's Arena: Epic Alliances Tournament
5th Stop: Millennium Games- Rochester, NY
1pm-6pm
There are 32 spots in the tournament, and then we will take waitlist registrants. Waitlist ranking placement will be based on check in time the day of the event.
ENTRANT QUALIFICATIONS
The Op's Road to Gen Con Regional Tournament Events are open to all US residents ages 18+ , excluding owners and employees of retail locations where The Op's Road to Gen Con 2023 events are held, employees of The Op, Disney, and Gen Con , and family members of any of the forgoing. Entrants must be registered to play at their location before the start time of the event, on a first come, first served basis. Events must have a minimum of 4 entrants to qualify for prizes, and are capped at 32 entrants per tournament.
Rude or offensive behavior will not be tolerated at The Op's Road to Gen Con events, and any player deemed sufficiently disruptive at an event may be issued a warning or disqualified and removed from that event at the head judge or tournament organizer's discretion.
GAME RULES PER EVENT
Games in The Op's Road to Gen Con 2023 events will be played in the 1-versus-1 individual competition format; team play in said events is prohibited.
For Regional The Op's RtGC events, characters from the following sets may be used:
Core Set
Turning the Tide
Thrills & Chills
Leading the Charge (after release)
Expansion 4 (after release)
Each participating player may bring any number of characters to play in the event, including the standees and components (Battle Cards, Character Ability Cards, Turn Order Tokens) for those characters. If those characters generate status effects, the player is responsible for bringing the rules for those Status Effects, the corresponding Status Effect Tokens, and Status Counters . (If a player forgets to bring Status Counters, proxy Counters may be substituted ; scraps of paper may suffice for this purpose.
Each player should also come prepared with Summoner Identifier Rings in both blue and red, a Turn Marker, and a supply of Victory Point Tokens or a method to write down or otherwise track VP totals , provided both players agree to alternate methods of tracking scores before the game. If a player can not provide a sufficient number of these materials to play the game with, they may borrow them from another player or the Tournament Organizer, if supplies are available. If a player as no Summoner Identifier Rings to start the game with, they must forfeit the round due to insufficient game materials.
Alternate art character standees are permitted. Players may use sleeves for their decks, and official foil promo cards are permitted , but proxy cards/characters are not. If a player chooses to use foil cards, those cards must replace the corresponding card(s) in their deck, and their deck must be sleeved.
Before any game begins, any player may request to verify their opponent's character decks. As the character decks in Disney Sorcerer's Arena: Epic Alliances are pre-constructed, all a player need verify is that one copy of each card for that deck is present, and that the cards or sleeves are in satisfactory condition, with the backs free of intentional markings. The assistance of a judge may be requested if discrepancies exist, and the judge may determine that one or more characters may not be played by a player due to improper presentation of a character deck.
Competitive events use the full Chapter 4 rules from the Core Set rulebook, plus official errata (available on The Op's website or on BoardGameGeek.com — see Appendix I at end of Event Rules) and the auxiliary rules for any expansions included in the event. In competitive events, three modifications are made to these rules:
1. At the start of each round, players draft their team of characters from their own supply of characters , following a serpentine draft as outlined on page 13 of the Core Set rules. First pick is determined by a balanced randomizer, such as a coin flip or die roll.
2. A tie at the end of the final game round (sequence of character turns) is considered a draw.
3. The final round is determined by a player collecting their 20th VP, a player needing to draw a card from an empty deck, or time being called for the event round (time allotted for paired players to play one game).
For full rules and tournament regulations can be found here: https://theop.games/pages/rtgc-official-rules
Schedule of Events:
Player Check In and Game Component Review: 12:30pm-1pm
1pm-6:30pm Tournament & Prizing
1pm-Round 1
2pm-Round 2
3pm-Round 3
4pm-Round 4
5pm-Round 5
6pm- Winner's Awarded
Each Round will be 50 mins in length with an approximate 10 minute break.