Location
Sarasota Yacht Club
1100 John Ringling Blvd
## 100
Sarasota, FL 34236
Refund policy
Contact the organizer to request a refund.
Eventbrite's fee is nonrefundable.
A VIP only, limited seating luncheon with Stephen Moore, Economic Adviser to President Trump and author of Trumponomics.
About this event
The Road to 2020 Speaker Series welcomes economic adviser to the President Donald J Trump to the Sarasota Yacht Club for a VIP only lunch and discussion of the Trump economy.
This event, as with all our events, is open to both men and women.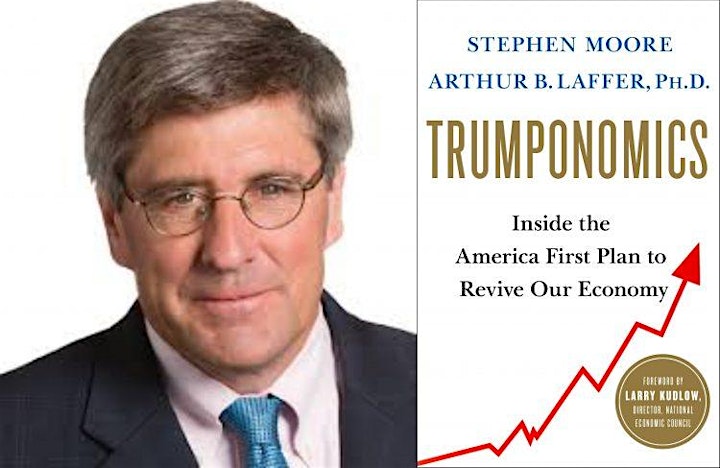 Stephen Moore is an American writer and television commentator on economic issues. Moore advised Herman Cain's 2012 presidential campaign and Donald Trump's 2016 presidential campaign. He is expected to serve as economic advisor to Donald Trump's 2020 presidential campaign.
He co-founded and served as president of the Club for Growth from 1999 to 2004. Moore is a former member of the Wall Street Journal editorial board. He worked at the Heritage Foundation during the period from 1983 to 1987 and again since 2014.
Moore advocates tax cuts and other supply-side policies. Moore's columns have appeared in outlets such as the Wall Street Journal, The Washington Times, The Weekly Standard and National Review. Along with Larry Kudlow, Moore advised the Trump administration during the writing and passage of the Tax Cuts and Jobs Act.
On March 15, 2019, President Donald Trump announced that Moore would be nominated to serve as a governor of the Federal Reserve. On May 2, 2019, Moore withdrew his name from consideration.
Moore coauthored Trumponomics with Arthur B. Laffer. Moore and Laffer are the economists behind the job creation platform that brought Trump to victory.