Road to 2015: A Pivotal Year for Sustainable Development

Monday, November 17, 2014 from 7:00 PM to 9:00 PM (EST)
Event Details
UPDATE:
Videos of keynote presentations are available here. 
The event will livestreamed at bit.ly/WatchRoadTo2015. Additionally, you can follow the online conversation via livetweets at @SustMediaLab and tweet questions to the speakers using #RoadTo2015!  
---
2015 is shaping up to be a game changer. 
The Sustainable Development Goals (SDGs), to be set by the United Nations in September 2015, will outline the international development priorities for the coming decades. This engenders a series of complex questions: what will the goals look like? How can we measure progress effectively? Where will the funding to implement these goals come from? Additionally, the 21st session of the Conference of the Parties (COP21) to the UN Framework Convention on Climate Change will convene in Paris in December 2015. Can an international climate agreement be reached at COP21, and what might it look like?
Columbia's Sustainability Media Lab is excited to present Road to 2015: A Pivotal Year for Sustainable Development, a panel discussion on the four major development priorities of 2015: the Sustainable Development Goals (SDGs), Data Revolution, Financing, and COP21. This public event seeks to give audiences a primer on these topics, from experts directly involved in shaping the post-2015 agenda. 
The panel discussion will be followed by an audience Q&A. Submit questions on Twitter using #RoadTo2015!
---
Four keynote speakers will present on the following topics: 
Sustainable Development Goals (SDGs)
Minh-Thu Pham, 
Senior Policy Director at United Nations Foundation 
Minh-Thu Pham is currently Senior Policy Director at the United Nations Foundation, where she leads strategic initiatives to strengthen the UN's ability to solve global problems, including UNF's effort to support the formulation of the next set of global development goals or the "post-2015 development agenda."
She also teaches international policymaking at Princeton University. She has served in the Executive Office of the Secretary-General for both Kofi Annan and Ban Ki-moon as policy adviser for strategic planning, leading and managing policy initiatives to strengthen the UN and improve relations between the U.S. and the UN during a particularly difficult phase of that relationship. Minh-Thu has advised the UN special envoy for malaria and the top international official in Bosnia.
---
Data Revolution for Sustainable Development 
Eric Swanson
, 
Director and Co-founder of Open Data Watch
Eric Swanson is a co-founder and managing director of Open Data Watch, an NGO dedicated to making data by and about developing countries more widely available. Formerly the manager of the World Bank's statistical publications and databases, he was the World Bank representative to the United Nations' Inter-Agency and Expert Group on the Millennium Development Goals. He holds a PhD in economics from the State University of New York at Buffalo. 
---
Financing for Sustainable Development 
Chantal Line Carpentier
, 
New York Office 
Chief 
for the UN Conference on Trade and Development (UNCTAD)
Dr. Chantal Line Carpentier, a Canadian economist, specialized in sustainable agriculture, development, trade, and consumption and production joined UNCTAD in July 2014, after 7 years of supporting the intergovernmental processes at the UN Department of Economic and Social Affairs , Division for Sustainable Development including for Rio+20 Conference and the Sustainable Development Goals for the Post 2015 development agenda. She also led the participation of non-state actors into these processes. She is a 2006 Yale World Fellow and as consulted for UNDP, World Bank, OCDE, and USDA.  Dr. Carpentier regularly publishes journal articles, book chapters, and Secretary General Reports. She is an ultramarathoner and ironman. 
---
21st Conference of the Parties on Climate Change (COP21)
Tracy Raczek, Climate Policy Advisor for the UN Secretary-General's Climate Change Support Team (CCST)
Tracy Raczek is a Climate Policy Advisor in the United Nations Secretary General's Climate Change Team. Previously, she provided technical support to UN delegations in various negotiation processes and is credited with spearheading UN Women's integration of gender and environment related issues. She led or contributed to dozens of UN publications, including the Secretary-General's High-Level Panel for Global Sustainability report; and has over ten years of experience before joining the UN in the environmental field as well as in education and social justice advocacy.
---
Important Details
RSVP is required by 11/14 for non-CUID holders (required for entrance into Lerner). Please connect with us on FB and Twitter; video recording of the entire event will be uploaded within a week.  
The event will also be livestreamed at bit.ly/WatchRoadTo2015.
Join the conversation online & TWEET questions to the panelists at @SustMediaLab + #RoadTo2015! Tell your friends & colleagues to RSVP at bit.ly/Road-to-2015!
---
Directions
The event will be held in Room 555 of Lerner Hall at Columbia University. The building is located on campus, near the corner of 115th and Broadway. Take the 1 train to 116th Street Columbia University stop and enter Lerner at 115th and Broadway (marked by the star on the map below). Please bring a photo ID for sign-in. 
Detailed driving directions along with alternate transportation options and parking can be found on the Columbia University website.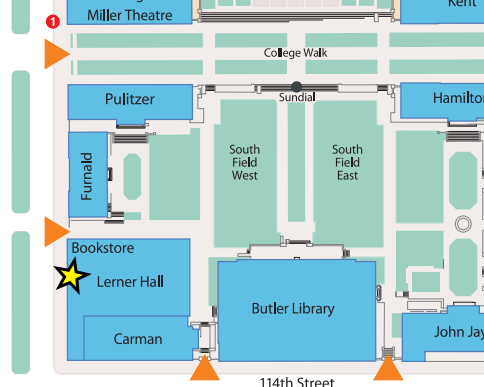 ---
This event is free and open to the public; RSVP is required for entry into Lerner! Please direct any questions, including press inquiries, to info@sustainabilitymedialab.com.
The Sustainability Media Lab is a student initiative at Columbia working to make sustainable development more accessible, relevant, and compelling across all media. This event is cosponsored by Consilience: The Journal for Sustainable Development, FeelGood, and the Sustainable Development Solutions Network (SDSN). 
When & Where

Lerner Hall
2920 Broadway
Room 555
New York, NY 10027


Monday, November 17, 2014 from 7:00 PM to 9:00 PM (EST)
Add to my calendar
Organizer
Student initiative at Columbia working to make sustainable development more accessible, relevant, and compelling across all media.