Road System Resilience to Climate Change & Extreme Weather Events (IRF)
Description
Building Climate Resilience into Road Programs
Climate change is putting at risk the lives of millions of people worldwide, many coastal cities, and trillions of dollars of investment in transport infrastructure and services. A transport system that cannot withstand the emerging impacts of climate change will prove burdensome, impose high costs for repair, and cause significant economic losses.
Action is needed to diagnose systemic weaknesses and adapt transport systems to withstand expected climate impacts such as changes in rainfall, flooding, and sea-level rise as well as extreme weather events. This requires a better understanding of existing vulnerability assessment tools, cost-effective engineering measures and technologies all designed to ensure robustness, redundancy and resilience are designed into road networks.
Building on the scientific state of the art and a selection of real world case studies from different fields of structural engineering (highways, low-volume roads, bridges & underground structures), this international convention is a key meeting place for policy-makers, road professionals and the research community wishing to better understand an address one of the defining challenges for 21st century road programs.
Why Attend:
Ensure your road investments delivers the best possible return and brings lasting development benefits
Learn about cost effective engineering solution to make roads and bridges more resilient
Find out about new materials and technologies for resilient roads
Get exposed to how innovative road & transportation agencies are dealing with climate change
Gain Key insight on how development banks and financing institutions are dealing with climate resilient
Understand practical situation specific solutions from some of top resilience experts globally
Learn about Risk Based Management & Planning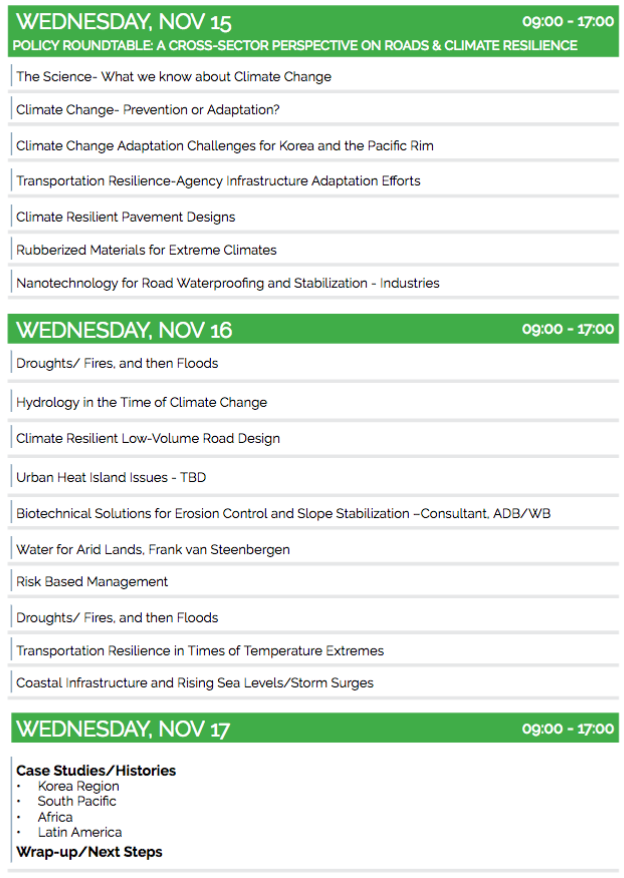 Please contact the event manager Marilyn below for the following:
- Discounts for registering 5 or more participants.
- If you company requires a price quotation.
Event Manager Contact: marilyn.b.turner(at)nyeventslist.com
You can also contact us if you require a visa invitation letter, after ticket purchase.
We can also provide a certificate of completion for this event if required.

NO REFUNDS OR TRANSFER ALLOWED ON REGISTRATIONS
-----------------------------------------------------------------
This Event Listing is Promoted by
New York Media Technologies LLC in association
with IRF Global.
http://www.NyEventsList.com
http://www.BostonEventsList.com
http://www.SFBayEventsList.com
-----------------------------------------------------------------
SHU170424CEV
Date and Time
Location
Korea International Exhibition & Convention Center
217-59 Kintekseu-ro, Daehwa-dong
Korea (South)