Rachel Khong, R.O. Kwon and Cathy Park Hong in conversation with Evan Karp for Point Reyes Books
About this event
It's a tough time for local bookstores, what with the social distancing and the sheltering in place. So we're raising funds to help local Bay Area bookstores stay in business, with a series of fundraisers. This event will feature Rachel Khong, R.O. Kwon and Cathy Park Hong in conversation with Evan Karp.
The authors
R.O. Kwon's nationally bestselling first novel, The Incendiaries, is published by Riverhead (US) and Virago/Little Brown (UK), and it is being translated into seven languages. Named a best book of the year by over forty publications, The Incendiaries received the Housatonic Book Award and was a finalist for the National Book Critics Circle John Leonard Award for Best First Book and Los Angeles Times First Book Prize. Kwon's next novel, as well as an essay collection, are forthcoming. Kwon's writing has appeared in The New York Times, The Guardian, The Paris Review, NPR, and elsewhere. She has received fellowships and awards from the National Endowment for the Arts, Yaddo, MacDowell, the Bread Loaf Writers' Conference, and the Sewanee Writers' Conference. Born in Seoul, Kwon has lived most of her life in the United States.
Rachel Khong's debut novel, Goodbye, Vitamin, won the 2017 California Book Award for First Fiction, and was a Los Angeles Times Book Prize Finalist for First Fiction. From 2011 to 2016, she was the managing editor then executive editor of Lucky Peach magazine. With Lucky Peach, she also edited a cookbook about eggs, called All About Eggs. In 2018, she founded The Ruby, a work and event space for women and nonbinary writers and artists in San Francisco's Mission district.
Cathy Park Hong's first book, Translating Mo'um was published in 2002 by Hanging Loose Press. Her second collection, Dance Dance Revolution, was chosen for the Barnard Women Poets Prize and was published in 2007 by W.W. Norton. Her third book of poems, Engine Empire, was published in Spring 2012 by W.W. Norton. Hong is also the recipient of a Fulbright Fellowship, a National Endowment for the Arts Fellowship and the New York Foundation for the Arts Fellowship. Her poems have been published in A Public Space, Poetry, Paris Review, Conjunctions, McSweeney's, APR, Harvard Review, Boston Review, The Nation, and other journals. She is an Associate Professor at Sarah Lawrence College and is regular faculty at the Queens MFA program in Charlotte, North Carolina.
This event is hosted by Evan Karp, organizer of the Quiet Lightning reading series and events coordinator at Booksmith.
The beneficiary
There is a rich history of bookselling in Point Reyes Station, the gateway to Point Reyes National Seashore just an hour northwest of San Francisco.
Our goals for the future of Point Reyes Books rest on the strong foundation that preceded them – a foundation based in community, a sustainable and neighborly local economy, working in collaboration with other small businesses and organizations for the benefit of all, and providing a welcoming space for people to come together to learn and share ideas. We envision a thriving online store in addition to a brick and mortar one, both spaces where readers can discover books they might not find elsewhere. We are working hard to make Point Reyes Books destination for book-lovers the world over to experience this beautiful corner of California where the forest, the sea, writers, readers, and books come together in a truly special place.
Every penny you spend on this event will directly to Point Reyes.
How does it work?
We use the conferencing system Zoom. After you sign up you'll get an email with the Zoom access code. (Check that Eventbrite is using your current email address.) You don't have to join with video, but it's nice to see faces.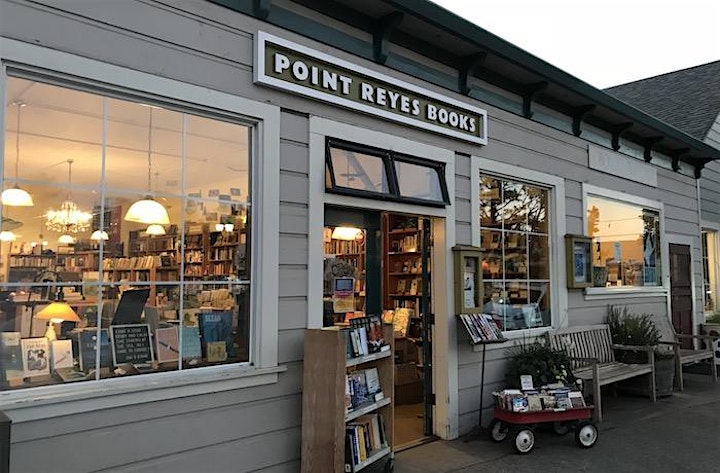 Organizer of R.O. Kwon, Rachel Khong and Cathy Park Hong for Point Reyes Books
Charlie Jane Anders is the author of Victories Greater Than Death, the first book in a new young-adult trilogy, which came out in April 2021. Up next: Never Say You Can't Survive, a book about how to use creative writing to get through hard times; and a short story collection called Even Greater Mistakes. Her other books include The City in the Middle of the Night and All the Birds in the Sky. Her fiction and journalism have appeared in the New York Times, the Washington Post, Slate, McSweeney's, Mother Jones, the Boston Review, Tor.com, Tin House, Teen Vogue, Conjunctions, Wired Magazine, and other places. Her TED Talk, "Go Ahead, Dream About the Future" got 700,000 views in its first week. With Annalee Newitz, she co-hosts the podcast Our Opinions Are Correct.