RNN Solar Day: A "Gilded-to-Green" Global Event Celebrating the Solstice an...
Description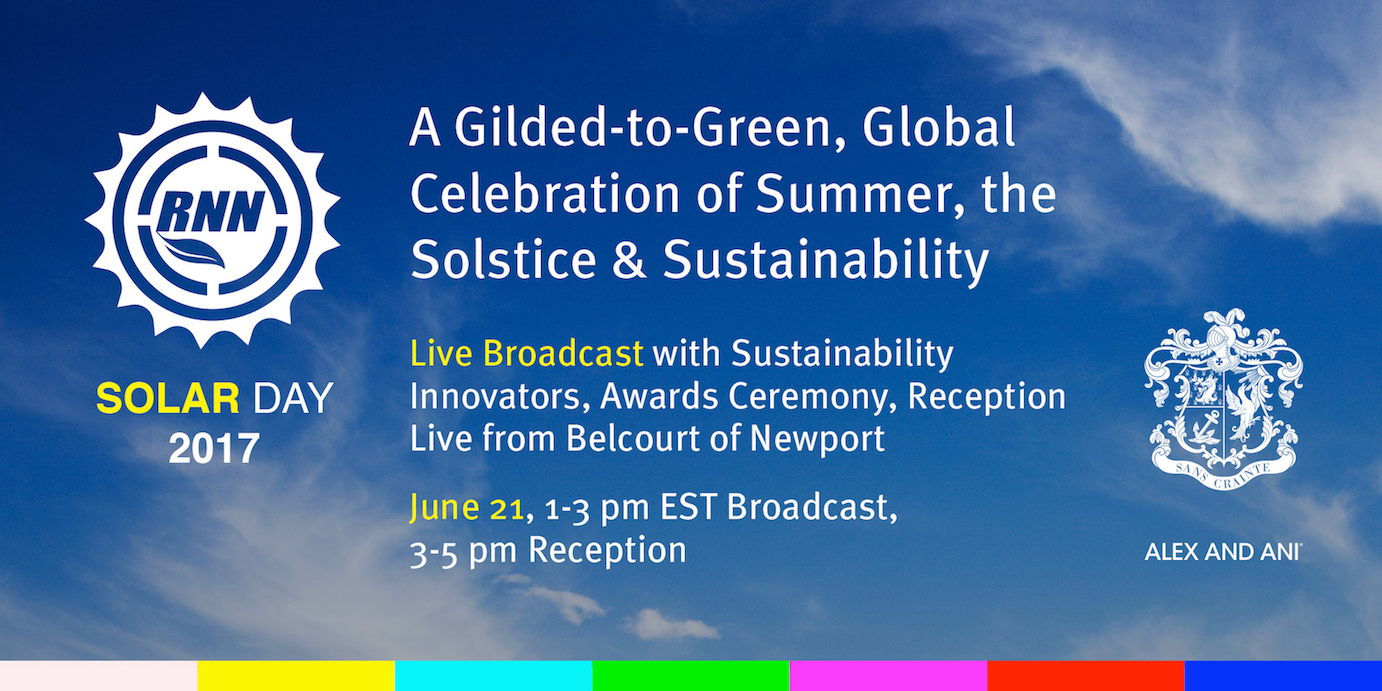 June 21 commemorates the annual summer solstice - the longest day of the year where the sun reaches its highest position in the sky. Renewable Now Network (RNN) - a premier platform for sustainability - salutes the summer solstice and sustainability on June 21 at a global event - live from Belcourt of Newport, a historic landmark on the National Register of Historic Places in Newport, Rhode Island recently restored to its iconic, Gilded Age grandeur with one exception gilded-to-green distinction: the utilization of the most cutting-edge design and technology for clean energy, bringing a modern, sustainable touch to a historic classic!
RNN will host the day's festivities, presenting the live broadcast to an invitation-only VIP audience of sustainability leaders from business, government, and society, while also streaming the event live to RNN's global audience of sustainability influencers at http://www.renewablenownetwork.com/rnn-2017-solar-day-from-gilded-to-green/ and via Facebook Live.
Built in 1891 by world-renowned architect Richard Morris Hunt and modeled after Louis XIII's hunting lodge at Versailles. Belcourt is an architectural marvel now owned by Carolyn Rafaelian - design visionary, philanthropist, and founder of global jewelry/lifestyle brand, Alex and Ani. As a steward of sustainable design, Carolyn has worked tirelessly with a team of world-renowned architects led by Shahin Barzin on the preservation, restoration, and innovation of this historic mansion on Bellevue Avenue in Newport.
Hosted by RNN Founder & President of RNN, Peter Arpin & President of the Rhode Island Green Buildings Council, Ken Filarsky, RNN Solar Day Live from Belcourt at Newport will also include an awards ceremony honoring Carolyn Rafaelian with RNN Arts & Culture Humanitarian of the Year Award and Shahin Barzin with RNN Green Architect of the Year.
EVENT TIMELINE
12:15-1:00 pm EST: Arrivals, Meet & Greet, Seating
1:00-2:30 pm EST: Broadcast of Interviews with Carolyn Rafaelian, Shahin Barzin & other sustainability leaders
2:30-3:00 pm EST: Awards Ceremony
3:00-5:00 pm EST: Reception