RMRT: What's Good Bruh? National Virtual Wellness Check-In (Registration 2-mins)
About this Event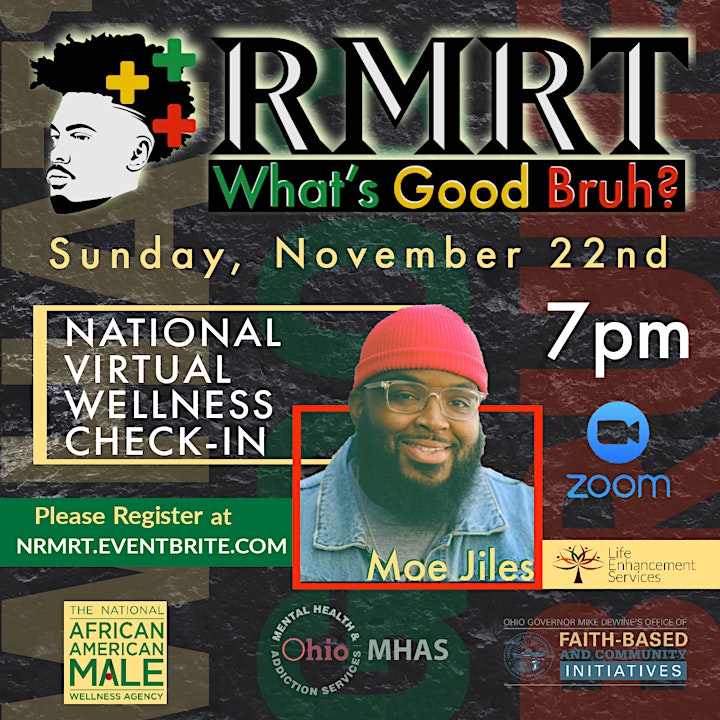 ZOOM INFO (Registration - 2mins)
Register in advance for this meeting: https://us02web.zoom.us/meeting/register/tZIqceqgrD4oGtDQCwU6n2XN0BYUX15FlK2d
After registering, you will receive a confirmation email containing information about joining the meeting.
EVENT INFO
Led by Health Profession Moe Jiles, In this virtual discussion about mental health we will speak with health professionals, and the community across the national AAWellness platform covering the following:
Opener: 2020 State of Mental Health(How are you received as a Mental Health Professional?)
Discussion: Why don't all men talk to mental health?
Topic: Home for the Holidays... Covid-19 spike stress, how to cope?
Real Men, Real Talk: Whats Good Bruh?
...Is a natural discussion with men, especially African American/Black men who often do not have SAFE SPACES to express their emotions, angers, fears, vulnerabilities.
We offer a SAFE SPACE for men to express!
RESOURCES
aawellness.org - ncusolutions.com - ausohio.com