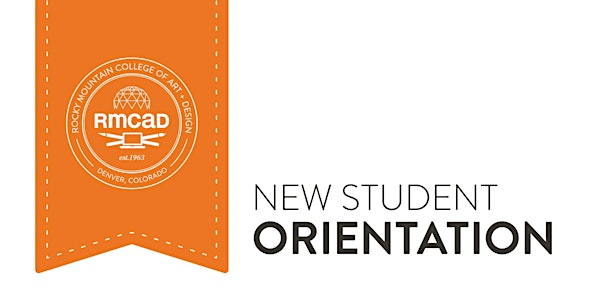 RMCAD New Student Orientation- Fall A
Connect with key staff members and prepare for your first week of classes.
When and where
Location
Rocky Mountain College of Art + Design 1600 Pierce Street Denver, CO 80214
About this event
New students starting classes on Monday, August 29, 2022 are invited to attend our 2022 Fall A New Student Orientation on campus on Friday, August 26 , 2022, along with a virtual Technology + App Training session on Wednesday, August 24 from 5:30-6:30 p.m. (MST) and a virtual LMS Training on Thursday, August 25 from 5;30-6:30 p.m. (MST). These events are for students taking classes on ground.
Orientation is all about connecting with key staff members and preparing for your first week of classes. Learn about the campus culture, discover important resources, and understand what is expected of you as an artist and designer within the RMCAD community.
Prior to attending the ground orientation, all students are required to complete their online orientation, RMCAD Launch. This was sent to you in an email. Please make sure you complete your online orientation to ensure there are no issues logging into your RMCAD accounts, including your email and the LMS.
Orientation Schedule:
9 a.m. - Check-in, Breakfast, and Student Photos
9:45 a.m. - Convocation
10:30 a.m. - RMCAD Connections with the Chairs + Student Ambassadors
11:45 a.m. - Session 1*
12:30 p.m. - Session 2*
1:15 p.m. - Lunch + Resource Fair
2 p.m. - Session 3*
2:45 p.m.- Session 4*
3:30 p.m. - RMCAD Social + Resource Fair Raffle
4:30 p.m. - End
Sessions include:
****Sessions include:
Information Session
Learning for Success - Learning Commons, Liberals Arts + Career Services
Health and Wellness at RMCAD
Diversity, Equity, + Inclusion