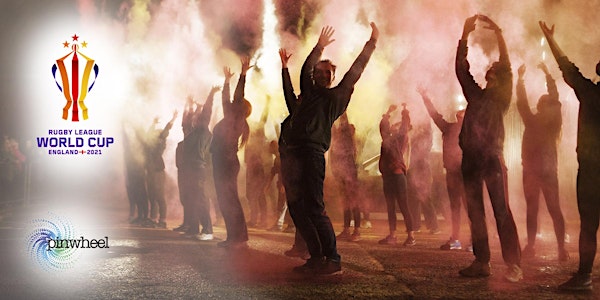 RLWC Cultural Festival | The Power of Performance: This is Us
Rugby League World Cup Cultural Festival - The Power of Performance: This Is Us
When and where
Location
Kingston upon Hull City Centre City Centre Kingston upon Hull HU1 United Kingdom
About this event
Thank you for joining us and playing a part in this exciting production for Rugby League World Cup Cultural Festival – The Power of Performance: This Is Us.
1. About the Rugby League World Cup Cultural Festival
The Rugby League World Cup Cultural Festival is an ambitious, inclusive, multidisciplinary festival bringing together audiences for sport and art around the tournament. Taking place in four of the tournament host cities, the festival will amplify the tournament's strapline of "The Power of Together" and celebrate inclusivity and positive social impact.
The Rugby League World Cup was originally scheduled to take place in England in Autumn 2021, but the impact of the global pandemic led to postponement of the event which will now run from 15 October to 19 November 2022. The tournament consists of three World Cups - Men's, Women's, and Wheelchair – all taking place at the same time and features 32 teams from 20 unique nations.
The Cultural Festival programme includes a major new outdoor performance delivered in the four cities, an epic touring public art and poetry commission and a programme of engagement projects rolled out across 40 Library Services.
Pinwheel is the Creative Director and Producer for the Cultural Festival, and the partners are: RLWC2021; Leeds 2023, Newcastle City Council, Hull City Council, Greater Manchester Combined Authority and Libraries Connected. The Festival has been generously funded by Arts Council England.
2. About The Power of Performance: This Is Us
The Power of Performance: This Is Us is a new outdoor production created for the Rugby League World Cup Cultural Festival. The piece will be performed in four cities across the North of England in October/November 2022.
The show uses dance, aerial performance, special effects, music, poetic text and exciting staging and design to tell three distinct stories about rugby league. The atmosphere and energy of the sport will be brought out into the streets of each city. We will explore how the game has evolved from its roots into the diverse and inclusive sport we see today which inspires such passion in its fans, and the tries and the triumphs which have led to this point.
The piece involves a central company of professional dancers as well as a large participant cast for each location. The event is being designed to operate across three performance "zones", each telling part of the story. Each zone will be a separate area, close enough to each other that audiences can easily move between them. It is anticipated that over the two-hour run, the show could see audiences of up to 15,000 per city.
We welcome sport and art fans from all backgrounds to take part in this powerful mass participatory project led by professional dancers and performers. You will be part of approximately 150 participants per city, which will be a mix of local community groups, rugby league teams and fan clubs, choirs, and street bands.
The Power of Performance: This is Us is produced by Pinwheel, directed by Robby Graham / Southpaw Dance Company with Simon Sharkey as writer / artistic advisor.
3. About Pinwheel
Pinwheel provides independent creative producing and consultancy services in outdoors arts, major cultural events, and festivals. Based in North Tyneside, the company delivers projects across the country as well as those which are embedded within the North East. Pinwheel is led by Director Katy Fuller who has worked on some of the country's most iconic outdoor events over the last 20 years.
Pinwheel's work is driven by the twin principles of delivering exceptional, high quality and accessible experiences to the broadest possible audiences and supporting artists to push boundaries and create their best work. Whether working with local authorities, cultural partners, participants, or artists Pinwheel is always striving to deliver the highest quality experiences with the fewest barriers to engagement.
4. About Southpaw Dance Company
Southpaw Dance Company was set up in 2013 under the artistic direction of choreographer Robby Graham to create powerful, joyous performances, from small scale solo work to large scale outdoor spectaculars, combining absolute artistic integrity with engaging narratives which inspire and excite audiences. Southpaw's work is inspiring, thought-provoking, engaging, and full of joie de danse.
The company has a specialism in working with large participant casts, bringing people together in a supportive environment where everyone can play their part in creating a remarkable performance, regardless of prior experience or ability, and where participants gain new confidence and skills, make new friends and connections, and have an unforgettable experience.
5. What will I be doing?
You will learn some simple choreography to perform in short sections alongside our core company of performers. This might include flag waving, mass movement, chanting etc. Absolutely no former dance experience is required, and choreography can be adapted to mean that people of all abilities and experience can take part. Rehearsals will be fun and welcoming, and nobody will be exposed. Videos of the choreography are also shared so participants can practice at home.
6. What do I need to commit to?
Key Dates
Week commencing 3 October: 1 x 2h session (not everyone will be required for this first session)
Week commencing 10 October: 1 x 2h session
Monday 17 or Tuesday 18 or Wednesday 19 October, evening: 1 x 3h session
Thursday 20 or Friday 21 October, daytime: 1 x 4h rehearsal
Saturday 22 October: final rehearsal and performance
*Please note: exact locations and time to be confirmed nearer the dates
7. How long will the show last?
The show lasts up to 2.5 hours. Your part of the show will last 12 minutes and will be repeated up to 6 times.
8. What do I need to wear for the rehearsal day?
Comfortable clothes you can move in. Trainers, no heels
9. What do I need to wear for the show day?
You will be provided with a costume
10. What help can you provide in terms of getting to my rehearsal and show days?
We want to ensure this project is as accessible as possible and that you feel completely comfortable travelling to and from your rehearsal and show days.
In order to minimise carbon footprints, we would encourage you to prioritise your choice of mode of transport in the following order when possible:
1. Walk or cycle
2. Public transport
3. Private vehicle
If travelling by public transport, please follow current guidance around wearing face coverings, avoiding travelling at busy times and busy routes, and using hand sanitiser.
We can reimburse travel expenses/parking costs (up to £8) and we're also happy to book taxis and support with buddying initiatives if that is helpful.
11. Who will I meet on the days?
When you first arrive at the location, Yatie will be there to greet you and introduce you to the members of our core team: the Performance Captain and other members of the creative team.
12. Will the rehearsals and show be recorded/broadcast?
The shows will be recorded for marketing purposes via the Rugby League World Cup and Pinwheel online channels.
We may also record the rehearsals for training purposes. All recordings will be stored securely and in accordance with Pinwheel's General Data Protection Regulation (GDPR) policy.
13. Do I get anything for being involved?
Taking part in this project is completely optional and so while it is a voluntary commitment, we want to recognise your contribution by offering:
• A ticket to a Rugby League World Cup match in your city (match details to follow)
• Names of groups/individuals to appear in our promo materials
• Performance souvenir
• Meet & Greet over Zoom, with Creative Director, Producer, and core team – BYOB, food/snacks
14. Can I tell people I'm part of this project?
Absolutely! Please feel free to share your involvement with your networks.
*Please note: Participants must be 16+
Any questions?
Please contact Participant Manager, Yatie Aziz
E: yatie.aziz@pinwheel.org.uk M: 07766 390911