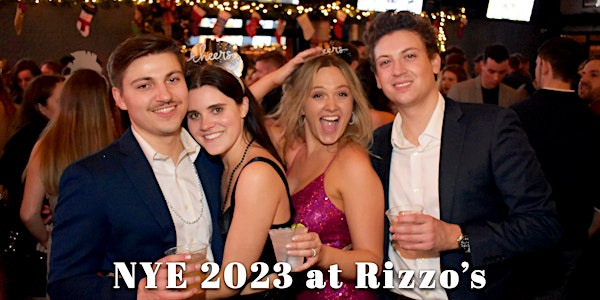 Rizzo's New Year's Eve - All Inclusive Package Across From Wrigley Field
This event is SOLD OUT! Please check out Wrigleyville NYE at Sports Corner or The Wriglevyille NYE Crawl at ChicagoNYETix.com
When and where
Location
Rizzo's Bar & Inn 3658 North Clark Street Chicago, IL 60613
About this event

This event is SOLD OUT! Please check out Wrigleyville NYE at Sports Corner ($30 Early Bird Tix Include a 10pm-1am All Inclusive Package) or The Wrigleyville NYE Bar Crawl at ChicagoNYETix.com
There's no better way to celebrate the end of the year than with your closest friends at Rizzo's Bar & Inn in the heart of the Wrigleyville neighborhood, directly across from historic Wrigley Field!
Earn a FREE Ticket:  We are looking for event ambassadors and influencers to spread the word about this party and organize their friends!  Please email Ambassadors@RizzosNYE.com for more info!
GROUP RATES AVAILABLE: Email GroupRates@RizzosNYE.com for more info!
REASONS TO BUY EARLY: In addition to getting tickets at a lower price those who purchase early will also receive free tickets and/or deeply discounted tickets to other New Year's Weekend events as well as future events.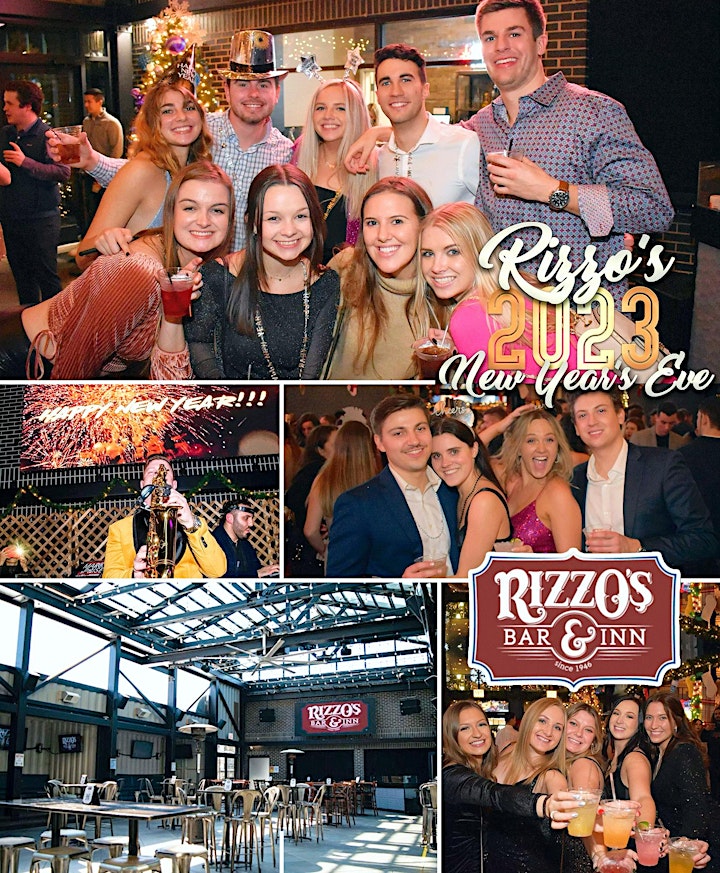 VIP TABLE INFO:
Cabana-style booths are in the main room, under the glass ceiling and seat 8 and are an ideal home base for groups 15-20
Booths in the back bar seat 4 and are an ideal home base for groups of 6-8
The large booth in the front bar seats 5-8 and is an ideal home base for groups of 10-15
Hi-top tables in the front bar seat 4 and are an ideal home base for groups of 6-10
Gratuity is not included. 20% gratuity will be charged the night of
FAQ:
Doors will open at 9pm
Yes, ticket prices will increase as more are sold…BUY NOW to lock in the lowest price!
You must be 21+ with ID to enter
NO refunds will be given
FREE STUFF: Your tickets also include over $200 in Freebies* including: Up to $30 in FREE DoorDash cash from DoorDash, $10 of FREE Bitcoin from Coinbase, $10 in FREE food from Ritual and more! Click HERE for more info. *All offers valid for first time users only and subject to change without notice.
YOUR TICKET ALSO INCLUDES: In addition to everything listed above, your ticket also includes VIP updates and discounts on future events! We will keep you informed when they go on sale so you can lock in the lowest price!
PHOTO CONTEST: ​ Enter to win by tagging us on Instagram (@Chi20Something) or Facebook (@ChicagoTwentySomething). Our panel of judges will go through the pictures and winners will be contacted afterward! Prizes include tickets to bar crawls, tasting festivals, cocktail cruises on Lake Michigan and more!
PHOTOS FROM LAST TIME: Check out pics from our last year by clicking here!
LOOKING FOR A PLACE TO STAY? Take advantage of our discounted room blocks at The Allegro Royal Sonesta Hotel (171 W. Randolph) or The Royal Sonesta Chicago River North (505 N. State). *subject to availability.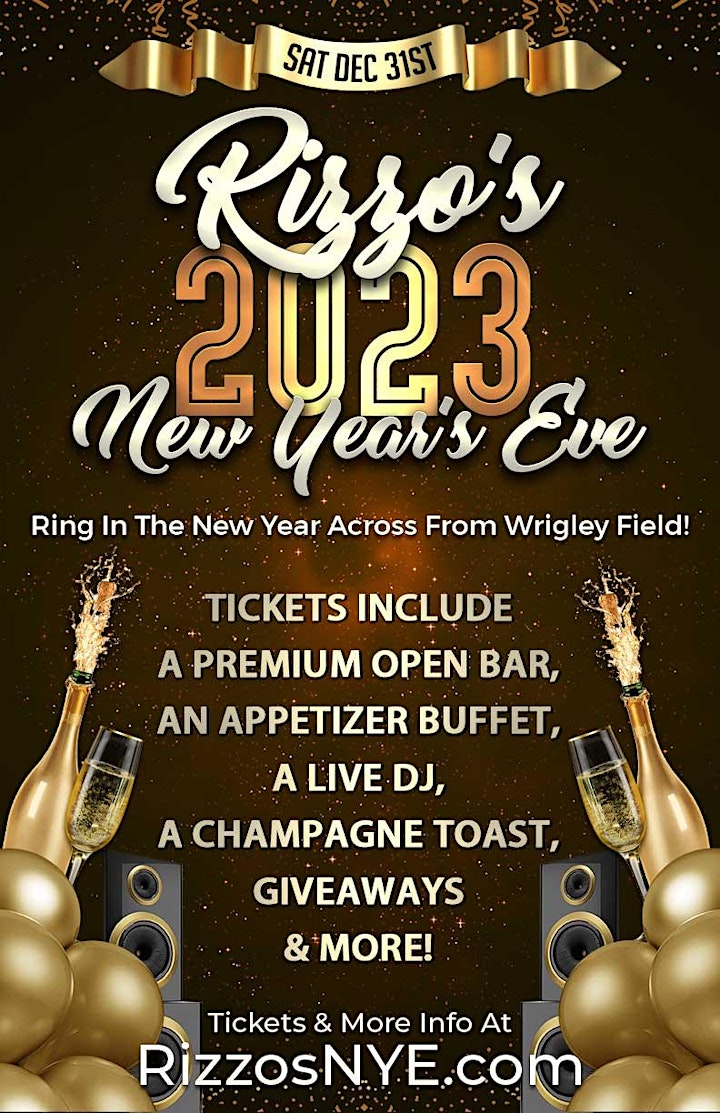 SPONSORSHIP OPPORTUNITIES: For questions, sponsorship opportunities, and press inquiries, please email Sponsors@RizzosNYE.com.
FREE TICKETS/RAISE MONEY FOR YOUR CAUSE:
Fundraising Opportunity: Are you trying to raise money for a certain cause? Email Fundraising@RizzosNYE.com for more info!
Celebrate your birthday at the event and your ticket is free! Email Birthdays@RizzosNYE.com for more info (conditions apply).
Want to earn a free ticket and some cash for spreading the word? Email Ambassadors@RizzosNYE.com for more info!
We've got tons of other ways to earn free tickets! Click HERE for more information!
CAN'T FIND YOUR TICKET? Click here.
WORK WITH US: Interested in meeting new people while having fun running the best events in Chicago? Email EventStaff@RizzosNYE.com.
Rules, Regulations & Disclaimers:
All guests must be 21+ with a valid government issued ID that will be checked by security prior to entrance. Enjoy responsibly. We reserve the right to curtail service to anyone if intoxicated. Please be aware that this event will comply with the Illinois Liquor Control Act 235 ILCS 5/6-16(a) A valid ticket with scannable QR code is required by all guests to enter event. It is recommended to print a paper ticket to prevent any technology complications which would prevent your ticket from displaying on your phone. There is no guest list. Each ticket must be scanned. Security reserves the right to inspect all bags and persons. Absolutely no outside food or beverage may be brought into the event. Guests who are deemed intoxicated (or otherwise unfit), will be denied entry and no refunds will be given. We want all guests to enjoy themselves, but our number one priority is the safety of all guests. Any ticketing/technical issues will be handled by Eventbrite.com. Please contact them directly at https://www.eventbrite.com/contact-us/. Sorry – no refunds or price adjustments. The Eventbrite system does not allow us to restrict people who are underage from buying tickets. If you are not 21 and purchase a ticket, you will not be allowed into the event. For further Terms and Conditions of this event and ticket purchase please see "Ticket Purchase and Event Terms and Conditions" in checkout before purchasing these tickets; which shall also be binding and shall be incorporated by reference as though fully stated herein.