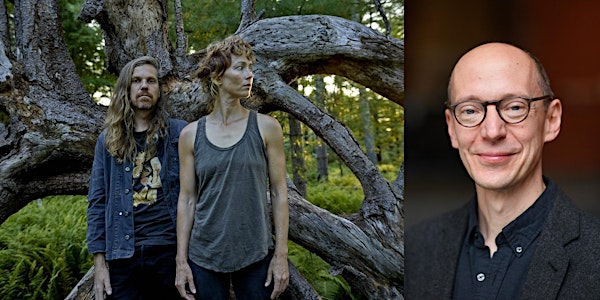 Rizzoli Music Aperitivo Presents Sky Creature
Rizzoli Music Aperitivo presents Sky Creature, with vocalist Majel Connery and guitarist Matt Walsh, featuring poet Jeff Dolven.
When and where
Location
Rizzoli Bookstore 1133 Broadway New York, NY 10010
Refund Policy
Contact the organizer to request a refund.
Eventbrite's fee is nonrefundable.
About this event
Rizzoli Music Aperitivo presents Sky Creature, with vocalist Majel Connery and guitarist Matt Walsh and featuring poet Jeff Dolven.
Tickets include a glass of wine, provided by Field Blend Selections. Seating is limited and is first come, first served. Doors open at 4:45 pm. We ask guests to please wear masks at our events.
Sky Creature is vocalist Majel Connery and guitarist Matt Walsh. Occupying a space between art music and punk rock, the band's sound elicits comparisons with artists from Kate Bush to Suicide. Walsh toured for over a decade as one half of acclaimed post-punk duo The Forms, sharing the stage with artists ranging from The National to St. Vincent to Hum. Connery's solo music has been featured on Radiolab, New Sounds radio, and Live from the Kennedy Center. In the summer of 2022, Sky Creature released their double EP Bear Mountain/Childworld, and toured nationally in 42 cities. They are currently finishing their first LP with Steve Albini. Sky Creature is based in Rockaway Beach, NYC. www.skycreature.nyc
Jeff Dolven
The poems in Jeff Dolven's *A New English Grammar begin from the bad sentences in traditional grammar, the ones marked with an asterisk in the handbooks. They are experiments in making a new language where the counterexample—*he had had gone, *we've got any milk, *he was recognizing her—can be exemplary, and therefore also experiments in imagining new worlds.
Each poem is accompanied by an exacting, authoritative, intermittently slant facing-page explanation of the rules it breaks. A theory of poetry as the confusion of mistake and premise develops from the conversation between them. No book can hope to reform all the systematic constraints on English usage, nor to redeem all the foreclosed possibilities of syntax and idiom, but this one makes a start.
Sky Creature recently released a double EP that included arrangements of Jeff's work.
Jeff Dolven is an American academic and poet. He is a professor of English at Princeton University, and the author of numerous books, collections of poems and articles.
RIZZOLI MUSIC APERITIVO
From Francis Scott Fitzgerald to Jack Kerouac, from Toni Morrison to James Baldwin, from Philip Michael Ondaatje to Geoff Dyer, from Julio Cortazar to Boris Vian, from Amiri Baraka and Ishmael Reed to Jayne Cortez, the list of international writers and poets inspired or intrigued by jazz and other musical genres goes on. Since New York City's Rizzoli Bookstore has a long tradition of building bridges between arts genres, international scenes, and creative people, we wanted to turn our gorgeous space in NoMad into an experimental living room where live jazz and other music can be enjoyed. The Rizzoli Music Aperitivo is sponsored by Field Blend Selections and is curated by Mondo Jazz, the weekly Radio Free Brooklyn show dedicated to international jazz
MONDO JAZZ
Mondo Jazz is a weekly program on Radio Free Brooklyn dedicated to the proposition that jazz is an international language. It is hosted every Wednesday night from 8 to 10 PM by Ludovico Granvassu, the founder and editor in chief of All About Jazz Italia. All archived episodes are available here.
FIELD BLEND SELECTIONS
Founded in January 2017, Field Blend Selections is a new wine importing and distribution company based in New York City, serving the New York and New Jersey markets.
In both name and practice, Field Blend Selections celebrates agricultural traditions and diversity. The name is an homage to the nineteenth-century immigrants who co-planted an assortment of grape varieties in vineyards throughout the United States, many of which survive today. Alongside their vines, they often co-planted other crops, including fruits, grains, and legumes. This approach of co-mingling various plantings to achieve balance in the vineyards is now referred to as polyculture, and it is widely recognized as one of the best methods for naturally enriching soils and reducing disease. Polyculture, by replicating nature's diverse ecosystems, produces healthier fruit without the necessity of artificial herbicides or pesticides.