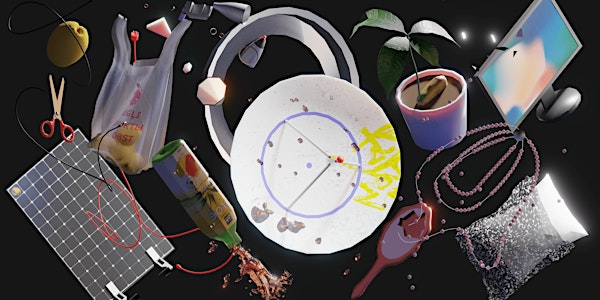 RIXC Art Science Festival: PostSENSORIUM
PostSENSORIUM explores the immensity of our virtual and real-life challenges that demand a renewed focus on sensory perception.
Refund Policy
Contact the organizer to request a refund.
About this event
PostSensorium festival aims to provide a platform for artistic interventions and critical discussions on the 21st-century's virtual sensing technologies, science and aesthetics, reconsidering the relations between the actual and virtual, organic and artificial, natural and techno-social, human and "more-than-human"...
The PostSensorium Festival Program will feature the Opening of the PostSensorium Exhibition (the main physical event of this year's festival) showing the works by internationally recognized artists who are at the forefront interrogating novel sensing tools, immersive technologies, and experiential art practices.
The PostSensorium Virtual Program will consist of the annual Open Fields Conference, online WebVR exhibition and Screening Program by young and emerging artists, Live Concert and Performances from RIXC Greenhouse, Artist Talks and outstanding Keynote Lectures discussing the contemporary mediums, artistic practices and novel tools for exploring human and "more-than-human" sensoriums, AI and aesthetics of the 21st century, and creating new immersive experiences.
KEYNOTE SPEAKERS
Christiane PAUL / professor of media studies at The New School / Adjunct Curator of Digital Art at the Whitney Museum in New York City / well known as the author of the book "Digital Art" (Thames & Hudson. 2003/2008) / curator of "The Question of Intelligence: AI and The Future of Humanity" (2020) exhibition.
Špela PETRIČ / Ljubljana and Amsterdam based new media artist / PhD in biology / a researcher at the Vrije Universiteit Amsterdam / Petrič received several awards, such as the White Aphroid for outstanding artistic achievement (Slovenia), the Bioart and Design Award (Netherlands), and an Award of Distinction at Prix Ars Electronica (Austria).
Douglas KAHN / historian of the arts, theorist and writer / Honorary Professor at Sydney College of the Arts at University of Sydney, Australia / author of "Noise Water Meat: A History of Sound in the Arts" (MIT Press, 1999) and other books on sound art history and "energies in the arts".
EARLY BIRD REGISTRATION / TICKETS
Festival's Virtual Program offers festival passes as well as single event tickets:
* Early Bird Conference Registration Fee / Festival Pass – 9 EUR (until September 22)
* Early Bird Festival Pass for Students – 5 EUR (until September 22)
* Early Bird Single Event tickets (Keynote Talks, Conference Panels, Virtual Tour by Curators through the Exhibition, Video Screening, Concert and Performances) – 2,50 EUR / 1,50 EUR (with student discount)On-site Exhibition in the Library and Gallery has a free entrance.
Read more:
http://rixc.org/en/festival/
https://festival2021.rixc.org/