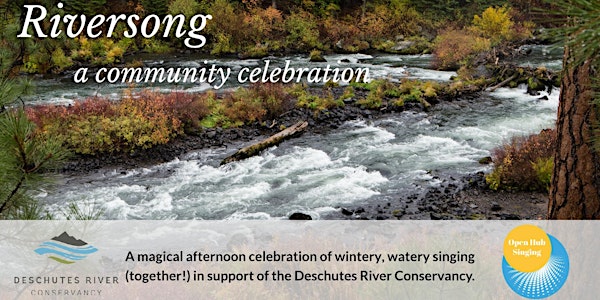 Riversong: A Community Celebration
A magical afternoon celebration of wintery singing in support of the Deschutes River Conservancy.
When and where
Location
Willie Hall | Coats Campus Center 2600 Northwest College Way Bend, OR 97701
About this event
a "Big Sing" in support of the Deschutes River Conservancy!
WHAT? Break from tradition—Open Hub Singing is a non-audition community choir grounded in the belief that singing together is a human birthright and a vitally effective 'technology of belonging.' Our singers will come prepared with a powerfully moving set of songs to share. You are invited to listen. We will also invite you to join in on a few simple songs. "Big Sing" means there's less of an audience and more of a participatory experience.
We draw mostly from a contemporary revival of aural tradition songs while also drawing on American campfire and ancient European heritages.
NO EXPERIENCE NECESSARY. All voices welcome. If you've never sung in a large group of people, you'll be happy you tried it. And, listening is a great way to contribute.
WHY? Rivers have been the ecological spine of human communities for tens of thousands of years. For 23 years the Deschutes River Conservancy (DRC) has worked collaboratively to restore streamflow and improve water quality in the Deschutes Basin after decades of unsustainable water management. The DRC achieves measurable results--like restoring 250 cfs to the river--while also encouraging collaborative concern for the river, from farmers and hikers to boaters and loggers.
Admission is $5 | All proceeds to Deschutes River Conservancy | If you're a regular singer with us, please use code isingitout to register.
Come and we'll raise our voices together in honor of this old river that gives us so so much.
Space is limited. Though we cannot refund tickets, you are welcome to exchange the tickets with someone else.