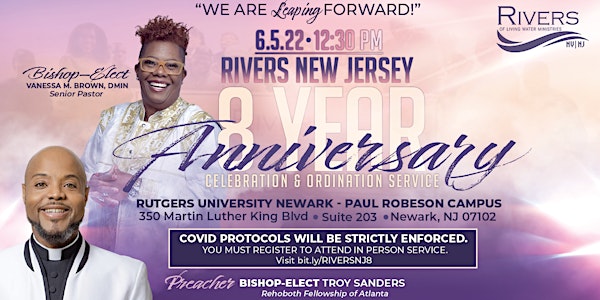 Rivers NJ 8th Anniversary Celebration & Ordination Service
Location
Rutgers University -Newark Paul Robeson Campus Center
350 Martin Luther King Jr. Blvd
Suite 203
Newark, NJ 07102
Join us as we Celebrate Rivers NJ's 8th Year Anniversary!
About this event
We are LEAPING FORWARD! Join us in New Jersey for our 8th Anniversary Celebration!
Seats are limited to 150 and COVID protocols will be in place. Please, only book tickets if you know you can attend. If you have a ticket but your plans change, please reach out to us so someone else can take your seat! The service will also be live-streamed.
Everyone over 12 years of age has to be registered. You can register up to 5 people.
Safety is a priority at Rivers of Living Water United Church of Christ! We ask that you adhere to the following COVID protocols:
• All VACCINATED attendees must provide "PROOF OF VACCINATION" to enter the building.
• NON-VACCINATED attendees must provide proof of a recent negative COVID test (within 72 hours).
IMPORTANT: Per Rutgers University Newark/Paul Robeson Campus - if you are not vaccinated, you must have a negative Covid result within 72 hours of the service. You must bring these results with you. It CAN NOT be an at-home Covid test.
CHECK-IN PROTOCOLS & PROCESS
1. Check-in for the NJ service begins at NOON.
2.  While standing in line we ask that you observe social-distancing guidelines between people who are not a member of your party/pod.
3. Please keep your mask on.
IN-SANCTUARY PROTOCOL
1. Please follow the directions of the ushers/greeters as they seat you – once seated, we ask that you remain seated and greet one another "with gestures of socially-distanced embrace."  For now, please refrain from physical hugs and kisses with those who are not members of your party or pod;
2. PLEASE REMAIN MASKED THROUGHOUT THE SERVICE