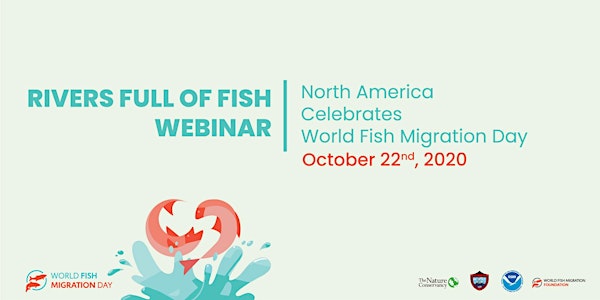 Rivers Full of Fish Webinar
Leaders and river-advocates from around North America celebrate free-flowing rivers in a two-part webinar! Links below to re-watch!
About this event
We can't thank you enough for joining with us for North America's World Fish Migration Day celebration.
Rivers Full of Fish Webinar had 400 participants from all around the world in 10+ countries and 20+ states in attendance!
Couldn't make it? No problem! You can watch both session 1 and 2 of Rivers Full of Fish Webinar here:
PART ONE : Transformational Change – A Movement for Rivers
Your Media Goodiebag!
A big part of our mission is to educate and share resources to build a community of professionals, organizations, volunteers, and citizens dedicated to rivers full of fish. We've provided resources here for you to learn more. Please enjoy!
Maine Voices: Want a healthy planet? Check your rivers, Portland Press Herald, August 12, 2020
World Fish Migration Day Connects Fish, Rivers, and People – From a One‐Day Event to a Broader Social Movement published in Fisheries Magazine, May 2, 2020
We are excited to share we got some press, too!:
Live from Plymouth, national webinar focuses on fish for global event, MetroWest Daily News, October 21, 2020
Learn more about the event here:
Rivers Full of Fish is part of a global initiative to spotlight the importance of migratory fish ecology, economy, and people. The Town of Plymouth, Massachusetts serves as the North American Headquarters for World Fish Migration Day 2020 – a one-day global celebration to raise awareness for the importance of free-flowing rivers and migratory fish. Our celebration takes place in two 90-minute sessions. Please make sure you sign up for BOTH if you'd like to attend both parts.:
PART ONE , 1:00 pm EST: Transformational Change – A Movement for Rivers
Part one will highlight key themes in river restoration throughout the United States. Voices from a variety of government, non-profit and tribal presentations focused on the past, present and future of fish passage and the connections between migratory fish and the larger marine ecosystem. Featured speakers include:
Darius Coombs, Director of Wampanoag Interpretation and Research at Plimoth Plantation, Plymouth, MA
Joshua Royte, Senior Conservation Scientist at The Nature Conservancy, Brunswick, ME
John Waldman, Professor at Queens College, Queens, NY
Bob Irvin, President of American Rivers, Washington, DC
Carrie Selberg Robinson, Office Director for Office of Habitat Conservation at NOAA Fisheries, Silver Spring, MD
George Pess, Watershed Program Manager at NOAA Northwest Fisheries Science Center, Seattle, WA
Lynn Scarlett, Chief External Affairs Officer at The Nature Conservancy, Arlington, VA
David Gould, Director of Marine & Environmental Affairs, Plymouth, MA
PART TWO, 5:00 pm EST: A Celebration of Free-flowing Rivers!
Part two will be a visually stimulating and fun series of presentations and celebrations featuring successful river restoration efforts, and proof that people across the globe can advance river restoration efforts! Featured speakers include:
Darius Coombs, Director of Wampanoag Interpretation and Research at Plimoth Plantation, Plymouth, MA
Herman Wanningen, Founder of World Fish Migration Day, World Fish Migration Foundation, Groningen, Netherlands
Julie Turini, Director/Attorney of Lands, Rivers, and Communities at Resources Legacy Fund, Sacramento, CA
Abby Archer, Fisheries & Aquaculture Specialist, Woods Hole Sea Grant and Barnstable County Cape Cod Cooperative Extension Woodshole, MA
Keith Ellenbogen, Professional Underwater Wildlife Photographer at SUNY/Fashion Institute of Technology, New York, New York and Visiting Artist at MIT Sea Grant
We hope to make a splash by connecting partners across sectors in restoring healthy rivers and swimways for migratory fish! Please join us in a celebration of fish, friends, and free-flowing rivers!
If you have any questions, please email us at riversfulloffish@gmail.com.
On World Fish Migration Day, thousands of organizations, schools, and communities organize events to educate and excite people about migratory fish species in their regions and our collective reliance on healthy free-flowing rivers. These events help reach students, teachers, resource managers, commercial and recreational anglers, as well as those who influence public policy that affect rivers.
Watch Love Flows, a World Fish Migration Foundation-produced documentary featuring Jasper Pääkkönen, Zeb Hogan, and your Rivers Full of Fish Host Josh Royte, Senior Scientist at The Nature Conservancy Maine chapter.