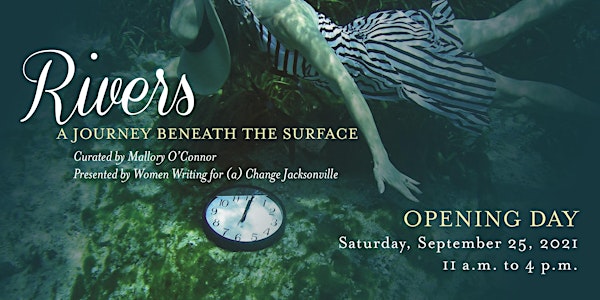 RIVERS: A Journey Beneath the Surface [Art Exhibition]
Join us to lift the visions of diverse women calling attention to the incredible, undervalued asset of the river, water, and the feminine.
When and where
Location
Women Writing for (a) Change Jacksonville 1610 Osceola Street Jacksonville, FL 32204
About this event
We are celebrating RIVERS this fall, acknowledging that Jacksonville's best and most underappreciated asset just may be the rivers that run through it—and the feminine energy they symbolize.
"Rivers run through our civilizations like strings through beads," says Olivia Laing, in her book, To The River: A Journey Beneath the Surface, and Jacksonville is our own brilliant bauble. From the vital St. Johns to the eight other rivers of North Florida, we are the River City, but how much have we seen these rivers—or the feminine voice—as a attribute to be honored, rather than an asset exploited for our own purposes, commercial or otherwise?
Water is the most valuable asset of ANY community. We cannot live without it. Water is life. Women give life. We need to pay attention to and honor this incredible power, on a deeper level than as a conduit for mere pleasure or industry. We need to see it as the center of all things—including our own ability to live on—and heal—the planet Earth. Today we need this empowering and soothing and healing energy more than ever.
Now, More Than Ever
"There is a mystery about rivers that draws us to them, for they rise from hidden places and travel by routes that are not always tomorrow where they might be today. Unlike a lake or sea, a river has a destination and there is something about the certainty with which it travels that makes it very soothing, particularly for those who've lost faith with where they're headed." —Olivia Laing, from To The River: A Journey Beneath the Surface
RIVERS: Curated by Mallory O'Connor
This fall, in a collection curated by author/art historian Mallory O'Connor, we've lined up a diverse group of local and regional women artists offering their view of rivers, river life, and our relationship with water. Striving for depth, we've also created many opportunities for you to engage with women artists, writers, environmentalists, and community leaders who will all contribute their varied perspectives on this undervalued and powerful force of Jacksonville and beyond.
Preview Party Friday Night, Sept. 24, 2021
At our Preview Party Friday night (separate ticket), you'll hear from Riverkeeper Lisa Rinaman and featured artist Tatiana Kitchen as they both share their journey of how they heed the call of the river and the feminine. Mostly outside, with limited tours inside.
Opening Day, Saturday, Sept. 25, 2021
On Opening Day, stop by to enjoy the show and our signature "sidewalk hospitality," meeting artists one-on-one, enjoying activities, and of course, seeing the art, connect (safely) with artists and writers outdoors, with limited (and ticketed) tours inside. Community members can also check out the native plant garden and enjoy light refreshments while viewing the art on display at this historic Riverside home and garden.
"I will listen to what you say./You and I can turn and look/at the silent river and wait. We know/the current is there, hidden; and there/are comings and goings from miles away/that hold the stillness exactly before us./What the river says, that is what I say."
—William Stafford, from New and Selected Poems
SAVE THE DATE:
Oct. 10, 2021 (Sunday) — Artist Talk + Write, 2-4 p.m. (on-site, outdoors)
Oct. 31, 2021 (Sunday) — Write + Hike Special Event at Marjorie Kinnan Rawlings homestead near Gainesville. Mostly outdoors, masks indoors. 1-3 p.m.
Nov. 7, 2021 (Sunday) — Wine, Women, and Words, 2-4 p.m. (on-site, outdoors)
Educational Boat Tour and River Cleanup Day with the St. Johns Riverkeeper: Date TBA
Come listen to what the river—and women—have to say. Then tell us your response.
Artists:
Mary Atwood, Elizabeth Barakah Hodges, Emilie Candela, Bronwen Chandler, Kim Guzzone Collier, Cheryl Cummer, Toni DeWitt, Laura Dill, Nick Dunkenstein, LuAnn Dunkinson, Annelies Dykgraaf, Cynthia Edmonds, Penny Edwards, Barbara Gibbs, Anne Gilroy, Marsha Glazière, Pamela Griesinger, Alyne Harris, Hannah Keats, Tatiana Kitchen, Dima Kroma, Krista Lee Weller, Mary McAllister, Candace McCaffery, Cheryl McCain, Aisling McDonald, Sydney McKenna, Abby Howard Murphy, Mimi Pearce, Leslie Peebles, Tatiana Phoenix, Joanna Ring, Kendal Schmidt, Rachael Sharpe, Lori Ann Sweet, Margaret Ross Tolbert, Allison Watson, Megan Welch, Velour.
Thank you to all our participating artists!