Description
Preregistration is now closed and tickets for the river cleanup are sold out.
BUT you can still attend the float!
We will be processing day-of registrations at Hi-Wire Brewing Big Top and at the put-in at Hominey Creek Park.
Join us on Saturday, June 17 for the kickoff of the second annual French Broad Riverkeeper Beer Series, presented by MountainTrue and Blue Ridge Orthodontics and sponsored by Mix 96.5.

Participants have the choice of taking part in either a river cleanup on the Swannanoa River or a float trip on the French Broad River, and everyone is invited to meet back up at the release party of Hi-Wire Brewing's new, limited-release MountainTrue Mango IPA at their Big Top Location in the Biltmore Village area.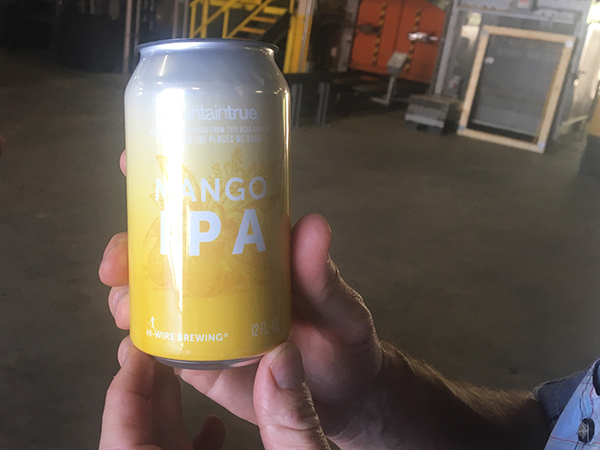 This is the first of five French Broad Riverkeeper Beer Series events that will include river cleanups and float trips on the French Broad River. Floaters and cleanup volunteers are then invited to sample a new limited-release beer from one of five participating breweries, including Hi-Wire Brewing, New Belgium Brewing, Oskar Blues Brewery, Wedge Brewing Company and Wicked Weed Brewing. A portion of the proceeds from the sale of these very special beers goes to support the work of the French Broad Riverkeeper protecting the French Broad River watershed.
Each French Broad Riverkeeper Beer Series event will also be co-sponsored by a local outdoor gear manufacturer who will donate prizes, apparel and gear that will be raffled off at the release parties to support the cause. Supporting gear builders include Eagles Nest Outfitters (ENO), Liquid Logic Kayaks, Nantahala Outdoor Center (NOC), and Watershed.
DETAILS:
All ticket holders, float participants and cleanup crew members get one free beer from Hi-Wire Brewing at the release party.
Participants bringing their own float tubes should bring them deflated to Hi-Wire Big Top and we will inflate them for you on site.

Cleanup crew participants and those who purchase a float trip ticket with a shuttle option will meet at Hi-Wire Brewing's Big Top Location at 2A Huntsman Place on Saturday June 17 at 1 p.m.
Cleanup crew participants go for free and the first ten to signup will get a French Broad Riverkeeper Beer Series t-shirt for free.
Cleanup and float participants get a raffle ticket and a chance to win tickets to the Save the French Broad River Concert starring Michael Franti and Spearhead on August 3 at the Salvage Station.
Float trip participants who buy a shuttle ticket will be picked up from Hi-Wire Big Top at 1 p.m. and shuttled by French Broad Outfitters to Hominy Creek Park.
Float trip participants who buy a non-shuttle ticket will still meet us at Hominy Creek River Park at 1:15 p.m. and will need their own transportation back from the takeout at Jean Webb River Park.
If you would like use your own boat, you have two options: You can purchase the "Shuttle Only" ticket and show up with your boat at Hi-Wire Big Top, or purchase the "No-Shuttle/No-Tube" ticket and sort our your own shuttle to our put-in at Hominy Creek and our take-out at Jean Webb River Park.