Sales Have Ended
Ticket sales have ended
Thanks so much!
Sales Have Ended
Ticket sales have ended
Thanks so much!
About this Event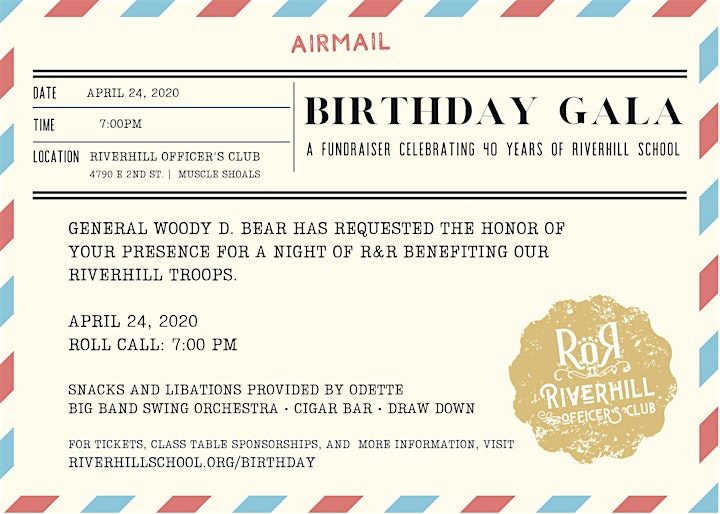 Celebrating 40 Years of Riverhill School
Riverhill School has been a staple in The Shoals community since 1980. Since we are celebrating the 40th year of our "grand old school" we are going to celebrate with a 1940s themed birthday party on Friday, April 24th. We will have a 20-piece big swing band, hors d'oeuvres, birthday cake, cigar bar, draw down fundraiser, and many more fun surprises.
So put on your dancing shoes and join us for for an evening of fun and celebration for the Riverhill Family, alumni and community. 1940s attire is optional.
Food and cash bar provided by Odette • Cigar Bar provided by the Cigar Shoppe • Music Provided by Huntsville's In the Mood Swing Band • Draw Down Auction • Tricky Tray Bidding Auction
Riverhill Alumni - Reunite with Your Classmates
Class table sponsorships for each graduating class are available for $500 per class. Sponsorships are available on a first come, first serve basis. Each class sponsorship includes two 5-star general tickets and two draw down tickets.
5 Star General's List
(based on the year the student graduated 6th grade):
1980:
1981:
1982:
1983:
1984:
1985:
1986:
1987:
1988:
1989:
1990:
1991:
1992:
1993:
1994:
1995:
1996:
1997:
1998:
1999:
2000:
2001:
2002:
2003:
2004:
2005:
2006:
2007:
2008:
2009:
2010:
2011:
2012:
2013:
2014:
2015:
2016:
2017:
2018:
2019:
2020:
2021:
2022:
2023:
2024:
2025:
2026:
2027:
2028:
2029:
2030: