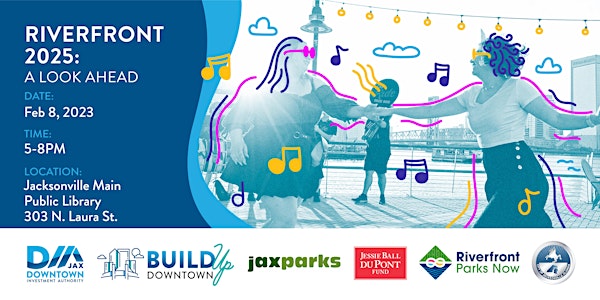 Riverfront 2025: A Look Ahead
Jacksonville's Riverfront is on the verge of a major transformation. Join us for a look ahead!
When and where
Location
Jacksonville Main Public Library 303 North Laura Street Jacksonville, FL 32202
About this event
Riverfront 2025: A Look Ahead
Jacksonville's Riverfront is on the verge of a major transformation. Various projects are underway to create a vibrant Riverfront destination inclusive of world-class parks, mixed-use developments and infrastructure enhancements that will maximize public access, reconnect the community to our river and create an iconic Riverfront for all.
Join the City of Jacksonville's Downtown Investment Authority and Parks & Recreation Department, Build Up Downtown, Riverfront Parks Now and the Jessie Ball duPont Fund for an update on Downtown Riverfront parks, as well as a chance to learn more about the private developments on our Northbank and Southbank.
This event is free, but space is limited; you must register to attend.
Location
Jacksonville Main Public Library Multipurpose Room
303 North Laura Street
DTJAX
Timeline
• 5:00 – 5:30 p.m. Networking
• 5:30 – 7:15 p.m. Formal Presentation / Q&A
• 7:15 – 8:00 p.m. Meet the Projects
Northbank Parks
· Artist Walk
· Gefen Park
· McCoys Creek Park
· Music Commons
· Emerald Trail
· Riverfront Plaza
· Shipyards West
· Metropolitan Park
Southbank Parks
· RiversEdge Park
· St. Johns River Park & Friendship Fountain
Overall
· mobility
· Riverwalk
· docks & marinas
Northbank Private Development
· FIS
· One Riverside Ave
· American Lions
· Hardwick at Ford on Bay
· USS Orleck at Pier 1
· MOSH
· Four Seasons & Offices
Southbank Private Development
· RiversEdge
Hosts
Downtown Investment Authority dia.coj.net/ and investdtjax.com/
The Downtown Investment Authority is the Community Redevelopment Agency and the Economic Development arm of the City for Downtown Jacksonville. Guided by a nine-member board of directors, the DIA seeks to attract investment, facilitate job creation and increase residential density through capital investments, planning, marketing and public-private partnerships including the provision of incentives for the general community and Downtown stakeholders.
Department of Parks, Recreation and Community Services COJ.net/departments/parks-and-recreation
The Department of Parks, Recreation and Community Services (PRCS) serves diverse populations of all ages and abilities through recreation activities and programs, conservation and marine resources, sports and entertainment, senior services, social services, disabled services, and extension services serving approximately 900,000 residents in Duval County. PRCS offers over 400 parks and recreational spaces.
Build Up Downtown buildupdowntown.org
Build Up Downtown facilitates and advocates for preservation, smart development and great public spaces in Downtown Jacksonville through communicating, connecting and informing current and future businesses and stakeholders. We envision a Downtown Jacksonville that we can all be proud to call our own. Thriving downtowns are the heartbeat of every major city around the world, and Jacksonville should be no different. Right now, Jacksonville is on the doorstep of a major change and Build Up Downtown was created to help facilitate that change. We serve as a privately funded, nonprofit resource and supporter of the Downtown Investment Authority (DIA) and Downtown Vision, Inc. (DVI) to reinforce Downtown as the City's unique epicenter for business, history, culture, education and entertainment.
Jessie Ball duPont Fund dupontfund.org
The Jessie Ball duPont Fund is a private foundation that works to expand access to opportunity and create inclusive growth for the people, organizations and communities that Jessie Ball duPont knew and loved. We envision a world in which every member of those communities feels they belong, and is engaged in shaping the future of their community. We use our grantmaking, investments, research and partnerships to increase equitable access to opportunities and resources for members of society who have historically been excluded, and placemaking to build stronger communities where all voices are heard and valued.
Riverfont Parks Now riverfrontparksnow.org
Riverfront Parks Now is a coalition of fourteen nonprofit organizations who have come together to advocate for and engage the community in creating "A Riverfront for All" to include an extensive network of world class public green spaces and active parks along the riverfront that prioritizes public access, improves health and quality of life, catalyzes surrounding development, and helps create a more resilient downtown. Riverfront Parks Now partnered with the duPont Fund's Riverfront Activation Study to benchmark cities around the world whose investment in waterfront public spaces played a key role in their downtown revitalization.
Frequently asked questions