Houndmouth and Fruit Bats co-headline the RIVER RODEO FEST, presented by Sendero & Lone Star Beer at Rockin' R in New Braunfels, TX
About this event
All Ages | Kids under 12 years old are FREE | Gates Open @ 10AM
River Rodeo Fest is a music experience along the Guadalupe River in historic Gruene, Texas. The one-day festival will take place Saturday, August 14, 2021, at Rockin R River Rides at 1405 Gruene Road, New Braunfels, TX. The inaugural festival will feature musical acts like Houndmouth, Fruit Bats, Buffalo Nichols and more, on site vendor park, food and drinks, and a unique experience or two. The festival will benefit the Texas Food & Wine Alliance, an organization that provides grants, educational programs and events that benefit the south Texas culinary community. Festival goers are encouraged to enjoy a day on the Guadalupe River with the floating ticket package before coming back on land for the concerts later in the day.
Alternative blues band, Houndmouth, and indie/folk rock band, Fruit Bats will co-headline the festival. Houndmouth, known for songs like Darlin', Honey Slider and Sedona, got their start in Indiana in 2011 and quickly made their ascent onto big stages at festivals like SXSW, Lollapalooza, Bonnaroo and more since the band's founding. Fruit Bats, known for songs like Humbug Mountain Song, When U Love Somebody and more has a sound reminiscent of classic rock with a modern twist. The festival will also feature Thomas Csorba, Buffalo Nichols, Kathryn Legendre, David Ramirez, Wilderado, Vincent Neil Emerson and Jonathan Terrell.
Festival-goers will have the opportunity to rent a tube and float the Guadalupe River before the concert begin. Pick up a floating pass and get picked up and dropped off right from the festival site. Camping will be available on site and look for a curated camping experience including more live music, a live Sendero podcast, and appearance by some special friends. See the full map for access to parking, shuttle route, and more info.
The event will go on rain or shine.
*Email support@riverrodeofest.com for more information*
** More information about camping and tube rental will be released soon **
*** No event refunds***
BAND LINEUP
Houndmouth (Co-Headliner)
Fruit Bats (Co-Headliner)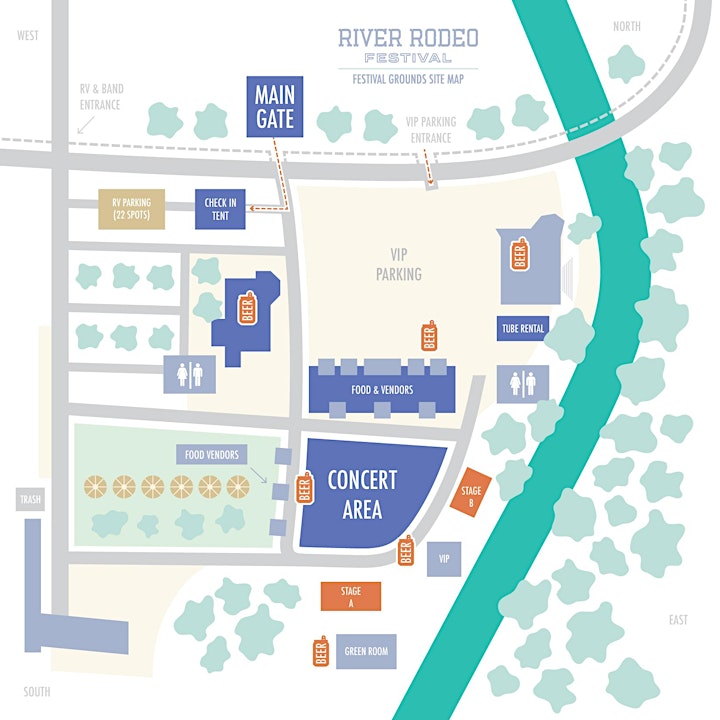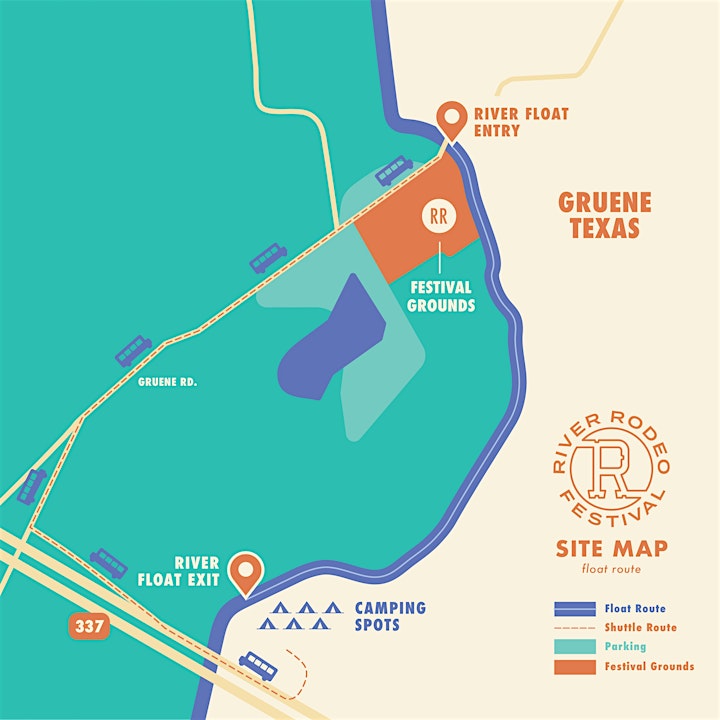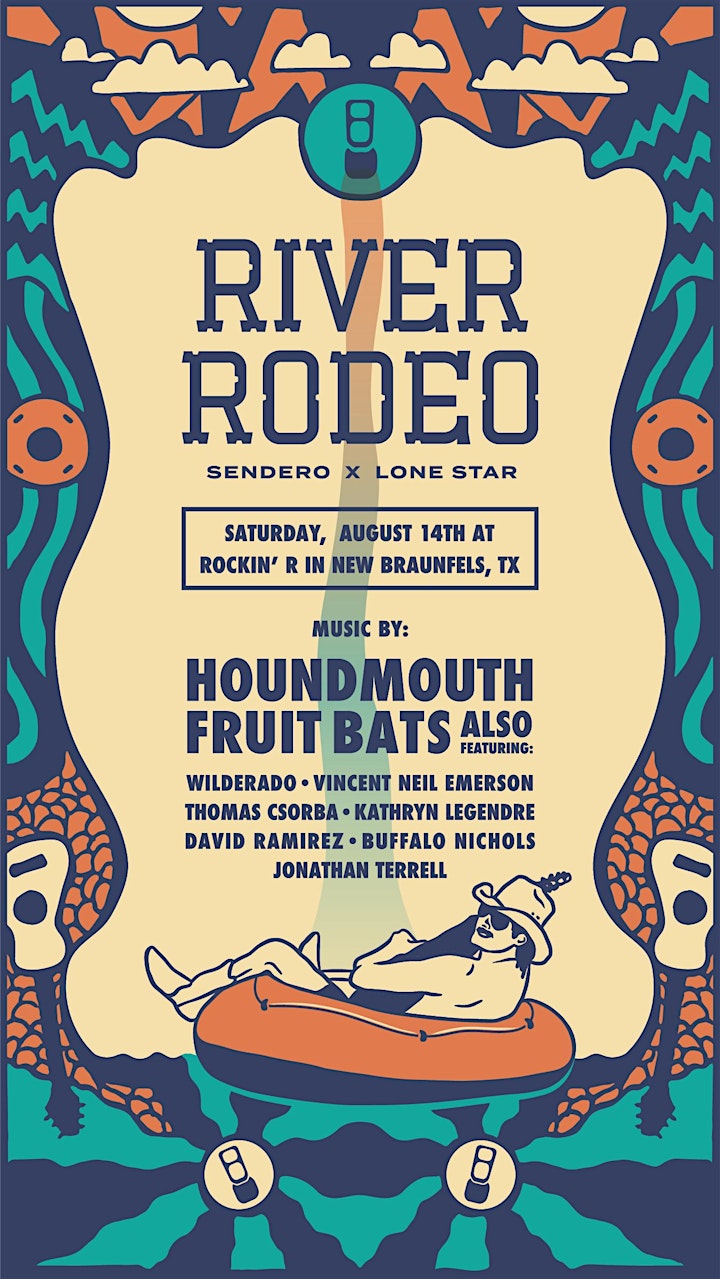 FAQ: So you want to go to the River Rodeo huh? I'm sure you have some questions...
STAY TUNED for the River Rodeo site map and guidelines for floating and camping.
Can I float and watch the concert? Well, no. The stages will not be visible from the water, however you can swim and float all you like. In order to have access to tubes, please purchase a float pass. We recommend you come early, take advantage of the full float and shuttle service to the grounds, then enjoy the concert in the late afternoon/evening.
When will the float take place? Floating hours are between 10AM and 1PM, then the festival will kick off!
Is floating included with VIP tickets? You're darn right it is! But camping is not. Camping passes must still be purchased for VIPs.
If I bring my own tube, do I still have to purchase a float pass? Yes, bring whatever you like to float in, but you will still need to buy a float pass with a special wrist band for the duration of the fest. The float pass comes with a shuttle to the start of the floating area, and you can float right to the concert area.
Where can I park? Stay tuned for updated parking information, but there will be plenty of parking near the River Rodeo.
Can I bring my own lawn chair to the concert? Yes! There will be a designated area in which chairs will be allowed.
Can I bring a cooler to the river? No float is acceptable without one! Of course. But after your float is finished, no outside food or beverage will be allowed on the grounds.
Can I bring my own food and drinks? Not on the grounds, this is a festival after all.
Will there be food and drinks? Of course! We will have a variety of food and beverage options stationed throughout the grounds. There will be food and drinks made available to overnight campers as well, stay tuned for more information regarding camping provisions.
How does camping work? Stay tuned for detailed information about camping, but camping overnight on Saturday will require an additional camping pass for each individual. There will be special events for the overnight camping area, so get your camp chairs ready for a surprise appearance by an artist or two and the Lone Star/Sendero crew. We recommend the camping experience, so you can party at the River Rodeo all day and never leave the grounds!
What should I bring to camp? Campsites in the designated area will be available on a first come, first served basis. We recommend bringing a good tent (the weather can be unpredictable), sleeping bags, sleeping pads, camp chairs, and anything else you need to be comfortable! There will not be access to electricity, no fires will be allowed, and please bring your own water supply. Foot prints will be limited, so watch for updated camping rules and regulations.
If I share a tent do we just need one camping pass? No, each person in the camp area will need their own pass.
Does my kiddo need a ticket? Nope! Kids under 12 are free to the concert, but they will need float and/or camp passes if they stay overnight.
Are showers available? There are no showers on site.
Can I drive to the camp area to unload? No cars will be allowed in the camping area, so plan accordingly to get your stuff in. Parking will not be far away though!
Can I leave the campground? Yes, until 12:00 AM! So bring everything you need, and plan ahead.